Apple's iPhone is Losing Ground in China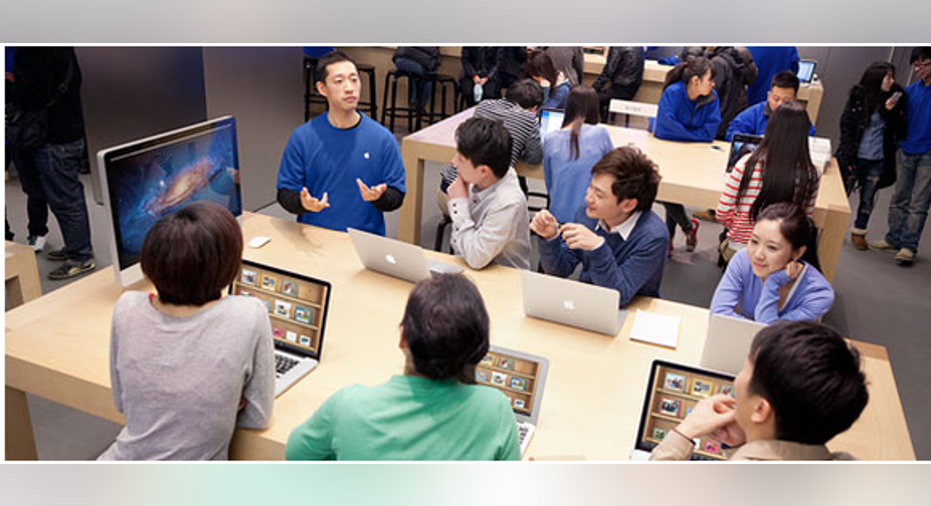 Apple's (NASDAQ: AAPL) sales in China took a massive beating last year, dropping an estimated 23%, which pushed its market share into the single digits, per research from IDC. Now, the latest sales data from the Middle Kingdom indicates that local smartphone players have continued gaining on the iPhone maker.
Apple isn't going anywhere in China
Market research firm Canalys estimates that Chinese smartphone sales jumped 9% during the first quarter of 2017, but most of the gains were lapped up by just three companies. As it turns out, Huawei, OPPO, and Vivo took the top three spots, accounting for 50% of sales, up from a combined market share of 42% in the prior-year period.
Image Source: Apple
Apple stood fourth in the Chinese smartphone hierarchy. Though Canalys didn't reveal the exact sales figure, the Cupertino-based company should have moved more than fifth-ranked Xiaomi's 9 million units. However, Apple's sales couldn't have been close to third-placed Vivo's 17 million shipments, which had 15% share of the market.
This is because the iPhone maker's Chinese market share was just 9.6% at the end of 2016, according to IDC's market research, and it faced increased competition from the three local players during the quarter. What's more, the growing dominance of Huawei, OPPO, and Vivo also impacted Apple's global performance as its sales in the first quarter stagnated.
The company moved 51.6 million iPhones last quarter, giving it 14.9% of the global smartphone market. Apple, meanwhile, had shipped 51.2 million units in the prior-year period, when it had 15.4% of the market. This isn't good news for Apple investors -- overall smartphone shipments jumped 4.3% year-over-year, but the Chinese top three cornered a bigger share of the market as their combined sales jumped almost 25%.
Therefore, the growing dominance of Huawei, OPPO, and Vivo in China -- the world's largest smartphone market, with a third of overall sales -- has translated into gains on the global stage.
Can Apple turn the tide?
UBS and Gartner estimate that iPhone sales in China will fall in the double digits once again this year, though the company has announced certain steps to turn the tide in its favor. For instance, the company recently announced that it plans to open two new research and development facilities there, in addition to two previously announced centers.
In fact, Apple has set aside over $500 million to spend on R&D in China. But Cupertino needs to understand that innovation is not where the problem lies. According to IDC's research manager Anthony Scarsella:
The Chinese companies have been spending a lot of money to advertise that their smartphones can compete with the best at a lower price point. What's more, they have been aggressively trying to grab greater customer attention by opening retail stores and improving customer service.
For instance, Huawei had 35,000 retail stores globally a year ago, and decided to open another 15,000 to boost smartphone sales. More specifically, 11,000 of Huawei's stores were on the Chinese mainland in June last year, while Apple had just 40. OPPO's phones, on the other hand, are sold at 200,000 locations in China.
Meanwhile, Xiaomi is looking to get into the offline retail act and plans to open 1,000 new retail stores over the next three years. Now, data from Counterpoint Research indicates that 40% of smartphone sales in China take place through the offline store channel, so it is not surprising to see these companies aggressively increasing their point-of-sales presence to grab a bigger pie of the market.
On the other hand, Apple doesn't want to open up its store ecosystem to local outlets, limiting its chances of reaching a wider audience. Therefore, the iPhone maker needs a new sales strategy in China. It can consider rapidly expanding its retail presence by spending a lot of money, or allow local dealers to brand, advertise, and sell the iPhone for a fee and get into more stores at a fast pace. Otherwise, it won't be surprising if Apple continues to lose ground in China.
10 stocks we like better than AppleWhen investing geniuses David and Tom Gardner have a stock tip, it can pay to listen. After all, the newsletter they have run for over a decade, Motley Fool Stock Advisor, has tripled the market.*
David and Tom just revealed what they believe are the 10 best stocks for investors to buy right now... and Apple wasn't one of them! That's right -- they think these 10 stocks are even better buys.
Click here to learn about these picks!
*Stock Advisor returns as of April 3, 2017
Harsh Chauhan has no position in any stocks mentioned. The Motley Fool owns shares of and recommends Apple. The Motley Fool has a disclosure policy.