Apple Stock Looks Undervalued: Time to Buy?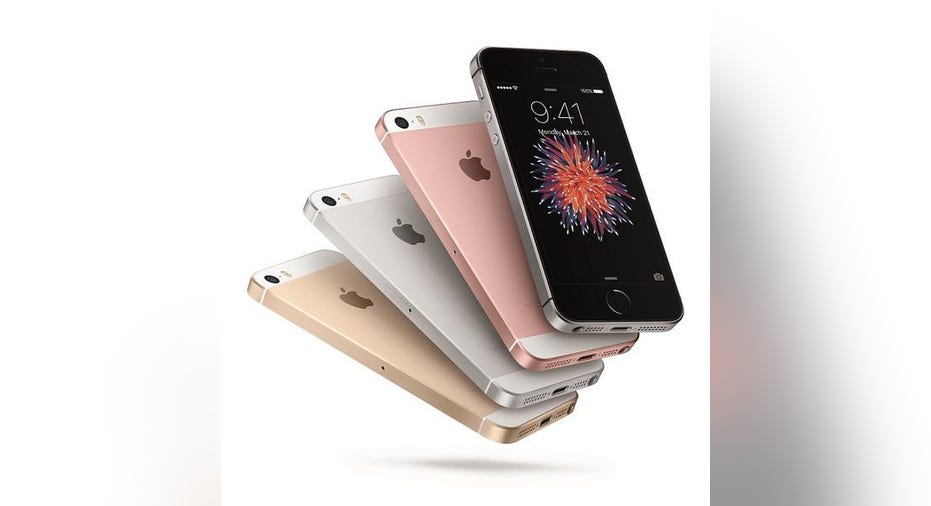 Image source: Apple.
Investors in Apple have taken a big hit lately; shares of the iPhone maker are down by almost 25% in the last year due to fears over falling revenue. However, Apple stock looks remarkably cheap at current prices, and there are reasons to believe that the company could be facing a temporary as opposed to permanent problem. Is this a buying opportunity for investors?
Apple stock looks dirt-cheap
The main reason for all the negativity surrounding Apple is falling revenue on the back of declining iPhone sales. Total revenue during the quarter ending March 2016 -- meaning the fiscal second quarter 2016 for Apple -- was $50.56 billion, a decline of 13% versus the year-ago quarter. Even worse, management guidance for the June quarter implies a 15% decline in sales at the midpoint of the guidance range.
Apple makes nearly 65% of its total revenue from the iPhone, so sales figures in this crucial segment have a big impact on overall financial performance. The company sold 51.2 million iPhones during the quarter, a decline of 16% versus the same period in 2015. While Apple doesn't provide specific sales guidance for the iPhone segment, global revenue guidance probably implies that management is expecting a continued decline in iPhone sales over the coming quarter.
Apple is a spectacularly profitable business, with operating margin in the neighborhood of 28% of revenue, and the company produces massive amounts of free cash flow on a recurrent basis. Besides, Apple is sitting on nearly $232 billion in cash and investments on its balance sheet, so its financial soundness is unquestionable.
However, falling revenue is still a major uncertainty, and it will probably put considerable downward pressure on Apple stock until the company proves that it can jump-start growth. The good news for investors in Apple is that expectations are quite low at this stage, and Apple stock is priced at rock-bottom levels.
The stock carries a price-to-earnings ratio around 10 times earnings over the last year, a huge discount versus a P/E ratio around 19 for the average company in the S&P 500 index. Even assuming that Apple should trade at below-average levels because it operates in a difficult and unpredictable industry, it's important to note that the average P/E ratio for Apple over the last five years is around 14, so the stock is also quite cheap by its own historical standards.
The big question for investors
The main question for investors is what kind of performance Apple can sustain over the coming years. If sales continue moving in the wrong direction, then the business is in a permanent decline, and no price is cheap enough to invest in a decadentcompany. Conversely, if Apple can outperform expectations going forward, then the stock could deliver big gains from currently depressed levels.
After more than a decade of rapid growth, the smartphone industry is clearly maturing. Research firm IDC estimates that total industry growth will be a modest 5.7% in 2016, and the compounded average growth rate over the coming five years is expected to be around 6%. This doesn't sound too dismal, but it also shows that the years of explosive growth for the iPhone are already in the past.
One key aspect to consider is that the iPhone 6 was a huge success for Apple in 2015, as many consumers were anxiously awaiting for an iPhone model with a larger screen. This is making year-over-year comparisons remarkably challenging over the short term, and it's important to look at the numbers with some historical perspective.
Even if iPhone sales are down by 16% versus the second quarter of 2015, sales are also up by 17% versus 2014 levels, and up by an impressive 37% versus the second quarter in fiscal 2013. When looking at the broader picture, the long-term trend in iPhone sales doesn't look that gloomy after all.
The iPhone installed base has reached a gargantuan scale, and this bodes well for Apple in terms of model renewals going forward. According to management, quoting a survey by Kantar, loyalty rates among iPhone users in the U.S. are in the area of 95%, the highest ever measured for any smartphone. As those loyal customers upgrade their iPhones in the years ahead, this should drive sustained growth for the company.
Besides, CEO Tim Cook said in the earnings conference call that customers switching to iPhone from Android and other operating systems marked a new record in the last six months. Apple has a global market share of nearly 15.2% based on IDC figures, so the company has a lot of room to increase that share over the long term.
Overall industry growth in smartphones is clearly slowing down, but it's not like the industry is on a long-term decline. Besides, Apple has an amazingly loyal customer base, and the company could continue stealing customers away from the competition in the future.
The dismal sales figures Apple reported last quarter are mostly due to tremendously tough comparisons versus 2015 levels, so things will probably improve going forward. If this happens, then Apple stock could deliver considerable gains from currently attractive valuation levels.
The article Apple Stock Looks Undervalued: Time to Buy? originally appeared on Fool.com.
Andrs Cardenal owns shares of Apple. The Motley Fool owns shares of and recommends Apple. Try any of our Foolish newsletter services free for 30 days. We Fools may not all hold the same opinions, but we all believe that considering a diverse range of insights makes us better investors. The Motley Fool has a disclosure policy.
Copyright 1995 - 2016 The Motley Fool, LLC. All rights reserved. The Motley Fool has a disclosure policy.