Apple Slide Helps Trigger Dow's Worst Day of 2012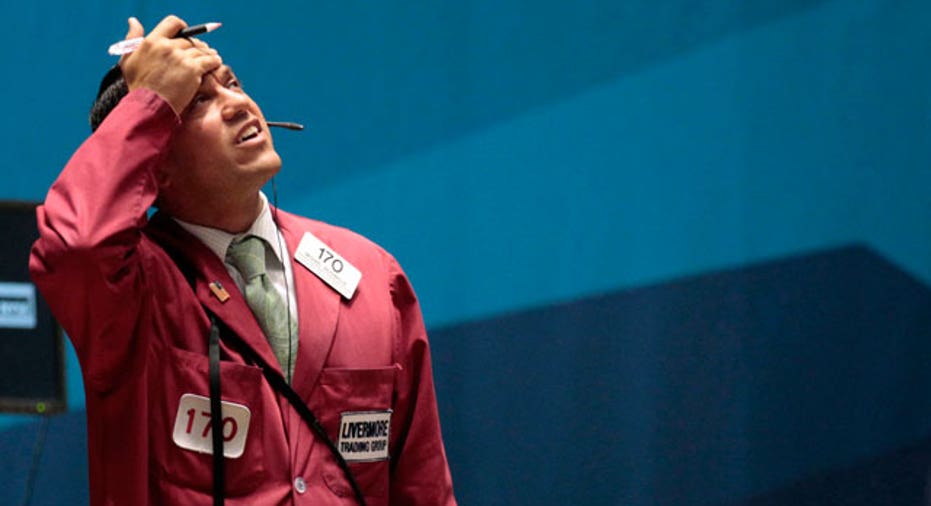 FOX Business: The Power to Prosper
Spooked by a selloff in shares of previously red hot Apple and lingering eurozone concerns, the blue chips suffered their worst performance of the entire year on Wednesday despite a series of upbeat economic reports.
Today's Markets
The Dow Jones Industrial Average fell 97.33 points, or 0.76%, to 12780.95, the S&P 500 dropped 7.27 points, or 0.54%, to 1343.23 and the Nasdaq Composite slid 16.00 points, or 0.55%, to 2915.83.
There was no shortage of conflicting headlines to nudge the markets in one direction or another on Wednesday as Greece's bailout remains in doubt, the Federal Reserve remains uncertain about QE3 and Iran threatened to stop exporting oil to a number of European countries.
But the day began to head south just as Apple's (NASDAQ:AAPL) stock fell sharply on very heavy volume in early afternoon action. It's not totally clear what fueled the slide, but traders pointed to market chatter that the company's stock, which plays an outsized role in weighted-indexes like the Nasdaq 100, may soon be rebalanced.
While some analysts were skeptical about such a move, which would likely be bearish for the stock in the short term, the rumors were enough to send Apple tumbling from all-time highs of $526.29 to close at $497.67. Earlier in the day Apple's latest strong performance helped boost the Nasdaq and put it on pace for fresh 11-year highs.
"The market has become fixated on Apple as a big super cap name and whenever you see that much of the oxygen taken up by one name, that's a sign there isn't a lot of confidence in anything else," said Nicholas Colas, chief market strategist at ConvergEx.
Wednesday's selloff was the steepest for the Dow since it lost 140 points, or 1.14%, on December 28. The blue chips had closed higher in five of the prior six sessions and appeared to be within striking distance of the 13000 level.
Given that backdrop, some traders were unfazed by the pullback.
"The first triple-digit loss at this point of the year is a huge victory," said Jason Weisberg, senior vice president at Seaport Securities. "Stocks probably got ahead of themselves. A healthy, controlled retreat is great for the long-term bullish view of the market."
Stocks Shrug Off Data
Wall Street struggled to rally around a number of solid economic reports on Wednesday.
According to the New York Federal Reserve, manufacturing in the New York region picked up in early February. The Empire State gauge soared from 13.5 in January to 19.3 this month -- the highest level since June 2010 and well above forecasts for a more modest rise to 15.
Likewise, the National Association of Home Builders said U.S. home builder sentiment jumped from 25 in January to 29 this month, marking the fifth straight monthly rise and the highest reading since May 2007.
Also, industrial production, which tracks output at factories and utilities, meanwhile, remained unchanged in January. Economists were expecting a rise of 0.7% for the month.
In the wake of that report, the industrial sector retreated 1.5%, making it the worst performing group, as shares of Caterpillar (NYSE:CAT) and United Technologies (NYSE:UTX) slumped. This sector may have also been hurt by a 5% selloff in shares of Deere (NYSE:DE) despite an earnings beat and raised sales guidance.
Meanwhile, the Fed released minutes from its last meeting that underscored the sharp divide at the central bank over whether or not the economy needs a third round of quantitative easing, dubbed QE3. While some members favored doing more to stimulate the economy, others said they would only vote for new action "if the economic outlook deteriorated." Hopes that the Fed will increase its easy-money policies have helped drive equity markets.
Eurozone Concerns Linger
On the European front, rumors swirled that Europe may decide to put off a decision on the bailout of Greece. However, Jean-Claude Juncker, head of the Eurogroup, said he's confident the consortium of eurozone finance ministers can make all necessary decisions on a Greek bailout on Monday. Juncker also said he has received strong assurances from Greek political leaders, who have identified measures for finding an additional 325 million euros in savings.
Also, China said it is "ready to get more deeply involved in participating in solving the European debt issue," providing a jolt to market confidence.
Despite those developments, the closely-watched euro fell 0.46% to $1.3068.
The debt crisis in the eurozone has been a major driver of U.S. and international equity markets over the past months, and has come acutely into focus as Greece has raced to stave off a default that could potentially deal a painful blow to the currency bloc.
Meanwhile, Wall Street continues to keep a close eye on the geopolitical risk posed by Iran, which has been ratcheting up its rhetoric with the West. Iranian state media reported Iran is planning to stop oil exports to six European countries, but the country later denied the report, according to Reuters. Still, the news helped boost crude oil, which settled up $1.06 a barrel, or 1.05%, to $102.14 -- its highest close since January 10.
In metals, gold snapped a three-day slump by jumping $10.40, or 0.61%, to $1,728.00 a troy ounce.
Corporate Movers
Kellogg (NYSE:K) unveiled plans acquire Procter & Gamble's (NYSE:PG) Pringles business for $2.7 billion in a transaction it expects to complete by summer 2012 pending regulatory approval. This comes after an accounting scandal scuttled Diamond Foods' (NYSE:DMND) bid to acquire the snack brand.
Comcast (NASDAQ:CMCSA) soared almost 5% to 52-week highs after beating the Street with EPS of 47 cents and saying it added 336,000 Internet subscribers. The No. 1 U.S. cable provider also hiked its dividend by 44% and unveiled a new $6.5 billion share buyback plan.
Abercrombie & Fitch (NYSE:ANF) suffered a 79% plunge in fourth-quarter profits, but its non-GAAP EPS of $1.12 met expectations. The apparel maker forecasted a recovery in margins this year, sending its shares soaring more than 8%.
Foreign Markets
The English FTSE 100 fell 0.17% to 5889.68, the French CAC 40 gained 0.24% to 3383.65 and the German DAX advanced 0.36% to 6752.29.
In Asia, the Japanese Nikkei 225 soared 2.3% to 9260 and the Chinese Hang Seng zoomed 2.14% higher to 21365.20.