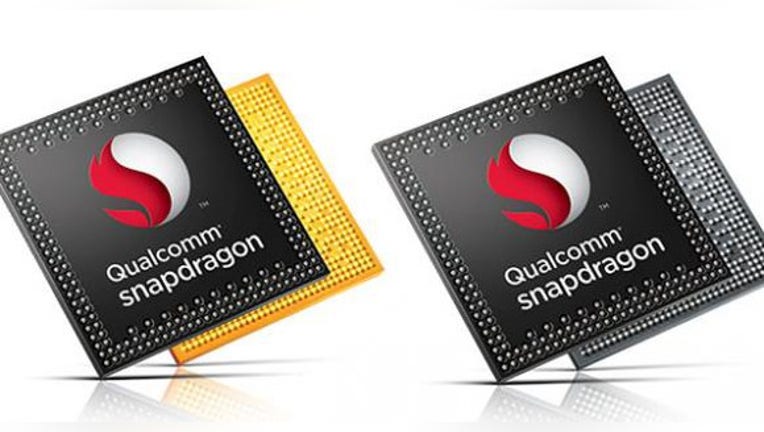 Mobile-chip company Qualcomm (NASDAQ: QCOM) reported its fiscal second-quarter results after the market closed on April 19. Revenue from chip sales and licensing both increased, driving a surge in adjusted profit, but issues with certain clients who were underpaying royalties weighed on the company's third-quarter guidance. Here's what investors need to know about Qualcomm's second-quarter results.
Qualcomm results: The raw numbers
| Metric | Q2 2017 | Q2 2016 | Year-Over-Year Change |
| --- | --- | --- | --- |
| Non-GAAP revenue | $6.0 billion | $5.5 billion | 8% |
| Non-GAAP net income | $2.0 billion | $1.6 billion | 28% |
| Non-GAAP EPS | $1.34 | $1.04 | 29% |
| MSM chip shipments | 179 million | 189 million | (5%) |
Data source: Qualcomm.
Image source: Qualcomm.
What happened with Qualcomm this quarter?
Both the chip and licensing businesses posted strong revenue and profit growth.
The Qualcomm CDMA technologies (QCT) segment, which is Qualcomm's semiconductor business, produced $3.68 billion of revenue, up 10% year over year. Segment operating income rose 179% to $475 million.
The Qualcomm technology licensing (QTL) segment produced $2.25 billion of revenue, up 5% year over year. Segment operating margin jumped 5% to $1.96 billion.
Total reported sales of licensed devices increased by 18% year over year to $82.6 billion. The number of licensed devices shipped rose 19% to about 400 million, while the average selling price was roughly flat.
Qualcomm's non-GAAP revenue excludes a nearly $1 billion reduction of revenue related to an arbitration agreement with BlackBerry.
Qualcomm still expects its acquisition of NXP Semiconductors to close by the end of 2017.
Qualcomm's third-quarter guidance was negatively affected by concerns about certain clients who underpaid royalties.
Revenue is expected between $5.3 billion and $6.1 billion, a decrease of 12% to an increase of 1% year over year.
Non-GAAP EPS is expected in the range of $0.90 to $1.15, compared with $1.16 during the prior-year period.
MSM chip shipments are expected between 180 million and 200 million, down 10% to flat year over year.
Total reported licensed device sales are expected between $59 billion and $67 billion, compared with $62.6 billion during the prior-year period.
Qualcomm stated that Apple's contract manufacturers reported but underpaid royalties during the second quarter. Qualcomm blamed uncertainty over whether this underpayment would continue during the third quarter for its unusually wide guidance range. Apple is currently suing Qualcomm for charging excessive royalties and withholding payments.
What management had to say
Qualcomm CEO Steve Mollenkopf provided some additional detail on the company's second-quarter results:
Mollenkopf also took a swipe at those claiming that Qualcomm's royalties are unfair:
Looking forward
Both the chip and licensing businesses performed well during the second quarter, but Qualcomm was forced to provide broad guidance ranges because of its concern that Apple contract manufacturers will continue to underpay royalties. In addition to being sued by Apple, Qualcomm is facing an FTC complaint accusing it of anti-competitive business practices. These legal actions will take time to play out, but some negative side effects are already being felt.
Qualcomm still expects to close its acquisition of NXP by the end of the year, which will make the company the largest provider of automotive semiconductor products in the world and provide some diversification away from the mobile-device market. It's not a done deal yet, but Qualcomm remains confident that any hurdles will be overcome.
10 stocks we like better than QualcommWhen investing geniuses David and Tom Gardner have a stock tip, it can pay to listen. After all, the newsletter they have run for over a decade, Motley Fool Stock Advisor, has tripled the market.*
David and Tom just revealed what they believe are the 10 best stocks for investors to buy right now... and Qualcomm wasn't one of them! That's right -- they think these 10 stocks are even better buys.
Click here to learn about these picks!
*Stock Advisor returns as of April 3, 2017
Timothy Green owns shares of NXP Semiconductors. The Motley Fool owns shares of and recommends Apple and Qualcomm. The Motley Fool recommends NXP Semiconductors. The Motley Fool has a disclosure policy.