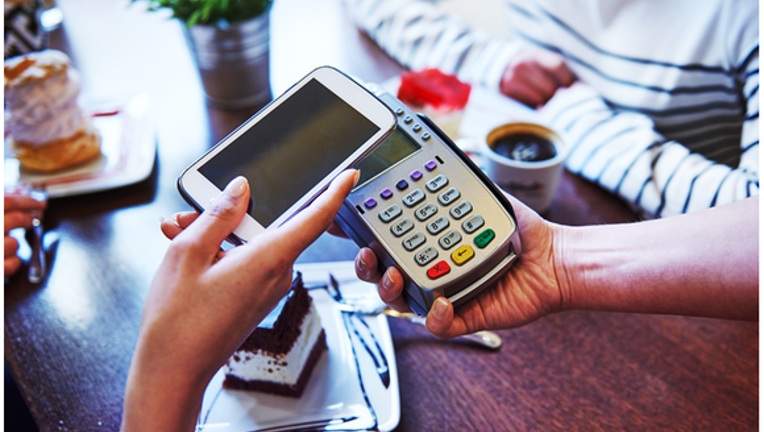 Image source: iStock/Thinkstock.
When Apple released its mobile wallet two years ago, something odd happened: Virtually all of the nation's biggest banks got on board, including Bank of America and Wells Fargo . I say it's odd because Apple Pay inserts itself between a bank and its customers, thereby usurping at least some control over the relationship.
Why would Bank of America and Wells Fargo go along with this? As an initial matter, it seems safe to say that they were hedging their bets. If Apple Pay took off as a popular payment platform, major banks couldn't miss the boat.
Additionally, because the banks are presumably prohibited from working together to develop their own payment platform due to antitrust laws, they might as well get behind Apple's efforts to do so. At the very least, banks could rest easy knowing that the Cupertino, California-based company would make the payment process as seamless and secure as possible.
But there's a third reason, which executives of Bank of America and Wells Fargo addressed at a recent industry conference that's just as important as these. Namely, banks make money from so-called interchange fees when people use the credit cards that they issue. The cost of not participating in Apple Pay would thus have been to cede any interchange income that would have come from people using their credit cards, albeit by way of a third-party iPhone app, to a competitor.
Wells Fargo's president and chief operating officer, Tim Sloan, touched on this at this year's Bernstein strategic decisions conference. His remarks came in the course of explaining how the bank plans to grow its credit card business:
Bank of America's chairman and CEO Brian Moynihan also addressed this point at the Bernstein conference -- albeit less directly. Instead of referencing Apple Pay, Moynihan emphasized the importance of rewards in enticing customers to use its cards as opposed to cards issued by the bank's competitors:
From the perspective of Bank of America and Wells Fargo, then, while they would prefer that customers only use the banks' proprietary products for payment purposes, they'll settle for second best if that insulates them against a loss of interchange income. This creates a lucrative opportunity for Apple so long as it's able to capitalize on it.
The article Apple Pay: Why Wells Fargo and Bank of America Jumped on the Bandwagon originally appeared on Fool.com.
John Maxfield owns shares of Bank of America and Wells Fargo. The Motley Fool owns shares of and recommends Apple and Wells Fargo. The Motley Fool has the following options: long January 2018 $90 calls on Apple and short January 2018 $95 calls on Apple. The Motley Fool recommends Bank of America. Try any of our Foolish newsletter services free for 30 days. We Fools may not all hold the same opinions, but we all believe that considering a diverse range of insights makes us better investors. The Motley Fool has a disclosure policy.
Copyright 1995 - 2016 The Motley Fool, LLC. All rights reserved. The Motley Fool has a disclosure policy.