Apple Pay on Safari: Winners and Losers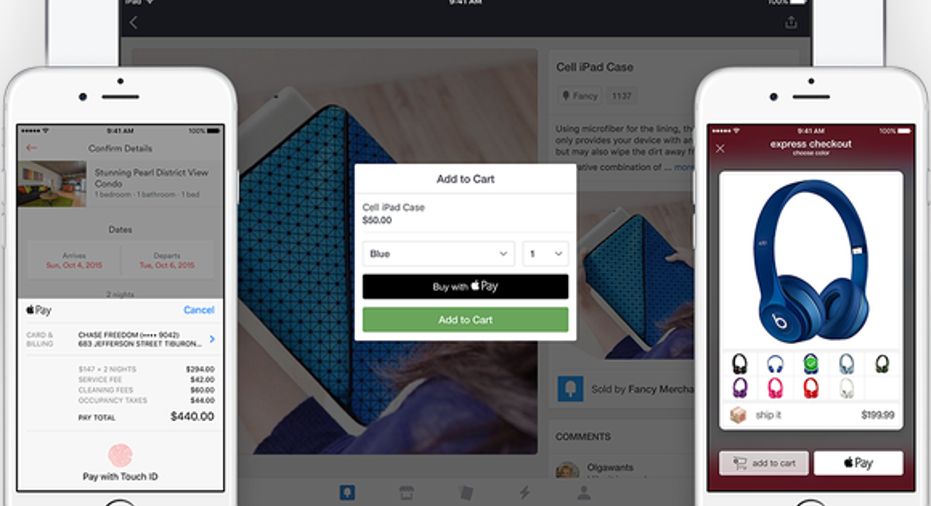 Image source: Apple.
The latest round of software updates from Apple at its annual WWDC included a major upgrade to Apple Pay. Starting this fall, Apple users will be able to use Apple Pay in the Safari web browser. That includes the default Safari browser on Mac.
With the move, Apple is encroaching further into digital payment leader PayPal's turf.
While Apple was reportedly working on a peer-to-peer payment solution tied to Apple Pay, the company instead unveiled third-party app integration with its iMessage app. It demoed Square's Square Cash app on stage as a way to send money to peers by integrating Square's app with Apple's.
These updates have some clear winners and losers, so let's take a look at how Apple Pay's expansion could impact the competition.
PayPal has more competition for big spenders
It's no secret that Apple owners spend more than average consumers. The sheer fact that they own a premium Apple product is a testament to that. So, despite Apple's relatively small market share in PCs and its larger albeit minority share of mobile devices, Apple's expansion of Apple Pay to the web browser is a major threat to PayPal.
Piper Jaffray analyst Gene Munster says that the Mac, iPad, and iPhone platforms account for more than 30% of PayPal's total payments volume. The expansion to Mac is particularly important, as 70% of U.S. e-commerce took place on desktops last year.
There are also a couple tailwinds that could help with merchant adoption for Apple Pay. First Shopify is making it available to its 275,000 merchants. Furthermore, its existing relationships with merchants for in-store and in-app payments should give it a foothold in the browser as well. Second, Apple may be able to charge less to merchants than PayPal since it doesn't have to directly monetize the service. It instead generates profits from the sale of hardware.
On the other hand, that could be Apple's downfall with Apple Pay. Since the system requires users to own Apple's devices -- users need both a Mac and another Apple device to use Apple Pay on desktops -- it could result in low adoption rates. It's not always the case that Mac users own other Apple devices. Even so, another big-name entry into the payments space isn't great for PayPal shareholders.
Square gets a boost from iMessage
Reports surfaced last November that Apple was in talks with banks to support peer-to-peer payments through Apple Pay. That feature failed to materialize at WWDC, but Apple announced integrations with third-party apps for iMessage.
The move opens the door for other payments platforms to step into the void, and Square is one of the launch partners for Apple's new iMessage apps platform. The company demonstrated sending $200 to a friend in iMessage using Square Cash.
The move by Apple follows directly in the footsteps of Facebook , which unveiled its Messenger platform and peer-to-peer payments more than a year ago. Unlike Facebook's Messenger, however, iMessage isn't compatible across platforms, so it's unclear if Square's integration with iMessage will allow users to send cash to Android users.
PayPal could provide similar integration into iMessage through its popular Venmo app. Additionally, PayPal already works with Apple Pay via its Braintree backend, so it could provide additional payments services in iMessage. There's also still the potential for Apple to create its own peer-to-peer payments solution, completely obliterating the competitors.
Overall, the move should help improve adoption of Square Cash, and it opens the door for Square to turn Square Cash into a real business by partnering more directly with Apple.
The article Apple Pay on Safari: Winners and Losers originally appeared on Fool.com.
Adam Levy owns shares of Apple. The Motley Fool owns shares of and recommends Apple, Facebook, and PayPal Holdings. The Motley Fool has the following options: long January 2018 $90 calls on Apple and short January 2018 $95 calls on Apple. The Motley Fool recommends Shopify. Try any of our Foolish newsletter services free for 30 days. We Fools may not all hold the same opinions, but we all believe that considering a diverse range of insights makes us better investors. The Motley Fool has a disclosure policy.
Copyright 1995 - 2016 The Motley Fool, LLC. All rights reserved. The Motley Fool has a disclosure policy.