Apple Music Is Already a $2.4 Billion Business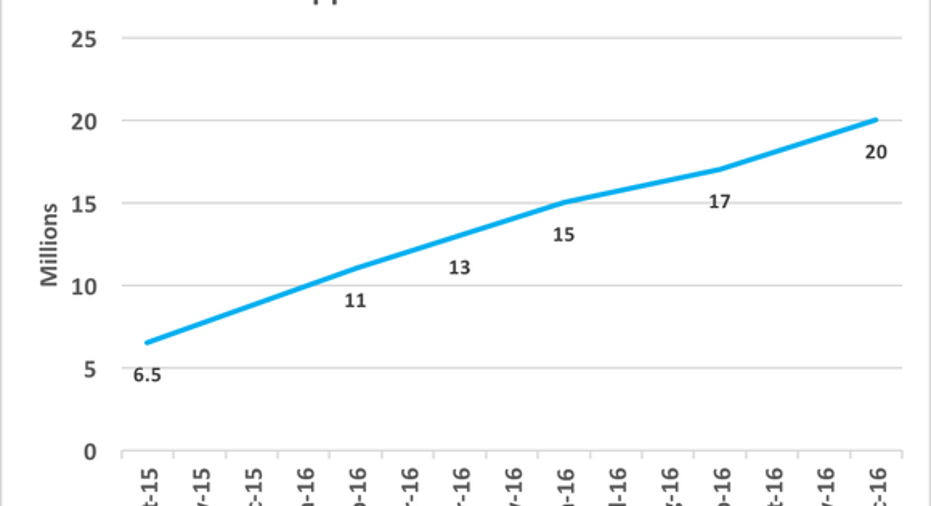 Image source: Apple.
It's been just over a year since Apple (NASDAQ: AAPL) started charging for Apple Music, and the music streaming service is already a $2.4 billion business. Apple Music launched in summer 2016 with a free three-month trial, and billing kicked in that September. The Mac maker doesn't provide regular scheduled updates on Apple Music's performance, but does occasionally tout how many paid subscribers it has. The last official update was at Apple's September event, when CEO Tim Cook said the service had garnered 17 million subscribers.
The latest data point comes from Billboard, which recently interviewed services chief Eddy Cue and Beats 1 DJ Zane Lowe. Apple Music has now hit 20 million subscribers, according to the report. At $120 per year, we're now talking about an annual run rate of $2.4 billion for Apple Music.
Data source: Apple and various media reports. Chart by author.
So far, so good.
Right on Cue
Apple's services chief also shared some additional data points regarding this subscriber base. Cue notes that roughly 60% of Apple Music subscribers haven't purchased any content from the iTunes Music Store over the past month, which makes sense since Apple Music grants access to a comprehensive catalog and artists rarely withhold their collections from Apple Music. There's very little reason for Apple Music subscribers to purchase content a la carte. Most of these subscribers are new customers, Cue adds. Over half of Apple Music's subscriber base is located internationally.
Apple Music is also seeing some success with exclusive releases, which helps explain why the company is also seemingly fascinated with original video content that it could use to market Apple Music.
The executive also points out that there's still plenty of growth opportunities in music streaming, noting that as an industry there are collectively still less than 100 million subscribers. At last count, Spotify had about 40 million paid subscribers. Note that Cue is only referring to paid subscribers; there are countless more ad-supported free users that don't pay anything out of pocket. Naturally, the music industry would highly prefer people pay for content directly instead of relying on ads to subsidize and monetize music. Unsurprisingly, YouTube thinks ad-revenue is a viable model that can complement paid subscriptions, pointing out just yesterday that it has paid out $1 billion in ad revenue to the music industry over the past year.
Apple is catching up to Spotify
To put the annualized $2.4 billion into context, consider the fact that Apple's services business has generated $24.3 billion in revenue on a trailing-12-month (TTM) basis. That means that over the next year at current subscriber levels, Apple Music is already around 10% of how much revenue services have brought in over the past year. This is an important transition as Apple is doing its best to shift investor focus on recurring revenue sources, while the vast majority of services revenue comes from ongoing purchases that, while regular, aren't technically recurring (much like iPhone upgrades).
It's also worth noting that Apple Music is catching up to Spotify in terms of paid subscribers. Earlier this year, Apple Music had about a third as many subscribers (11 million compared to 30 million), and it now has half as many subscribers (20 million compared to 40 million). Unlike video services that aren't necessarily mutually exclusive due to little overlap in content, music services are very much mutually exclusive since the catalogs are extremely similar, if not identical. No one subscribes to both Spotify Premium and Apple Music.
Led by Apple and Spotify, the paid music streaming sector is growing, and that's music to the industry's ears.
10 stocks we like better than Apple When investing geniuses David and Tom Gardner have a stock tip, it can pay to listen. After all, the newsletter they have run for over a decade, Motley Fool Stock Advisor, has tripled the market.*
David and Tom just revealed what they believe are the 10 best stocks for investors to buy right now... and Apple wasn't one of them! That's right -- they think these 10 stocks are even better buys.
Click here to learn about these picks!
*Stock Advisor returns as of Nov. 7, 2016
Evan Niu, CFA owns shares of Apple. The Motley Fool owns shares of and recommends Apple. The Motley Fool has the following options: long January 2018 $90 calls on Apple and short January 2018 $95 calls on Apple. Try any of our Foolish newsletter services free for 30 days. We Fools may not all hold the same opinions, but we all believe that considering a diverse range of insights makes us better investors. The Motley Fool has a disclosure policy.