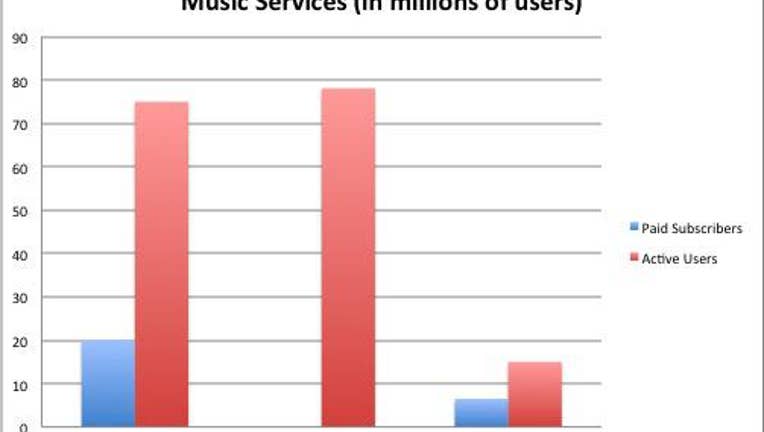 Source: Apple.
The war for the future of music has gained a momentous head of steam in the past several weeks.
Pandora's earnings meltdown and subsequent product expansion point to a brighter future amid a dim outlook for the online radio fallen star. Alphabet recently unveiled its long-awaited music subscription service for YouTube, the world's go-to music consumption platform. And in a recent move, tech titan Apple introduced Apple Music into Alphabet's Android mobile operating system.
Apple Music's Alphabet assaultEarlier this month, Apple brought its Apple Music product into Alphabet's smartphone ecosystem, with a native Apple Music app for Android. This marks only the second time Apple has launched an Android app, following the cheeky "Move to iOS" app it launched alongside the iPhone 6s's September debut. Apple Music on Android can be downloaded anywhere in the world except China, but Apple promises a Chinese version in short order as well.
The move exposes Apple Music to a massive number of potential new customers, considering Android shipped in over 1 billion smartphones in calendar 2014 alone, according to Strategy Analytics. Apple designed the Android-based app to work natively on smartphones, although it will also play nicely with Android tablets running an Android OS 4.3 (Jelly Bean) or later. But if you have Chromecast Audio and Android Wear, Apple Music for Android won't work for you. Sorry.
As an interesting financial wrinkle, Apple will pay Alphabet 30%of all subscription fees it receives to remain in compliance with the Google Play Store's revenue-split terms and conditions. So even if Apple proves tremendously successful in luring Android users into Apple Music, Alphabet will still get its cut. So since turning a profit appears to be a secondary motive here for Apple, the acute financial consequences are really noteworthy only because of their unusual interconnectedness. More importantly, what does this do for the competitive balance in mobile and streaming music?
An iTunes-on-Windows moment?What does this mean for ecosystem rivals Apple and Alphabet, as well as music-specific names such as Pandora and Spotify? Let's start with what we know.
Apple is trying to create a beachhead with Android users, with the intention of converting them into Apple device owners. For a point of comparison, think of iTunes for Windows, which helped drive an explosion in iPod sales. Given the news in Apple's most recent quarterly report that 30% of new iPhone buyers defected from Android, Apple has a great opportunity to continue to siphon away Android users. At the same time, though, Google's product ecosystem now features multiple on-demand music services, so Apple Music might not prove as appealing as iTunes for Windows. Only time will tell, but Apple's intent is crystal clear.
As for the streaming music space, adding Apple Music to the world's largest computing ecosystem will ratchet up the pressure on Spotify and Pandora, the two largest players in the space. With Pandora's recent acquisition of Rdio's on-demand assets signaling its aggressive international expansion, both Apple and Spotify are likely to accelerate their own global user-acquisition arms race in the coming months. As of the most recent updates from each player, here's how the three leading music services stack up in terms of size.
Sources: Pandora IR, Apple, and Spotify's official blog.
Don't let the chart deceive you, though. Despite its smaller installed base, Apple Music has enjoyed a blistering start, considering the service only launched on June 30. And by opening its potential market to Android's much larger user base, this move could be a windfall for Apple Music. Again, Apple's intent here is clear, but the degree of Apple's impact is harder to determine.
So assuming both of these moves benefit Apple on the margin, why do they matter? Because Apple intends to use Apple Music as a funnel into its ecosystem, which carries consequences for Alphabet, Pandora, Spotify, and more. As we've seen repeatedly with Apple's Hotel California-esque ecosystem, once users check in, they tend never to leave.
And lastly, bringing new users into Apple's ecosystem will help bolster Apple's ongoing iPhone growth story, especially ahead of the launch of the iPhone 7 and its new form factor next year. So as far as Apple investors should be concerned, this move ought to strengthen Apple's competitive positioning against its many competitors and also help buoy its growth outlook at to some degree. That's what I call win-win for Apple investors.
The article Apple Music Comes to Alphabet's Android originally appeared on Fool.com.
Andrew Tonner owns shares of Apple. The Motley Fool owns shares of and recommends Alphabet (A shares), Alphabet (C shares), Apple, and Pandora Media. Try any of our Foolish newsletter services free for 30 days. We Fools may not all hold the same opinions, but we all believe that considering a diverse range of insights makes us better investors. The Motley Fool has a disclosure policy.
Copyright 1995 - 2015 The Motley Fool, LLC. All rights reserved. The Motley Fool has a disclosure policy.