Apple, Microsoft Shoot Down Rifle Emoji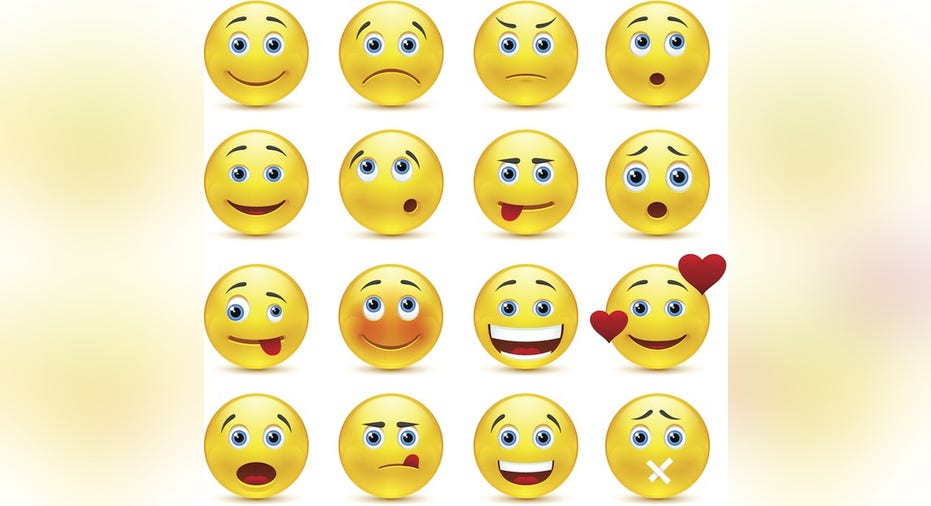 Emojis have become a popular form of communication. Image source: Getty Images.
While most emojis veer from silly (pirate ghost) to literal (plane taking off), the group responsible for deciding which ones become standard has to get involved in some surprisingly contentious debates.
Even though the icons used to communicate are generally not meant to be political (though the poop emoji says a lot about the current presidential election) the Unicode Consortium, which approves emojis, has to decide on symbols that may have unintended meanings or uses. The 12 full-voting members of the consortium include Apple , Microsoft , and Alphabet's Google.
The group is not meant to be political, but decisions like including a middle finger emoji or debates over skin color for the icons puts the voting companies into tricky positions sometimes. That happened again as two emojis -- one showing a rifle and the other depicting a man firing a pistol -- were debated during a May meeting.
Both were part of a set depicting Olympic sports, but recognizing the potential for them to be misused,Apple and Microsoft led the charge to have the two gun-related emojis left out of the final set for Unicode 9, BuzzFeed News reported.
What happened at the Unicode meeting?
Apple and Microsoft reportedly both spoke out against the gun-based emojis after they had already moved into being encoded. That's not typical procedure as generally once an emoji gets to the coding stage it ends up being included in the final release.
Unicode President Mark Davis confirmed to BuzzFeed News that the two gun-related icons would not be included as emojis. "The committee decided not to mark them as Emoji, but to add them as characters (that is, normal black & white symbols)," he wrote in an email to to the website.
That's a confusing dodge, but basically it means the two gun symbols will exist in theofficial Unicode Character Database, but will not appear on any standard emoji keyboard. The decision to not include the two gun-related Olympic emojis was unanimous, but the Apple and Microsoft reps were the ones to raise the issue, according to sources at the meeting, BuzzFeed News reported. The website reported on a British gun control group that had previously objected to the rifle emoji, saying it would be "offensive to many people who have been injured or affected by gun incidents" and that it would be "familiarizing and popularizing the image of a weapon, which is not a good idea."
What does this mean for Apple and Microsoft?
Currently this decision has been largely under the radar, but going against the gun lobby and the National Rifle Association (NRA) can put a company in a position for backlash. At various points the NRA has called for boycotts of everyone from Boyz II Men to theAmerican Academy of Pediatrics.It's hard to see how a big boycott list has much impact (and the NRA no longer publishes an official list) but pro-gun politicians can use issues like this to cast unwanted attention on companies.
Presumptive Republican nominee for president Donald Trump, for example, received national media attention when he called for a boycott of Apple during its dispute with the Federal Bureau of Investigation (FBI) over helping the agency access a locked iPhone belonging to one of the shooters involved in the San Bernardino, California, terrorist attack.
"Boycott Apple until such time as they give that information," Trump said during a campaign event, CNN reported. "Apple ought to give the security for that phone, OK. What I think you ought to do is boycott Apple until such a time as they give that security number. How do you like that? I just thought of it. Boycott Apple."
That's typical Trump bravado, but his ability to do harm to a company through a boycott should not be ignored given the devotion level of some of his fans.
Microsoft and Apple are being put in an awkward position here. Allowing the emojis to go through could lead to future fallout while blocking them may lead to negative business consequences now. This was a bold decision both companies made to do what each perceives to be the right thing. That may lose them some sales over being too liberal, but in the long run hopefully even opportunists like Trump will realize that emojis, or the lack of them, are not an assault on gun rights.
Of course, it's also worth noting that the current emoji set offered on iPhones contains a pistol, a knife, and multiple swords, so this effort was merely about limiting the number of gun-related emojis not an effort to fully sanitize the symbol set.
The article Apple, Microsoft Shoot Down Rifle Emoji originally appeared on Fool.com.
Suzanne Frey, an executive at Alphabet, is a member of The Motley Fool's board of directors. Daniel Kline owns shares of Apple and Microsoft. He has never used the gun emoji and knows that the space alien character does not make him pro conquest of Earth. The Motley Fool owns shares of and recommends Alphabet (A shares), Alphabet (C shares), and Apple. The Motley Fool owns shares of Microsoft and has the following options: long January 2018 $90 calls on Apple and short January 2018 $95 calls on Apple. Try any of our Foolish newsletter services free for 30 days. We Fools may not all hold the same opinions, but we all believe that considering a diverse range of insights makes us better investors. The Motley Fool has a disclosure policy.
Copyright 1995 - 2016 The Motley Fool, LLC. All rights reserved. The Motley Fool has a disclosure policy.