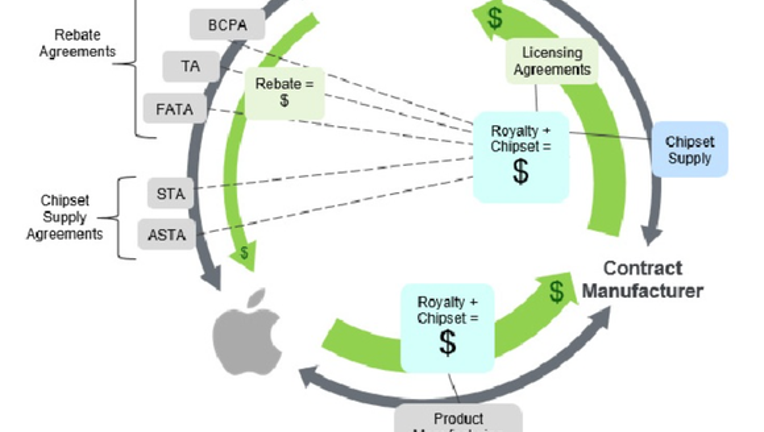 Just like last quarter, all anyone wanted to talk about on Qualcomm's (NASDAQ: QCOM) earnings call last night was the mobile chip giant's expanding legal battle with Apple (NASDAQ: AAPL). The situation even overshadowed relatively strong earnings, as Qualcomm topped consensus estimates by putting up revenue of $6 billion with adjusted earnings per share of $1.34. Management said that the automotive, networking, and Internet of Things (IoT) segments performed particularly well.
Heading into the release, there was concern that Qualcomm's results could be held back since Apple is interfering with royalty payments that its contract manufacturers owe to Qualcomm, which was one of the counterclaims in Qualcomm's countersuit against Apple. The whole situation is complicated because Apple's suppliers sit between the two dueling parties, and are effectively getting caught in the crossfire.
Image source: Court filings.
Here are the relevant highlights from the call regarding the escalating litigation.
Qualcomm believes its direct license offers are fair
Over the years, Apple has tried to ink a direct licensing deal with Qualcomm, but has never found the offered terms consistent with fair, reasonable, and non-discriminatory (FRAND) principles. Qualcomm says its offers have been comparable with the terms it offers hundreds of other companies, according to Qualcomm President Derek Aberle:
Apple has started withholding payments to suppliers, which owe Qualcomm
Since Apple's contract manufacturers pass along the royalty costs in full, which Apple is now disputing, Apple has simply started to withhold these payments from its suppliers. These suppliers, in turn, underpay what they contractually owe to Qualcomm. The difference is roughly $1 billion. Aberle again:
Image source: Apple.
The underpayments didn't affect recognized revenue
Apple suppliers reported the appropriate amount of royalties owed during the quarter, but simply underpaid what was owed. As such, Qualcomm still recognized the full royalty revenue from these contractual agreements, so it's mostly a matter of cash flow. Net accounts receivable did increase sequentially by $2 billion, including the disputed $1 billion. This is offset on the balance sheet, with $1 billion held in liabilities while the dispute remains ongoing.
Here's CFO George Davis:
Suppliers are still on the hook
As mentioned above, Apple suppliers are getting caught in the crossfire, since they still owe Qualcomm royalties due to their agreements irrespective of what Apple does. Apple withholding payments to suppliers because Apple has a beef with Qualcomm has no direct impact on what the suppliers owe. On the other hand, the suppliers don't want to pay out such large amounts. Here's General Counsel Don Rosenberg:
This is how Qualcomm still recognizes the full revenue
Normally, if an amount is disputed, it isn't recognized as revenue. But since the suppliers themselves have not formally disputed the payments, Qualcomm is still able to recognize the revenue in full, as mentioned above. Here's Davis:
A major overhang
The legal battle is a major overhang, and -- unlike the FTC's suit -- probably isn't going away anytime soon. It's a small consolation for Qualcomm investors that the bulk of the dispute is in the rearview mirror. The Business Cooperation and Patent Agreement (BCPA) that's at the center of the dispute expired at the end of 2016. Rosenberg again:
Qualcomm is taking a conservative approach to guidance, factoring in numerous scenarios of royalty payments from Apple via its suppliers (not including a scenario where Apple suppliers pay nothing). The company expects fiscal third-quarter revenue to be in the range of $5.3 billion to $6.1 billion, with adjusted EPS of $0.67 to $0.92.
10 stocks we like better than QualcommWhen investing geniuses David and Tom Gardner have a stock tip, it can pay to listen. After all, the newsletter they have run for over a decade, Motley Fool Stock Advisor, has tripled the market.*
David and Tom just revealed what they believe are the 10 best stocks for investors to buy right now... and Qualcomm wasn't one of them! That's right -- they think these 10 stocks are even better buys.
Click here to learn about these picks!
*Stock Advisor returns as of April 3, 2017
Evan Niu, CFA owns shares of Apple. The Motley Fool owns shares of and recommends Apple and Qualcomm. The Motley Fool has a disclosure policy.