Apple, Inc. Wants to You to Know How Big Its Services Business Really Is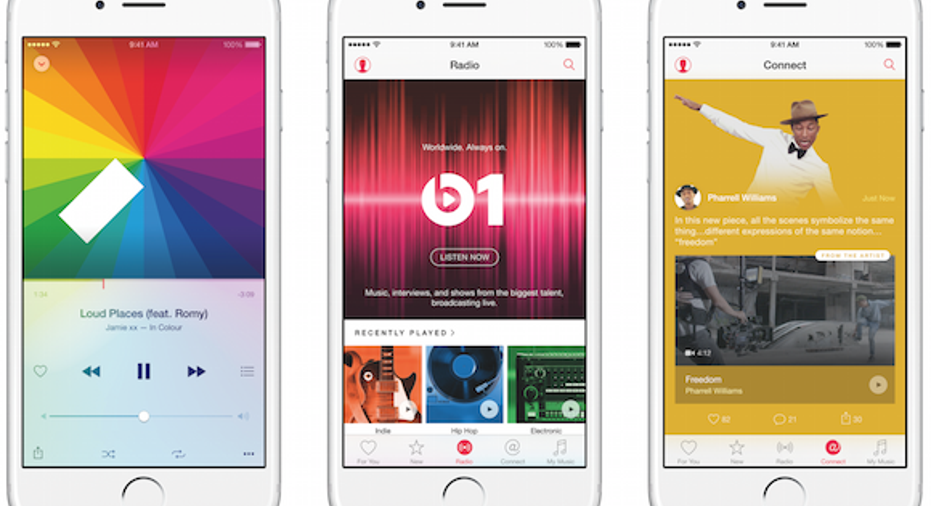 Image source: Apple.
There's this long-standing perception in the world of consumer electronics that companies live and die by product cycles and unit volumes. This notion largely comes from a long history of rapid hardware commoditization, shifting consumer preferences, and a graveyard of fallen titans. Even though Apple has demonstrated an incredible resilience to this idea over the past two decades or so, the Mac maker can't escape the reality of its hardware roots -- or the prominence of the iPhone in its financial results.
As iPhone unit sales show visible signs of peaking, Apple has been trying to take control of the narrative for at least two quarters now, instead pointing investors to its large and growing services business. As a recurring revenue source, services provide a natural cushion for when unit sales decline. That's why Apple wants you to look there.
Look how much digital stuff we sell!Apple has now introduced a new non-GAAP operating metric for this express reason. "Installed base related purchases" indicates the gross amount of content and services that Apple users purchase. An adjustment is necessary since some content and services are reported on a net basis, while others are reported on a gross basis.
Installed base related purchases added up to $9.9 billion last quarter, up 27% year over year. That includes $5.1 billion in GAAP services revenue, in addition to $4.8 billion unrecognized services purchases (amounts that are directly remitted to developers or content creators). But let's combine that data point with the fact that Apple now has over 1 billion active devices, a milestone it announced in January.
It adds upIf you divide it out, that suggests that users are spending just under $10 per quarter per device. Devices included in the installed base total are iPhones, iPads, Macs, iPod Touches, Apple TVs, and Apple Watches that have been used in the past 90 days. But thanks to strong halo and ecosystem effects, most Apple users typically have more than one device. So on a per-user basis, any given customer could potentially be spending anywhere from $20 to $50 per quarter on digital content and services.
If we knew how many active iTunes accounts there are these days, we could get a better approximation of user spend, but it's been two years since Apple provided data on this. The last update was 800 million active iTunes accounts in April 2014.
The tables are turningThis is one reason why Apple Music is so important. At $10 per month ($15 per month for families), it represents significant upside potential with monetizing services. On the conference call, management noted that music revenue had been in a steady decline for many quarters as the market shifted toward streaming models. As Apple adopted streaming, music revenue has stabilized and may have now reached an "inflection point."
Apple now has 13 million Apple Music subscribers, which is a good start but there's plenty of work to do, and the streaming market is only getting more competitive over time.
Apple-as-a-ServiceIt's already very likely that most investors are undervaluing Apple's services business, which would be worth an estimated $264 billion alone if the market assigned it a valuation multiple comparable with Alphabet. Certainly, Apple's valuation has always been more comparable to hardware companies, so shifting the perception toward that of a services company could potentially help with its overall multiples.
When asked whether or not investors should consider services as an important driver for earnings growth going forward, CEO Tim Cook naturally pointed to Apple's overarching driving force of making great products and consumer experiences. The growing services business is merely an offshoot of that goal.
The article Apple, Inc. Wants to You to Know How Big Its Services Business Really Is originally appeared on Fool.com.
Suzanne Frey, an executive at Alphabet, is a member of The Motley Fool's board of directors. Evan Niu, CFA owns shares of Apple. The Motley Fool owns shares of and recommends Alphabet (A shares), Alphabet (C shares), and Apple. Try any of our Foolish newsletter services free for 30 days. We Fools may not all hold the same opinions, but we all believe that considering a diverse range of insights makes us better investors. The Motley Fool has a disclosure policy.
Copyright 1995 - 2016 The Motley Fool, LLC. All rights reserved. The Motley Fool has a disclosure policy.