Apple Inc. Wants an Extra $100 for Its Upcoming iPad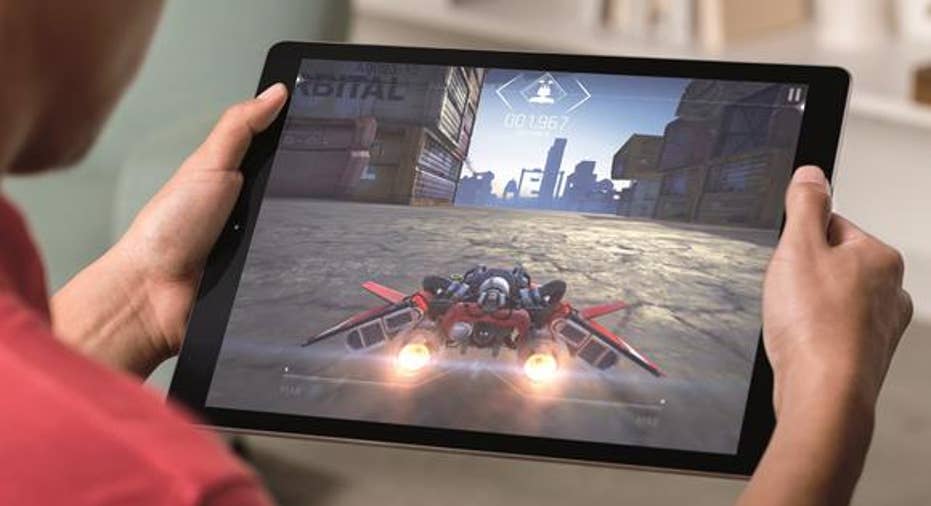 Image credit: Apple.
When Apple launched the iPad Air 2, the device started at $499 for the model with 16 gigabytes of storage, with the 64 gigabyte and 128 gigabyte models coming in at $599 and $699, respectively.
As 9to5Mac previously reported, the successor to the 9.7-inch iPad Air 2 will apparently be an "iPad Pro" with a 9.7-inch display, A9X chip, upgraded 12-megapixel camera, and a higher-quality display. The device, 9to5Mac just reported, will come in 32 gigabyte and 128 gigabyte storage configurations starting at $599 (no price is given for the higher-tier configuration, though it is likely to be $749 given the 12.9-inch iPad Pro pricing).
This strategy is hardly a surprise given current iPad/tablet market business dynamics.
Strategy: increase prices, pack in more featuresApple generally needs to achieve a certain gross profit margin level on its devices. This means that, for a given selling price, it can't go beyond a certain bill of materials cost. To provide added content beyond that cost, Apple needs to do one of two things:
Increase device selling prices; or
Learn to live with lower per-unit margins
In an environment of very high industrywide growth, the second option can work if those added features help the company grow revenue so much that overall gross profits move up. In a market where units are flat to declining (and iPad sales sure are declining), the goal should be to maximize profitability per unit while not further damaging unit sales.
The problem with iPad is twofold. Firstly, the tablet segment is being "cannibalized" by larger screen iPhones; many customers who purchase, say, large-screen iPhones may be less likely to need an iPad or upgrade an aging one. Secondly, even though there are many folks who still want iPads, the ones that they purchased previously continue to be "good enough" -- the upgrade cycles here are fairly lengthy.
The silver lining, though, is that because these devices tend to last a long time, customers are probably more willing to pay more upfront for a higher-quality device. From Apple's perspective, it makes sense to take advantage of this by adding interesting features (quad speakers, faster A9X chip, more RAM, fancier display) and just charging more.
Not going to "save" iPad, but every little bit helpsThe fundamental issues that plague iPad and the broader tablet market are still there -- long upgrade cycles, robust competition from larger screen smartphones. I don't think investors should reasonably expect the iPad market to be a major growth driver for Apple from here on out.
I expect that at some point iPad sales will bottom out, though I'm not certain at what annual unit run rate that bottom will come at. From there, I wouldn't bank on much growth, but rather just flattish unit sales for quite a while following the "bottom."
Perhaps if Apple is able to bring significant new and unique technologies to the iPad beyond a larger screen, a faster chip, and stylus support relative to the iPhone, iPad could someday return to growth. At this point, though, this is hard to imagine.
The article Apple Inc. Wants an Extra $100 for Its Upcoming iPad originally appeared on Fool.com.
Ashraf Eassa has no position in any stocks mentioned. The Motley Fool owns shares of and recommends Apple. Try any of our Foolish newsletter services free for 30 days. We Fools may not all hold the same opinions, but we all believe that considering a diverse range of insights makes us better investors. The Motley Fool has a disclosure policy.
Copyright 1995 - 2016 The Motley Fool, LLC. All rights reserved. The Motley Fool has a disclosure policy.