Apple Inc. Talks iPhone Upgrade Rate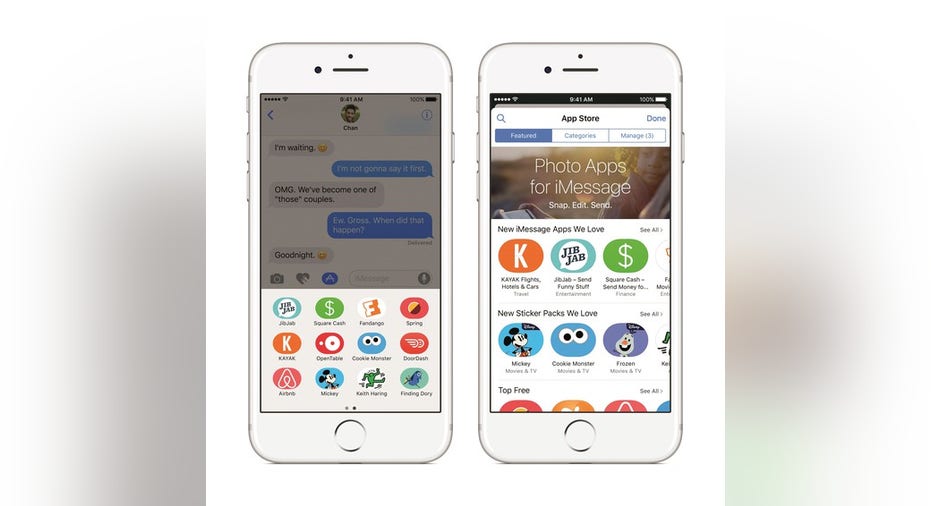 Apple's (NASDAQ: AAPL) iPhone 6s product line, launched in September 2015, ultimately underperformed the company's wildly successful iPhone 6 product line in terms of sales. A key reason for this, Apple CEO Tim Cook told investors at the time, was due to the company's seeing fewer customers opting to upgrade their iPhones during the iPhone 6s cycle than it did during the iPhone 6 cycle.
"From an upgrade perspective, during the first half of [fiscal 2016], the upgrade rate for the iPhone 6s cycle has been slightly higher than what we experienced in the iPhone 5s cycle two years ago, but it is lower than the accelerated upgrade rate that we saw with iPhone 6," Cook explained back on the company's April 2016 earnings call.
Apple iPhones. Image source: Apple.
On Apple's most recent earnings call, CFO Luca Maestri provided some insight into what the upgrade rate is looking like for the current iPhone 7 product cycle -- let's take a closer look.
More of the same, but that's not bad
Maestri explained that the percentage of Apple's iPhone installed base that has upgraded to the company's latest iPhone 7-series smartphones "has been very similar to" what the company saw with the prior-generation iPhone 6s-series smartphones.
Although last year's iPhone 6s cycle proved to be a bit disappointing, this news is much better delivered this time around than it was last year for several reasons.
First, Apple's iPhone installed base has likely grown year over year, so a constant upgrade rate applied to a larger installed base should mean that more phones get sold -- clearly a positive for Apple.
Next, investors often focus on year-over-year trends. Last year, the upgrade rate that Apple saw with the iPhone 6s relative to the iPhone 6 negatively affected the company's financial results year over year. This year, a flat upgrade rate relative to the prior generation means that the year-over-year financial result comparisons won't be as tough.
And, finally, while the percentage of the iPhone installed base that migrates to the latest iPhones might be flat generation over generation, Apple seems to be getting a boost by selling a richer product mix.
As I noted here, Cook told investors that the company is selling more iPhone 7 Plus phones as a percentage of total iPhone 7-series (i.e., "new product") sales than it did of its prior-generation iPhone 6 Plus or iPhone 6s Plus. The Plus models are more expensive than their non-Plus counterparts, so this is a positive for Apple's iPhone product mix and, ultimately, revenue.
Can Apple accelerate that rate in the future?
Maestri offered some additional insight into the factors that impact the upgrade rates of Apple's new iPhones.
"The point that I think I need to make when you think about upgrade rates, clearly, this issue of the strong dollar doesn't help us," Maestri began.
He then went on to suggest that if the company weren't forced to raise iPhone pricing in certain countries because of foreign exchange movements, the company could potentially "sell significantly more and significantly faster from an upgrade cycle standpoint."
Beyond the foreign exchange situation, Maestri also pointed out that "the more [Apple is] able to innovate with new generations of products, clearly that plays a role in the upgrade rate."
The rumors swirling about Apple's next-generation iPhone models suggest that the improvements could be much more significant generation-over-generation than what the company delivered with the iPhone 7-series. Time will tell if they are enough to catalyze the iPhone upgrade rate that Apple sees.
10 stocks we like better than Apple When investing geniuses David and Tom Gardner have a stock tip, it can pay to listen. After all, the newsletter they have run for over a decade, Motley Fool Stock Advisor, has tripled the market.*
David and Tom just revealed what they believe are the 10 best stocks for investors to buy right now... and Apple wasn't one of them! That's right -- they think these 10 stocks are even better buys.
Click here to learn about these picks!
*Stock Advisor returns as of January 4, 2017
Ashraf Eassa has no position in any stocks mentioned. The Motley Fool owns shares of and recommends Apple. The Motley Fool has the following options: long January 2018 $90 calls on Apple and short January 2018 $95 calls on Apple. The Motley Fool has a disclosure policy.