Apple Inc. Supplier Readying for Ramp-Up of New 10-Nanometer Tech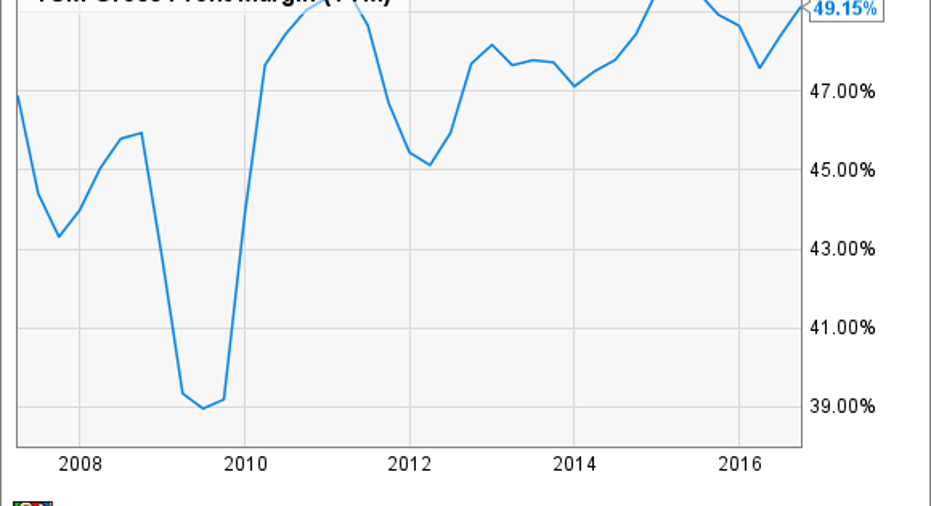 Contract-chip manufacturing giant Taiwan Semiconductor Manufacturing Company (NYSE: TSM) recently announced its earnings results, provided forward guidance for the current quarter, and provided a lot of insight on the ramp-up of its next-generation chip-manufacturing technology, called 10-nanometers (10nm for short).
Image source: TSMC.
TSMC's new 10nm technology is expected to bring performance, power, and area benefits compared to its current generation 16nm technology. Those improvements should allow its customers -- with Apple (NASDAQ: AAPL) being a big one -- to develop chips with better performance and more features than what they could create with older-generation technologies.
On TSMC's most recent earnings call, company executives provided some key business and financial insight around its upcoming 10nm technology.
The big bang comes in the second half of 2017
TSMC has previously said that it expects to begin production shipments of its 10nm technology in the first quarter of 2017. On the call, TSMC Chairman Morris Chang explained that, although production of 10nm chips will "start to ramp in the first quarter [of 2017]," shipments will "ramp-up very strongly in the second half.
TSMC's Lora Ho later said that revenue from 10nm wafers will exceed 10% of the company's quarterly revenue in the third quarter of the year. For the full year, she said, TSMC's revenue from 10nm wafers will make up more than 10% of the company's yearly revenues -- implying that 10nm shipments during the fourth quarter of the year will make up much more than 10% of revenue.
Several mobile-processor makers are expected to use TSMC's 10nm technology in the second half of 2017, including MediaTek (a low-cost mobile chipmaker that aspires to gain traction in the high end of the market), HiSilicon (Huawei's chip-development arm), and of course, Apple.
Apple is likely to be far and away the largest customer of TSMC 10nm wafers. Apple's iPhone volume is likely to shift very quickly to the next-generation models powered by 10nm chips, and Apple's iPhone is the highest-volume premium smartphone in the market.
TSMC builds the A-series chips that Apple designs for the iPhone, as well as several chips designed by Apple's suppliers. Image source: Apple.
The revenue-ramp profile that TSMC is talking about here -- small volumes in the first half of 2017; large volumes in the second half of 2017 -- is consistent with Apple's established iPhone-release schedule.
Great market-share expectations
Chang offered some commentary around his market-share expectations for its 10nm technology. He said that, a year-ago, he "vowed then that every new [manufacturing] node from now on will have a market share higher than our market share on 16 [nm]."
Chang didn't give a specific market share figure for the company's 16nm technology, but estimated it at between 65% and 70%. He then told analyst Mehdi Hosseini that TSMC is confident that the company's share of the 10nm market would "very definitely" be above 65%."
Gross margin impact of 10nm transition
Ahead of new manufacturing-technology introductions, TSMC generally tells investors that, as those new technologies ramp-up, they'll dilute the company's consolidated gross profit margins for quite a few quarters.
TSM Gross Profit Margin (TTM) data by YCharts.
The transition to 10nm will be no different. Chang told investors that the company expects the ramp-up of its 10nm technology to negatively impact the company's gross profit margins by 2% during the second half of the year.
10 stocks we like better than Taiwan Semiconductor Manufacturing When investing geniuses David and Tom Gardner have a stock tip, it can pay to listen. After all, the newsletter they have run for over a decade, Motley Fool Stock Advisor, has tripled the market.*
David and Tom just revealed what they believe are the 10 best stocks for investors to buy right now... and Taiwan Semiconductor Manufacturing wasn't one of them! That's right -- they think these 10 stocks are even better buys.
Click here to learn about these picks!
*Stock Advisor returns as of January 4, 2017
Ashraf Eassa has no position in any stocks mentioned. The Motley Fool owns shares of and recommends Apple. The Motley Fool has the following options: long January 2018 $90 calls on Apple and short January 2018 $95 calls on Apple. The Motley Fool has a disclosure policy.