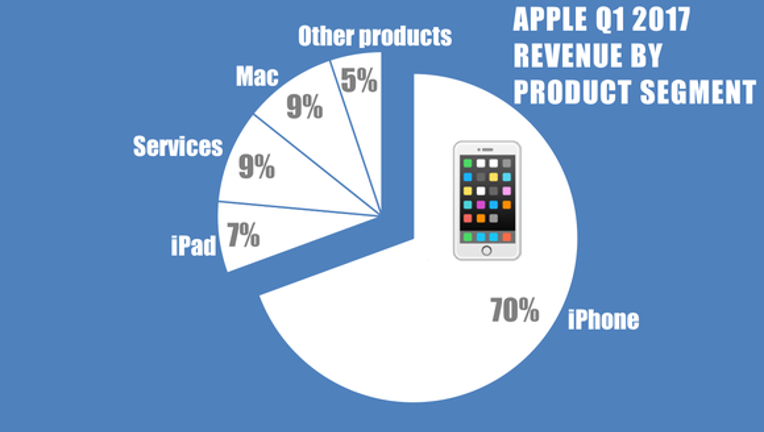 After market on closed on Tuesday, tech giant Apple (NASDAQ: AAPL) put to rest any doubts about the company's ability to post strong holiday results. Shares moved a few percentage points higher immediately after the company released its figures for its Dec. 31-ending first fiscal quarter of 2017. Apple's revenue and earnings exceeded both management's own forecast for the quarter and analysts' consensus estimate.
Image source: Apple.
Here's a look at some of the biggest takeaways from the results.
Financial results
Data source: Apple Q1 2017 press release. Table by author.
Apple's revenue reached an all-time high of $78.4 billion, up 3.3% from the year-ago quarter and above the company's guidance for $76 billion to $78 billion. In addition, Apple's EPS of $3.28 easily exceeded the midpoint of its guidance range for about $3.17.
Segment results
The iPhone remained crucial to Apple's overall results, accounting for nearly 70% of total revenue during the quarter. With a 5% year-over-year increase in iPhone revenue, the product segment played a key role in Apple's better-than-expected financial results.
But the tech giant's services segment, which accounts for sales from the App Store, iTunes, Apple Music, iCloud, Apple Pay, licensing, and other services, was also important. Services revenue was up 18% year over year, accounting for 9.1% of the quarter's total results -- up from 8% in the year-ago quarter. Apple CEO Tim Cook commented specifically on Apple's services segment performance, saying the growth was "led by customer activity on the App Store."
Data source: Apple Q1 2017 press release. Chart by author.
Another bright spot from Apple's segment results was Mac. With the help of its new MacBook Pro, the segment's revenue increased 7% year over year.
However, not all of Apple's product segments were on the rise during the quarter. Apple's iPad revenue continued its downward trend, with revenue falling 22% year over year. Other products revenue, which includes sales of Apple TV, Apple Watch, Beats products, iPod, and accessories, saw its revenue decline 8% year over year. But Apple was careful to note in its first-quarter press release that despite the decline in other products revenue, Apple Watch revenue hit an all-time high.
Guidance
Apple also notably said it expects revenue growth to continue in the company's second quarter -- an important guide, considering the company reported three straight quarters of year-over-year revenue declines in fiscal 2016. Apple guided for second-quarter revenue to be in the range of $51.5 billion to $53.5 billion, up from $50.6 billion in the year-ago quarter.
Looking beyond the financial results for Apple's second quarter, Cook said the Apple team is "excited" about the products in its pipeline.
The strong quarter for the tech giant, along with a nice return to growth for the current quarter and for expected revenue in Q2, reinforces the company's ability to drive results for shareholders even in a post hyper-iPhone-growth era.
Cook was pleased with the company's performance: "Our team executed extremely well in the face of strong macroeconomic headwinds. We are very happy with the continued strong growth in revenue from services, thanks to the incredible strength of the Apple ecosystem and our growing base of over 1 billion active devices."
10 stocks we like better than Apple When investing geniuses David and Tom Gardner have a stock tip, it can pay to listen. After all, the newsletter they have run for over a decade, Motley Fool Stock Advisor, has tripled the market.*
David and Tom just revealed what they believe are the 10 best stocks for investors to buy right now... and Apple wasn't one of them! That's right -- they think these 10 stocks are even better buys.
Click here to learn about these picks!
*Stock Advisor returns as of January 4, 2017
Daniel Sparks owns shares of Apple. The Motley Fool owns shares of and recommends Apple. The Motley Fool has the following options: long January 2018 $90 calls on Apple and short January 2018 $95 calls on Apple. The Motley Fool has a disclosure policy.