Apple Inc.s New MacBook Pro Computers Arent Overpriced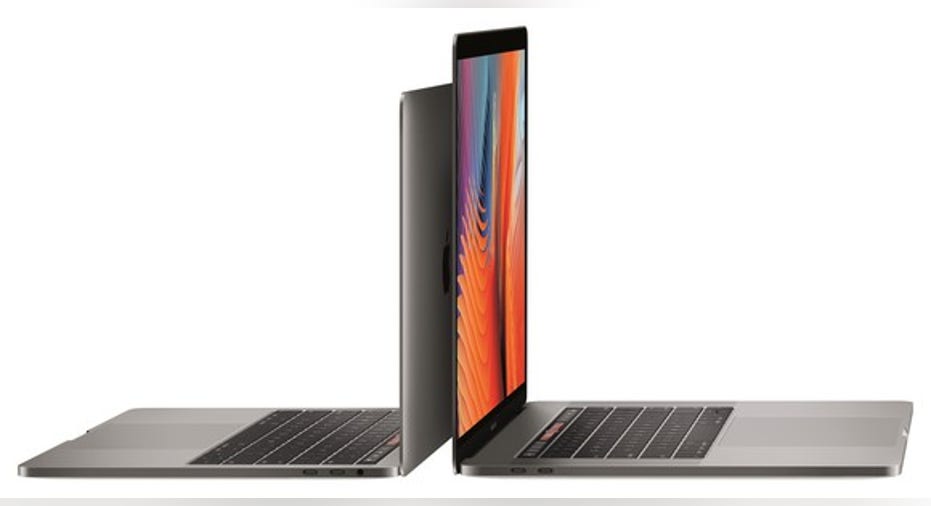 When Apple (NASDAQ: AAPL) announced its latest 13-inch and 15-inch MacBook Pro computers, there were some potential buyers who were completely put off by the prices. The base model of the 13-inch MacBook Pro with Touch Bar runs $1,799, and the base 15-inch MacBook Pro runs a cool $2,399.
Apple's new MacBook Pro computers. Image source: Apple.
These are clearly high-priced, premium systems. However, there's a big difference between an overpriced product and an expensive one. The former simply represents a product that doesn't deliver the value that its price tag suggests, while the latter is simply a product with a high price tag -- and it may or may not be overpriced.
In this column, I'd like to show that, although the latest MacBook Pro computers are expensive, they're not really overpriced.
Head-to-head:Spectre x360 vs.13-inch MacBook Pro
To try to get a sense of the value offered by the 13-inch MacBook Pro (with Touch Bar), I'm going to compare it with HP's (NYSE: HPQ) premium Windows-based Spectre x360 laptop. (A similar comparison should be possible for the 15-inch MacBook Pro and a suitable Windows-based alternative.) The latter has gotten very good reviews, with Laptop Magazine calling it "the convertible laptop to beat."
In the table below, I've put the specifications of a "maxed-out" Spectre x360 side by side with a similarly configured 13-inch MacBook Pro, pulled from HP's and Apple's respective websites -- and for some of the MacBook Pro details, AnandTech:
Source: HP, Apple, AnandTech.
There's no beating around the bush -- the HP system is about half as expensive as the MacBook Pro system. However, if we walk through each of these specifications and closely compare the two systems, it becomes clear that, at the very least, the premium that Apple charges is directly related to component costs. Let's do just that.
The tricky processor comparison
First, let's look at the processor and graphics technologies in each system. Although the Apple system uses an older sixth-generation Core processor while the HP uses a newer seventh-generation Core processor, the chip inside of the MacBook is faster.
The processor architectures of the i7-7500U and i7-6567U are identical, meaning that, at a given frequency, these two chips will perform the same. The main advantage of the seventh-generation Core processors is that they are built on a newer version of Intel's (NASDAQ: INTC) 14-nanometer process, which should allow the seventh-generation Core processors to run at higher speeds than the sixth-generation Core processors, all else being equal.
The 6567U has two processor cores that run at 3.3GHz base and can turbo to 3.6GHz. The 7500U has two processor cores that run at 2.7GHz, but can turbo to 3.5GHz.It's likely, then, that in CPU tasks, it's probably a wash between these two.
In terms of graphics architecture, once again, the sixth-generation Core and seventh-generation Core processors are virtually the same. However, the chip inside of the MacBook Pro uses Intel's higher-performance Iris graphics -- more graphics cores, dedicated eDRAM memory built into the chip package -- so I would expect that in graphics tasks, the MacBook Pro chip will have a clear edge in graphics tasks over the chip inside of the Spectre x360.
The trade-off that Apple is likely making by using a chip with Iris graphics is that it's certainly more expensive to manufacture than a similar chip without Iris graphics. The size of the main processor is larger, and the Iris parts include a fairly large on-package memory manufactured in Intel's 22-nanometer logic process.
Intel almost certainly charges more for chips that cost more to make, adding to Apple's bill-of-materials costs relative to HP's.
The display comparison
Moving beyond the processor, the HP system has a 1920-by-1080 resolution IPS display, while the MacBook Pro has a higher resolution 2560-by-1600 resolution IPS display. The display on the MacBook should be sharper.
The comparison doesn't end there, though. The display on the MacBook Pro supports the much wider DCI-P3 color gamut, while tests performed by NotebookCheck show that the display on the HP fails to fully cover even the narrower sRGB color gamut.
Finally, per NotebookCheck, the average brightness of the display found on the Spectre x360 is 318.6 nits. The site found the average brightness on the new 13-inch MacBook Pro display to be 563.6 nits.
Apple's machine has a sharper, brighter, and more colorful display. HP's, on the other hand, supports touch input while Apple's doesn't.
Comparing everything else
As far as memory and storage go, both have 16GB of LPDDR3 memory and 512GB of storage. However, it's worth pointing out that the MacBook Pro, as configured, uses faster 2133MHz LPDDR3 memory while the Spectre uses slower 1600MHz LPDDR3. 9to5Mac also points out, citing Computer World, that the new MacBook Pro systems are around "two years ahead of most of its competition" in terms of solid-state drive speeds.
The MacBook Pro is slightly heavier, but they're both in roughly the same weight class.
The Apple system uses a Force Touch trackpad, while HP's system uses what it dubs an HP Imagepad. And finally, the MacBook includes an OLED touch bar with Touch ID support, while HP's system doesn't.
Distinguishing price from value
Apple's new MacBook is clearly an expensive system, but across the board, it appears to offer more features and better performance than the newest Spectre x360 -- a top Windows notebook. This isn't an attempt to disparage HP's Spectre x360 -- it has received extremely positive reviews from many reputable outlets, and is frankly a very attractive Windows-based machine.
The point of this comparison is to show that Apple crams in a lot of things here and there that might not individually mean much to potential customers, but ultimately serve to enhance the user experience. Engineering often consists of making smart trade-offs that balance cool features against cost structure.
Apple's new MacBook computers traded off price in order to build extremely feature-rich products. HP, on the other hand, did what it could within a system that it could sell for $1,300, which, frankly, is quite high for a consumer Windows-based notebook.
We'll get a better idea of how receptive customers are to Apple's choices vis-a-vis the new MacBook Pro computers when the company reports its financial results in January.
A secret billion-dollar stock opportunity The world's biggest tech company forgot to show you something, but a few Wall Street analysts and the Fool didn't miss a beat: There's a small company that's powering their brand-new gadgets and the coming revolution in technology. And we think its stock price has nearly unlimited room to run for early in-the-know investors! To be one of them, just click here.
Ashraf Eassa owns shares of Intel. The Motley Fool owns shares of and recommends Apple. The Motley Fool has the following options: long January 2018 $90 calls on Apple and short January 2018 $95 calls on Apple. The Motley Fool recommends Intel. Try any of our Foolish newsletter services free for 30 days. We Fools may not all hold the same opinions, but we all believe that considering a diverse range of insights makes us better investors. The Motley Fool has a disclosure policy.