Apple, Inc.'s New iPhone SE Isn't Meant for You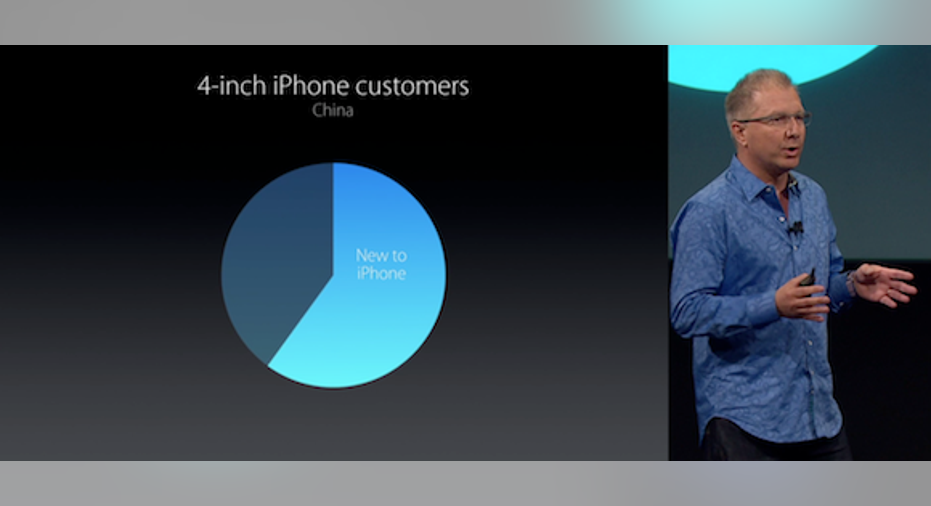 Image source: Apple.
For the most part, the public response to Apple's new iPhone SE has been somewhat muted. The Internet is uncharacteristically awash with sarcastic remarks and witty retorts about why the iPhone SE and the event itself were nonstarters. But what these comments are missing is that the iPhone SE is not primarily targeting U.S. consumers.
While Apple didn't say what "SE" stood for at the event, marketing chief Phil Schiller later confirmed that the moniker indeed stands for "Special Edition." I have another suggestion: iPhone SE stands for "Secretly (for) Emerging (markets)." OK, maybe that's a stretch.
In memory of iPhone 5cDo you remember back in 2013 when there was all this talk about Apple finally making a device that would target emerging markets, since that's where smartphone unit growth was shifting? What investors got instead was the iPhone 5c. The iPhone 5c took the mid-range price point of $550, featured mid-range specs of the previous generation model, but was positioned as a new product since it featured a new "unapologetically" plastic shell.
Image source: Apple.
Needless to say, the iPhone 5c was not the emerging market hero that Apple investors needed at the time, amid the brutal 2012-2013 pullback. Yet for all of its hopes and dreams, iPhone 5c was a flop. It was simply priced too high for what investors were hoping it could accomplish. Tim Cook defended the price at the time by famously saying, "There's always a large junk part of the market. We're not in the junk business."
On paper, iPhone SE is precisely everything that investors wanted from iPhone 5c. iPhone SE is the emerging-market hero that investors deserve.
If an iPhone 6s and 5s had a babyiPhone SE has many of the same headline specs as the current flagship iPhone 6s, most notably the A9 processor (with embedded M9) and 12-megapixel camera. The iPhone SE even has 2 GB of memory and Touch ID, as well as an NFC chip for Apple Pay support.
The new 4-inch smartphone does not have things like 3D Touch or a faster second-generation Touch ID sensor, but the iPhone SE is undoubtedly a much better handset than the iPhone 5s that it's replacing. In some ways, iPhone SE is even more powerful than the pricier iPhone 6 that's positioned directly above it. The processor and camera are definitely better: SE shoots 4K video, has improved image processing, and supports Retina Flash.
On top of all of that, Apple is aggressively positioning it at $400, which is lower than the $450 price point where the 5s was perched. SE is very much an emerging-market play -- and a strong one, at that.
But at what cost?Apple is able to do this in a few ways. First off, since SE uses the same overall design of 5s, the cost curve is mature and likely quite low. With the broader market's shift to larger displays, the smaller displays should now be more affordable as well.
Apple is also probably shaving off costs in other ways, such as the matte chamfered edges. If you recall, Apple previously used crystalline diamond to cut the chamfers. Last I checked, crystalline diamonds were expensive.
iPhone SE isn't for youIt's also like when Apple was still selling the aging iPhone 4 in significant volumes, mostly due to entry-level customers in emerging markets like China.
Greg Joswiak, VP of product marketing. Image source: Apple.
Apple specifically noted at the event that the majority of 4-inch iPhone buyers in China are new to the platform. That's who the iPhone SE is for.
The article Apple, Inc.'s New iPhone SE Isn't Meant for You originally appeared on Fool.com.
Evan Niu, CFA owns shares of Apple. The Motley Fool owns shares of and recommends Apple. Try any of our Foolish newsletter services free for 30 days. We Fools may not all hold the same opinions, but we all believe that considering a diverse range of insights makes us better investors. The Motley Fool has a disclosure policy.
Copyright 1995 - 2016 The Motley Fool, LLC. All rights reserved. The Motley Fool has a disclosure policy.