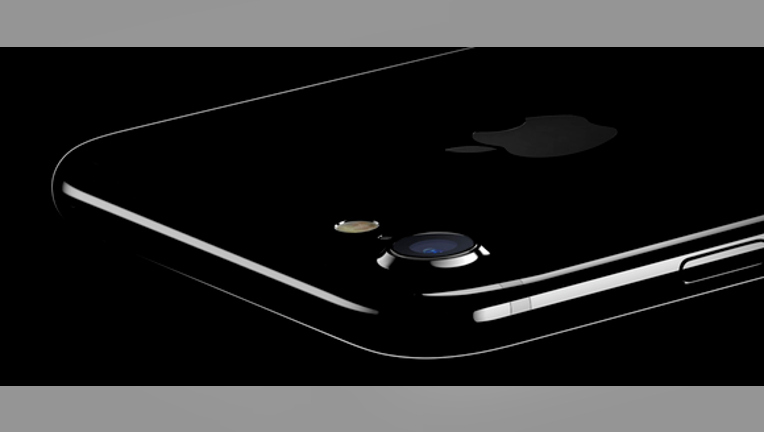 Image source: Apple.
There's really no way to overstate how important Apple's (NASDAQ: AAPL) unprecedented lawsuit against Qualcomm (NASDAQ: QCOM) is. It's not an exaggeration to say that the complaint, which was filed last Friday evening, represents a fundamental threat to Qualcomm's entire business model. It makes sense then that Qualcomm shares have gotten absolutely crushed today, down by as much as 14% in the morning.
For starters, Apple's suit has more teeth than the regulators'. Qualcomm has been able to negotiate and settle other antitrust complaints from regulatory agencies all around the world, mostly behind closed doors. This usually entails paying a fine and/or agreeing to reform some of its business practices. On the other hand, Apple is unlikely to go away so quietly, especially as the Mac maker feels as if it has been coerced into silence all these years while paying what it considers to be "extortion-level" royalties. While possible, I don't think Apple has any interest in settling this suit quietly, and the outcome of the case will affect Qualcomm's other customers.
This is why Apple's case is so much bigger, despite the fact that the immediate financial implications are comparable. Apple is initially seeking $1 billion that it is already owed, which isn't too much larger than the regulatory fines that Qualcomm has been paying. Qualcomm paid $975 million in 2015 to settle with China's National Development and Reform Commission (NDRC), and South Korea's Fair Trade Commission fined Qualcomm $853 million just a few weeks ago.
Combined with Samsung, Apple and its suppliers represented 40% of all of Qualcomm's revenue last fiscal year. That's actually down from the 49% of sales that the companies collectively represented in fiscal 2014.
Data source: SEC filings. Chart by author. Fiscal years shown.
Being sued by your biggest customer is never a good thing, but having your biggest customer allege that your entire business model is flawed is about as bad as it gets.
"Double-dipping"
Qualcomm sells chips while also simultaneously licensing its patent portfolio and collecting royalty revenue. Apple believes that this is an illegal form of "double-dipping" where Qualcomm is able to get paid twice. In patent law, the "patent exhaustion" doctrine, which is also known as the "first sale" doctrine, states that a purchaser of a product that uses patented technology automatically receives a license to use or subsequently resell that product, and the patent holder should not be able to pursue downstream customers or companies for additional royalties, since they've already been paid based on the first sale.
Yet this is precisely what Qualcomm does: It sells chips to Apple contract manufacturers that are used in iPhones, while separately requiring licensing deals from those same suppliers. Qualcomm gets paid twice, even though when it sells chips it should be automatically conferring the rights automatically. The licensing business is incredibly profitable, with an earnings-before-tax (EBT) margin of 85%. The chip business has an EBT margin of just 12%. If the court agrees with Apple, Qualcomm's licensing business has a lot of potential downside.
But at what cost?
The royalties that Qualcomm charges are also based as a percentage of the final sales price, another practice that Apple argues is inappropriate. Another concept in patent law is that royalties should be based upon the "smallest salable unit," instead of based on the entire product's value. As Apple points out in its suit, modern smartphones have become increasingly advanced over the years with more and more features. The cellular connectivity that Qualcomm's patents facilitate are a shrinking portion of the total product's value. It makes no sense that Qualcomm should collect more when customers pay extra for a larger display or more storage, but that's exactly what Qualcomm does even though those functions are entirely unrelated to cellular connectivity.
Simply put, Apple wants to pay royalties based on the chips it buys, which it argues are the "smallest salable unit." Apple pays about $10 to $20 per baseband processor. The percentages that Qualcomm charges are rather high, too. While the company typically negotiates each licensing deal separately, its 2015 agreement with the NDRC sheds some light. From the most recent 10-K (emphasis added):
Analysts estimate that Apple has been paying Qualcomm roughly $15 per iPhone in royalties, probably net of the "rebates" that Qualcomm provides in exchange for exclusivity. Using the terms of the NDRC agreement would imply a royalty about $21 on a $650 iPhone (which is a multimode 3G/4G device). Qualcomm actually offered Apple comparable terms. But Apple, being no stranger to patent litigation and licensing, balked at the terms. From Apple's complaint (emphasis added):
Since Qualcomm has also been allegedly been tying chip sales to licensing deals, while also pricing chips above competitive prices, the chip business is also threatened by all of this. In no uncertain terms, this lawsuit is a massive deal with major implications on Qualcomm's business.
10 stocks we like better than Apple When investing geniuses David and Tom Gardner have a stock tip, it can pay to listen. After all, the newsletter they have run for over a decade, Motley Fool Stock Advisor, has tripled the market.*
David and Tom just revealed what they believe are the 10 best stocks for investors to buy right now... and Apple wasn't one of them! That's right -- they think these 10 stocks are even better buys.
Click here to learn about these picks!
*Stock Advisor returns as of January 4, 2017
Evan Niu, CFA owns shares of Apple. The Motley Fool owns shares of and recommends Apple and Qualcomm. The Motley Fool has the following options: long January 2018 $90 calls on Apple and short January 2018 $95 calls on Apple. The Motley Fool has a disclosure policy.