Apple Inc.'s Latest Product is a Shot at Microsoft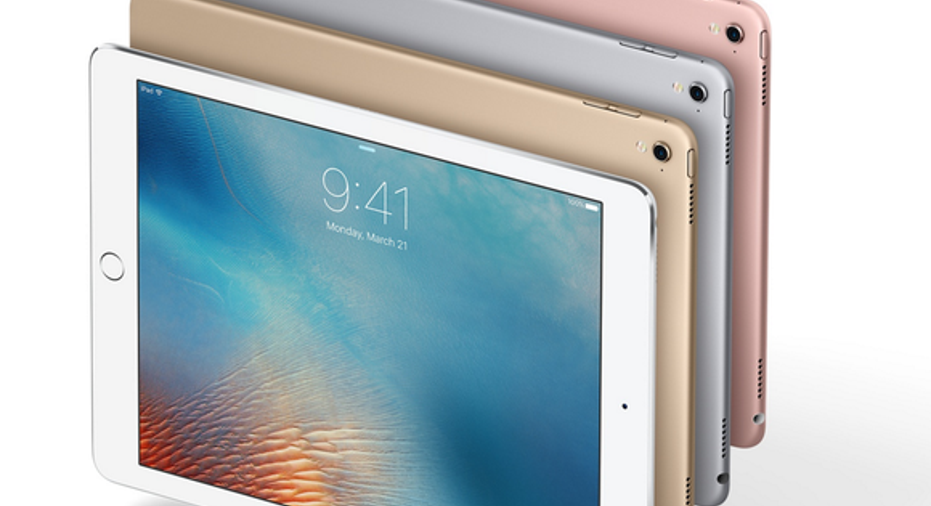 Apple's iPad Pro comes in a variety of different colors. Source: Apple.
The market for traditional PCs has been in decline for nearly five years. In 2011, PC-makers shipped just over 365 million desktop and laptop computers. Last year, they shipped fewer than 289 million, according to research firm Gartner. Although Microsoft (NASDAQ: MSFT) shares have outperformed the broader market in recent years, revenue from its Windows business has contracted as PC shipments have declined.
Meanwhile, the demand for tablets has surged. Tablet-makers shipped more than 206 million tablets last year, up from nearly 72 million in 2011. ThoughApple (NASDAQ: AAPL) has seen its iPad shipments decline in recent quarters, it remains the world's single largest tablet vendor.
Now the company is looking to bolster both trends. Apple's latest product, the 9.7-inch iPad Pro, is aimed squarely at Microsoft's core market.
An expensive tablet, but an average PCStarting at $599, the 9.7-inch iPad Pro is expensive for a tablet, but its price point is far more palatable when viewed as a replacement for atraditionalPC. Microsoft's hardware partners offer a wide variety of PCs aimed at almost any budget, but the average laptop has consistently retailed for around $500 in recent years.
That's the market Apple is targeting. When the company unveiled the iPad Pro back in March, Apple marketing chief Phil Schiller noted that there were more than 600 million Windows PCs still in use that were more than five years old. "That's really sad. These people could really benefit from an iPad Pro" he said, then continued to emphasize the attractive aspects of the device.
Reviewers have largely kept Apple's aspirations in mind when writing about the device, which has led to a mixed reception. "It's a stupendous iPad, even though it's still not a laptop replacement," wrote The Verge. "It's still not a full-fledged laptop killer," wrote CNet. The 9.7-inch iPad Pro may be the single best tablet the company has ever made, but when it comes to pure productivity, a traditional PC still reigns supreme.
Getting the iPad business back on trackiPad shipments have fallen short of analyst estimates for most of the last two years. Last quarter, Apple sold just 16.1 million iPads, down from 21.4 million in the same quarter in 2015. The growing popularity of larger phones, and increased competition from inexpensive Android tablets, may have played some role, but in general, consumers just aren't upgrading their iPads on any sort of a regular basis.
In the past, Apple's management has expressed its intent to change this by offering innovative new features exclusive to newer models. Last year, Apple introduced support for running multiple apps simultaneously, and its new iPad Pro offers better speakers and supports Apple's smart stylus, the Apple Pencil.
Another way Apple is trying to rejuvenate the iPad business is to expand the company's addressable market. It's unlikely that Apple will convince all 600 million people with old Windows laptops to buy iPad Pros, but if it did, iPad shipments would rise significantly.
Microsoft pioneered the category, and is expected to continue dominating itIDC doesn't believe Microsoft has much to fear from the iPad Pro. In March, the research firm projected that the market for detachable tablets (such as the iPad Pro and Microsoft Surface) would top 63 million units in 2020, and that Windows would power about 55% of them. Microsoft's lineup of Surface devices has proven popular, but its hardware partners have responded aggressively, rolling out a cornucopia of similar products in recent months.
Apple is expected to capture about 22.4% of the market in 2020, which would represent annual shipments of just over 14 million, if the IDC's projections prove accurate. That could provide a boost for Apple's tablet business, but it wouldn't be significant. With an average selling price of $700, it would only add $10 billion to Apple's annual revenue (less than 5% of its fiscal 2015 revenue).
Of course, IDC has a mixed track record when it comes to operating system projections, and Apple is likely to continue to evolve the iPad Pro in the years to come. It may not be the perfect PC replacement today, but the second- or third-generation model could come much closer. With the iPad business losing steam, investors seem to have lost interest in the product category. But with Apple now actively courting the average Windows laptop user, the iPad Pro could eventually emerge as one of Apple's most interesting product categories.
The article Apple Inc.'s Latest Product is a Shot at Microsoft originally appeared on Fool.com.
Sam Mattera has no position in any stocks mentioned. The Motley Fool owns shares of and recommends Apple and Gartner. The Motley Fool owns shares of Microsoft. Try any of our Foolish newsletter services free for 30 days. We Fools may not all hold the same opinions, but we all believe that considering a diverse range of insights makes us better investors. The Motley Fool has a disclosure policy.
Copyright 1995 - 2016 The Motley Fool, LLC. All rights reserved. The Motley Fool has a disclosure policy.