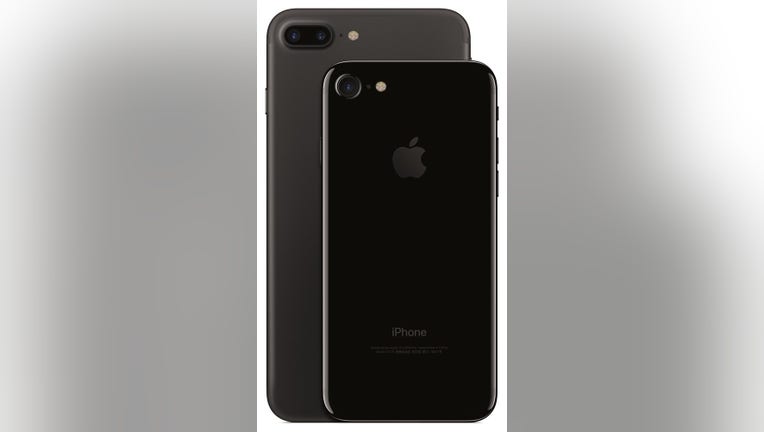 Raymond Soneira, a leading display expert, recently published his tests of the display found on the Samsung (NASDAQOTH: SSNLF) Galaxy S8. Soneira says the Galaxy S8 "becomes the best performing smartphone display, earning DisplayMate's highest ever A+ grade."
Although the display is quite impressive and looks gorgeous in person, digging deeper into DisplayMate's test results for the S8's display, as well as its tests of the iPhone 7's display, reveals that the display found on Apple's six-month-old flagship can hold its own with Samsung's best in several important ways.
Image source: Apple.
The many ways the iPhone 7 display beats out the Galaxy S8's
There are many ways the display found on the iPhone 7 handily beats out the one found on the Galaxy S8.
First, the iPhone display is brighter. Soneira's measures the peak brightness of the Galaxy S8's display when the screen is completely white at 405 nits, while at 50% average picture level and 1% full screen white, the S8's display achieves 460 nits and 565 nits, respectively.
These are solid results, but the iPhone 7 achieves peak brightness of 602 nits -- that's without automatic brightness -- no matter the content. This is one of the advantages of LCDs: Peak brightness doesn't depend on the content as it does with OLEDs.
It's worth noting that with automatic brightness, the iPhone 7's display achieves peak brightness of 705 nits, while the S8's display can hit between 575 nits and 1020 nits.
Beyond brightness, the iPhone display appears to be quite a bit more color accurate. For example, the average color error within the DCI-P3 color gamut on the S8's display is 2.7, with the largest color error being 5.9. In contrast, the iPhone 7 display manages an average color error of just 1.0 under the DCI-P3 color gamut, with the maximum error coming in at 2.6.
That's not all, though. Soneira's tests show that the iPhone 7's display achieves an average gamma of 2.21, which he says is "excellent" and "very close to 2.20 standard." The S8's display, on the other hand, achieves an average gamma of 2.36, which Soneira says is "very good" but "slightly too high."
As far as viewing angles are concerned, the iPhone 7's display seems to have the Galaxy S8's beaten out. In terms of white point color shift, the iPhone 7 achieves a 0.8 JNCD (that stands for "just noticeable color difference"), and as far as primary color shifts and color shifts for "color mixtures" goes, the iPhone 7's display achieves JNCD values of 1.5 and 2.1, respectively.
The S8's display, on the other hand, sees a white point, primary color, and color mixture shifts of 1.8, 4.8, and 3.2, respectively. These figures are "excellent," "very good," and "very good," respectively, according to Soneira, but the iPhone clearly delivers better results.
The S8 is probably a "better" display, but Apple deserves credit
Apple appears to have built truly excellent displays for its iPhone 7 and iPhone 7 Plus, and in several ways, those displays are -- according to DisplayMate's tests -- better than even Samsung's shiny new displays.
Nevertheless, Samsung's S8 display has many advantages of its own, including the infinite contrast ratio afforded to it by being OLED based, as well as the attractive curved, full-face design with minimal bezel.
In terms of what is likely to really catch consumers' eyes, the S8's display is obviously much more interesting than the ones found on the iPhone 7 and iPhone 7 Plus. However, credit where it's due -- Apple built some extremely fine displays for its current flagships that, objectively, still hold their own many months after launch.
The same couldn't really be said about the displays found on Apple's iPhone 6 or iPhone 6s series of smartphones, which to me signals a fundamental improvement in Apple's competitive positioning with respect to display performance and quality.
10 stocks we like better than AppleWhen investing geniuses David and Tom Gardner have a stock tip, it can pay to listen. After all, the newsletter they have run for over a decade, Motley Fool Stock Advisor, has tripled the market.*
David and Tom just revealed what they believe are the 10 best stocks for investors to buy right now... and Apple wasn't one of them! That's right -- they think these 10 stocks are even better buys.
Click here to learn about these picks!
*Stock Advisor returns as of April 3, 2017
Ashraf Eassa has no position in any stocks mentioned. The Motley Fool owns shares of and recommends Apple. The Motley Fool has the following options: long January 2018 $90 calls on Apple and short January 2018 $95 calls on Apple. The Motley Fool has a disclosure policy.