Apple Inc.s Cheap iPad Looks Like a Winner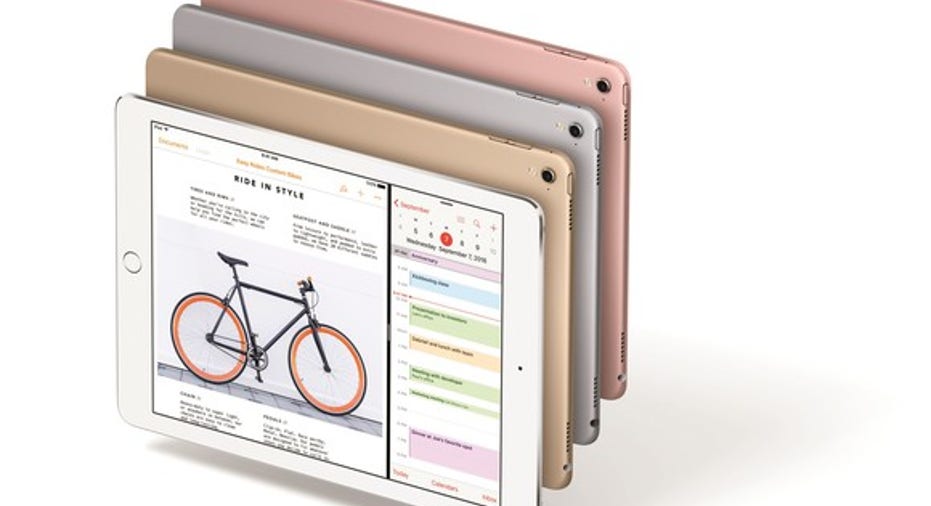 Apple (NASDAQ: AAPL) has had to face the unfortunate reality of falling iPad sales for quite a while now. Tablets are feeling the squeeze from large smartphones (like Apple's own iPhone 6s Plus and iPhone 7 Plus) on one side and by 2-in-1 personal computers on the other.
Apple has done a lot of work to try to increase the capabilities and aesthetic desirability of its flagship iPad models, and it has been aggressive in cutting the prices of older models to try to attract more customers. Despite these moves, however, the long-term trend for the iPad still seems to be down.
Image source: Apple.
On March 21, Apple announced the oft-rumored "low-cost" 9.7-inch iPad. Let's look at it and what it means for its iPad business.
Building a cheaper iPad Air 2
Apple has historically discounted its older-generation iPad models to service lower price points. This strategy generally works for a couple of reasons. First, over time the components that go into a device become cheaper to acquire and manufacturing yield rates for finished devices go up (lowering production cost).
Additionally, with the presence of better, more attractive products higher up in the product stack, Apple can afford to reduce its gross margin percentage on older products as the newer, higher-priced, and (presumably) higher-margin products make up an increasingly large portion of its product mix.
However, because the older devices were still fundamentally designed for relatively high price points, there is a limit -- even considering all the dynamics I mentioned above -- to how low pricing on these older models can go before it's no longer economically viable to sell them.
Apple's new cheap 9.7-inch iPad seems to be designed from the ground up to allow Apple to effectively service the $329 price point with an appropriate cost structure. For example, it uses the A9 chip, which is certainly cheaper to produce than the A9X found in the iPad Pro and is almost certainly cheaper to produce than the older A8X found inside of the iPad Air 2.
The cheaper iPad also lacks a fully laminated display or anti-reflective coating, both of which improve image quality and user experience but also add real cost to the manufacturing of the device.
In effect, Apple is releasing a cheaper-to-build iPad Air 2 that'll be able to effectively (and profitably) allow Apple to address the $329 (32 GB) and $429 (64 GB) price points. At the same time, there is enough feature differentiation between the cheaper iPad and the current 9.7-inch iPad Pro to make going with the latter a sensible option for customers willing and able to spend more for a better user experience.
What does this mean for Apple's iPad business?
I don't think the release of this cheaper iPad is going to be a significant change for Apple's iPad business, but it has the potential to boost unit shipments through share gains at lower price points. But, given that Apple really needs to find a way to end (and possibly reverse) the decline in its iPad business, it's only natural that it would try to find ways to boost sales by widening the range of price points that iPad addresses.
That said, Apple's high-end iPad lineup (iPad Pro 9.7-inch and iPad Pro 12.9-inch) is sorely in need of a refresh as both models have been in the market for a while now (this holds especially true for the 12.9-inch iPad Pro, a device that lacks features that the cheaper 9.7-inch iPad Pro has). The higher end of the market is still the most important segment to Apple (it's the most lucrative/exciting), so refreshing it as soon as possible is imperative.
10 stocks we like better than AppleWhen investing geniuses David and Tom Gardner have a stock tip, it can pay to listen. After all, the newsletter they have run for over a decade, Motley Fool Stock Advisor, has tripled the market.*
David and Tom just revealed what they believe are the 10 best stocks for investors to buy right now... and Apple wasn't one of them! That's right -- they think these 10 stocks are even better buys.
Click here to learn about these picks!
*Stock Advisor returns as of February 6, 2017
Ashraf Eassa has no position in any stocks mentioned. The Motley Fool owns shares of and recommends Apple. The Motley Fool has the following options: long January 2018 $90 calls on Apple and short January 2018 $95 calls on Apple. The Motley Fool has a disclosure policy.