Apple Inc. Reportedly Signs Huge OLED Deal With Samsung Display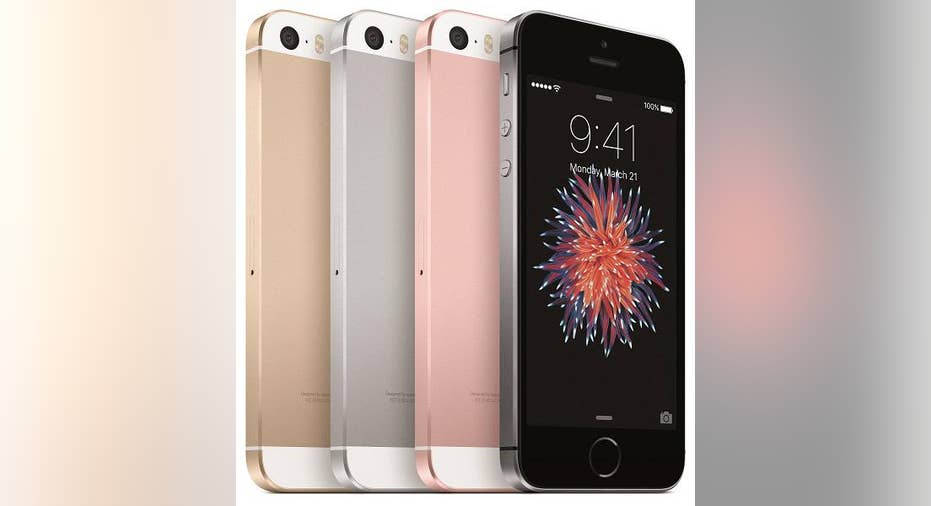 Image source: Apple.
According to a report from The Korea Herald (via MacRumors), Samsung Display is expected to begin supplying Apple with 5.5-inch OLED displays in 2017. Presumably, these displays are intended for a next-generation Plus series iPhone.
Per the report, this deal is worth a total of $2.59 billion and is said to be for 100 million 5.5-inch OLED panels per year for at least three years.
Let's take a look at the implications of this deal.
If the value is correct, Apple is getting OLED panels on the cheapIf the agreement is for three years' worth of supply, and if Apple is getting approximately 100 million panels per year, then this would imply that it is paying $2.59 billion for a total of 300 million panels.
If this deal value is correct, then this would suggest that Apple is only going to pay an average of around $8.63 per 5.5-inch OLED display. Given that these panels are going to be critical components of the premium 2017 iPhones (which should start at $749 and go all the way up to $949 if the current pricing structure holds), that seems like a very good per-panel price.
Even if we assume that the $2.59 billion figure is on an annual basis, this would imply a price-per-panel of around $26. This is obviously much greater than about $8.63, but for state-of-the-art panels that are only headed to Apple's highest-end and most expensive phones, this wouldn't be terrible.
Is this another way Apple plans to differentiate small from big?Apple has shown that it will add additional features to its higher-end iPhones relative to the lower-end ones. This is an extremely sensible move due simply to the fact that the larger-screen phones sell for more than the smaller-screen ones do, which allows Apple to put more features in for a given gross profit margin structure.
The report explicitly mentions 5.5-inch panels and doesn't mention 4.7-inch or 4-inch displays. This may suggest that Apple intends to use the more advanced OLED displays on its pricier 5.5-inch models as a way to further differentiate its largest iPhones from its smaller brethren.
Such a strategy would hardly be unique. For example, China-based smartphone maker Huawei employed such a strategy with its recently launched P9 and P9 Plus flagships; the smaller and cheaper P9 features an LCD while the larger P9 Plus packs an OLED panel.
I think that this point of differentiation alone could drive a non-trivial number potential customers to buy the higher-end 5.5-inch model over the smaller 4.7-inch one.
100 million seems like a lot, though...Apple ships just over 200 million iPhones per year, and even if the iPhone 7 proves a smash hit and the follow-on series an even bigger hit, I can't imagine iPhone sales pushing past roughly 250 million units on an annual basis anytime soon.
It is generally believed that the 4.7-inch iPhones tend to dramatically outsell the 5.5-inch iPhones, perhaps at a ratio of 2:1 in favor of the smaller model.
Even if we assume that all of the, let's call it 250 million, units that are sold between Sept. 2017 and Sept. 2018 are the newest iPhone series (an extremely unlikely scenario), this would suggest Apple would only need around 83 million 5.5-inch OLED panels.
Furthermore, it strikes me as odd that Apple would sole-source (which is what such quantities of display orders would mean) OLED displays from its archrival Samsung. I would expect LG Display to enter the fray for a late 2017 iPhone and Japan Display to supply OLEDs to Apple starting in 2018, per the company's public statements.
OLED on iPhone is sure to happen, but this report may not be getting the details rightThere is zero doubt in my mind that Apple aims to transition at least a portion of its iPhone lineup to OLEDs and that it would like to do it sooner rather than later. However, I am skeptical of the details given in this report from The Korea Herald, particularly around the quantities discussed.
The article Apple Inc. Reportedly Signs Huge OLED Deal With Samsung Display originally appeared on Fool.com.
Ashraf Eassa has no position in any stocks mentioned. The Motley Fool owns shares of and recommends Apple. Try any of our Foolish newsletter services free for 30 days. We Fools may not all hold the same opinions, but we all believe that considering a diverse range of insights makes us better investors. The Motley Fool has a disclosure policy.
Copyright 1995 - 2016 The Motley Fool, LLC. All rights reserved. The Motley Fool has a disclosure policy.