Apple Inc. Reportedly Held Talks to Buy Imagination Tech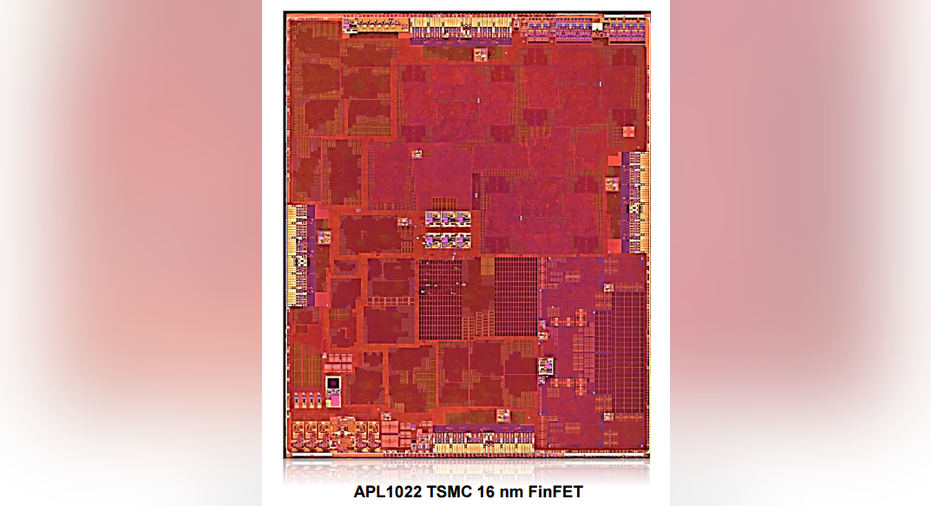 A large portion of Apple's latest A9 chip is comprised of an Imagination-designed GPU. Image credit: Chipworks.
Respected technology website Ars Technica reported that Apple was in "advanced talks" to scoop up struggling graphics intellectual property vendor, Imagination Technologies . Imagination has provided the graphics processor designs to Apple for integration into the latter's A-series processors for many years.
Shortly after this report, though, Apple issued a statement confirming that it and Imagination had indeed held talks but that Apple does "not plan to make an offer for the company at this time."
Why would Apple potentially be interested in the graphics specialist? Is a deal likely to happen at some point in the future? Let's take a closer look.
Apple is bringing graphics in-houseApple's A-series processors tend to be equipped with very high-performance mobile graphics blocks licensed from Imagination. Apple also appears to be something of a "lead licensee" of Imaginations' PowerVR graphics designs; Apple is often first to market with Imagination's latest technologies.
As I have written previously, and as is probably common knowledge within the industry at this point, Apple has been hiring extremely aggressively for talent that appears directed at doing a custom, in-house graphics processor.
Indeed, I try to check Apple's job listings fairly regularly and it would seem that almost every day a new listing for, say, a "Graphics RTL designer" or a "Graphics Implementation Engineer" pops up. These listings make it plain that Apple is looking to build its own graphics processors.
Were Apple to buy Imagination outright, it would get a very experienced set of engineers dedicated solely to helping Apple to build the best, high-performance mobile graphics processors possible.
Is the deal likely to happen? Although it would make sense for Apple to bring on such a high quality set of engineers and "locking them up" to work only on Apple products rather than on a wide swath of intellectual properties for many different types of customer with different requirements.
However, buying Imagination would require taking on a significant amount of baggage, at least in the near-to-medium term. Apple likely has no use for Imagination's MIPS CPU assets, although I am sure those CPU architects could be folded into Apple's current CPU teams. It's also not clear what value Imagination's Ensigma line of Radio Processing Units, Network Processing Units, and Security technologies would have to Apple.
I think that whether Apple ultimately goes after Imagination more aggressively will depend significantly on Apple's experience with its custom graphics processor efforts. If Apple's internal teams can execute to a high performance, low-power graphics processor that's better than what Imagination could do in a given power/area, then I'd see little need for the acquisition.
If, on the other hand, Apple's custom graphics processor teams can't pull off designs that outpace the "off the shelf" designs that Imagination provides, then it might be time for Apple to seriously consider buying a mobile graphics processor designer outright. In that case, Imagination would be the clear choice for the iDevice maker.
The article Apple Inc. Reportedly Held Talks to Buy Imagination Tech originally appeared on Fool.com.
Ashraf Eassa has no position in any stocks mentioned. The Motley Fool owns shares of and recommends Apple. Try any of our Foolish newsletter services free for 30 days. We Fools may not all hold the same opinions, but we all believe that considering a diverse range of insights makes us better investors. The Motley Fool has a disclosure policy.
Copyright 1995 - 2016 The Motley Fool, LLC. All rights reserved. The Motley Fool has a disclosure policy.