Apple Inc. Officially Ditches This Intel Corporation Technology in the 15-inch MacBook Pro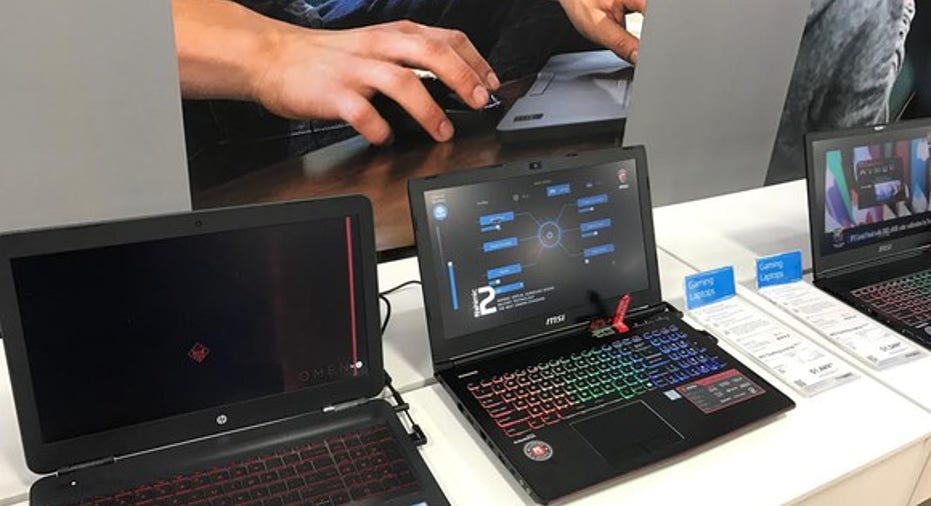 With the launch of Intel's (NASDAQ: INTC) fourth-generation Core processors came the birth of the company's Iris Pro graphics technology. In a nutshell, Intel created two versions of its H-series laptop processors (aimed at larger, higher-performance laptops): ones with relatively weak on-board graphics, referred to as Intel HD graphics -- and ones with much higher performance graphics, known as Iris Pro.
Image source: Apple.
The business rationale behind the Iris Pro models was simple to understand: Intel wanted personal computer makers to, instead of paying a graphics-processor vendor for a low-end stand-alone graphics processor, put those extra dollars toward an Intel processor with a roughly comparable integrated graphics processor.
It's not hard to see that capturing that dollar content would lift the average selling prices of Intel's processors, ultimately boosting Intel's revenue and gross profit.
Apple (NASDAQ: AAPL) used versions of Intel's fourth-generation Core processors with Iris Pro inside the 15-inch MacBook Pro computers it launched between 2013 and 2015 (but still offered potential buyers the option to choose stand-alone graphics as well). The Mac maker also utilized fifth-generation Core processors with Iris Pro inside the 21.5-inch iMac desktop computers launched in 2015.
However, with its latest 15-inch MacBook Pro computers, Apple passed on newer Core i7 processors with Iris Pro; instead, it opted for variants with vanilla Intel HD graphics, and now includes stand-alone graphics processors in all new 15-inch MacBook Pro systems.
Although prior leaks showing Intel's future notebook processor plans indicated that Iris Pro was a goner, Apple's processor choice inside of the 15-inch MacBook Pro makes it official.
What does this mean for Intel?
Although it may seem that this is somewhat bad news for Intel, particularly as the chipmaker likely charged Apple (and the small group of other companies that used the technology) a premium for these parts over what it charges for chips with vanilla HD graphics, over the long term it's not that bad.
It could even be a positive development.
For one thing, even though Iris Pro appears to have run its course, Intel is still selling Iris-based processors. Iris technology is fundamentally the same as Iris Pro, except it is used in lower-power processors: Iris Pro was found on 45-watt chips, and Iris is used in Intel's premium 15-watt and 28-watt chips.
Iris is a much more sensible product, because the kinds of laptops that use 15-watt or 28-watt chips tend not to have the power and space budgets to accommodate a worthwhile stand-alone graphics processor. In contrast, if a system can support a 45-watt processor, it's likely to have the power and space budgets to include a discrete graphics processor as well.
Indeed, Apple's new 13-inch MacBook Pro computers use Intel processors with Iris graphics, and the technology seems to be picking up steam with other personal computer makers (such as Microsoft (NASDAQ: MSFT), VAIO, Dell, and Lenovo Group(NASDAQOTH: LNVGY).
So, Intel should still be able to improve its notebook processor mix as it improves the value proposition of its Iris graphics offerings.
For Intel's efforts here to succeed, though, customers need to believe that by picking laptops with Iris technology, they will be able to enjoy modern games at reasonable performance and quality settings. That will have to come from a combination of Intel delivering good performance with its Iris technology, and Intel effectively marketing the technology to customers.
Intel's mix opportunity beyond graphics
It's also important to note that, beginning in the second quarter of 2018, Intel's replacement for the quad-core notebook processors with Iris Pro graphics will be a hex-core processor with vanilla Intel HD graphics. If Intel can command a premium for the six-core part relative to the quad-core part, as it did with the quad-core chips with Iris Pro relative to the quad-core parts with standard Intel HD graphics, then the chipmaker still has an opportunity to sell a richer mix of products.
Gaming laptops could be prime candidates for higher-priced, higher-core count processors.
And, to be blunt, far more customers (especially in the gaming-laptop and mobile-workstation markets) are likely to be willing to pay extra for more processor cores than to pay extra for more integrated graphics performance.
Over the next couple of years, I suspect the removal of Iris Pro from its lineup, coupled with increased focus on Iris graphics for low-power chips and higher CPU core counts for higher-power chips, could help Intel sell a richer notebook processor mix than it does today.
Why increasing product mix is important
The personal-computer market is generally believed to be in decline, and there's little that Intel can do to change those broader trends.
What Intel can do is try to deliver more value with its processors, so that when people do go to purchase personal computers, they have incentive to buy machines with more powerful (and more expensive) Intel processors.
More cores is a nice selling point. Intel may even want to consider revamping its branding efforts to make sure customers are aware of which laptops with Core i7 processors pack four cores and which ones have six (though this is a topic for another day).
A richer product mix can certainly help to offset unit declines. For example, over the last three quarters combined, Intel says that although its laptop processor unit shipments dropped 1%, average selling prices here went up 2% -- ultimately leading to slight revenue growth.
In desktop processors, Intel saw a similar trend, though one not quite as good: Volumes dropped 5%, but the resulting revenue drop was somewhat offset by a 2% increase in average selling prices.
The more that Intel can do to sell a richer mix of products in the face of unit-volume shipments which range from flat to slightly down, the better of a shot the company has to keep its PC-related revenues stable over time.
A secret billion-dollar stock opportunity The world's biggest tech company forgot to show you something, but a few Wall Street analysts and the Fool didn't miss a beat: There's a small company that's powering their brand-new gadgets and the coming revolution in technology. And we think its stock price has nearly unlimited room to run for early in-the-know investors! To be one of them, just click here.
Ashraf Eassa owns shares of Intel. The Motley Fool owns shares of and recommends Apple. The Motley Fool owns shares of Microsoft and has the following options: long January 2018 $90 calls on Apple and short January 2018 $95 calls on Apple. The Motley Fool recommends Intel.
Try any of our Foolish newsletter services free for 30 days. We Fools may not all hold the same opinions, but we all believe that considering a diverse range of insights makes us better investors. The Motley Fool has a disclosure policy.