Apple, Inc. Just Struck a Huge Blow to Amazon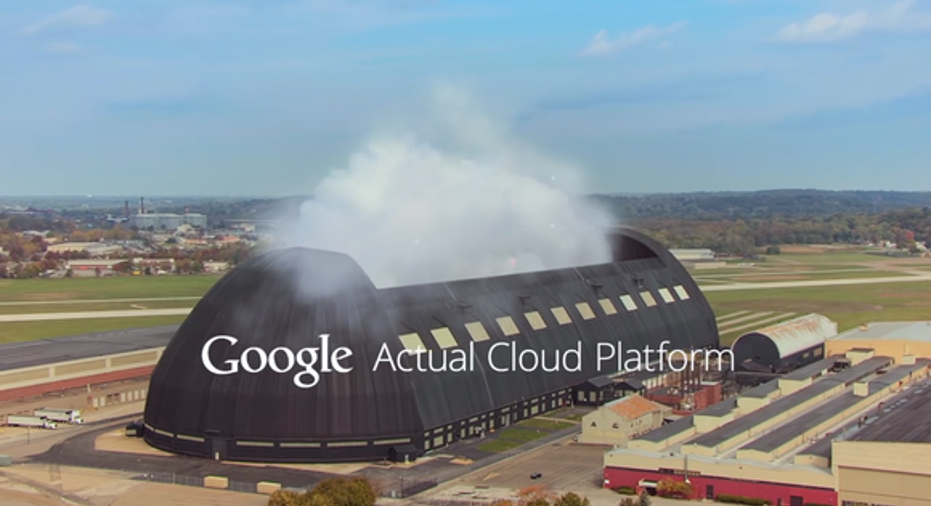 Perhaps Apple was attracted to the Actual Cloud Platform. Source: Google.
The year 2015 was a great one for AWS, Amazon's cloud-computing division. Revenue grew 70%, and operating profit nearly tripled compared to 2014. But revenue growth might slow significantly this year after it appears thatApple -- one of its biggest customers -- has shifted some of its budget to rival Google, the Alphabet subsidiary.
Since hiring VMWare founder Diane Greene, Google has aggressively acquired new customers. Less than a month ago, it welcomed Spotify into the fold. CRN reports the deal with Apple, signed late last year, is worth between $400 million and $600 million. It's not clear if that's over the life of the contract or annually. Either way, it's a huge boost to Google, and a significant loss for Amazon.
Google's growing cloud businessGoogle's cloud division isn't nearly as big as rivals Amazon and Microsoft . Analysts estimate the company brought in around $500 million in revenue last year. Adding a $500 million contract from Apple, even if it's split over two or three years, provides a nice boost to that revenue.
Comparatively, Amazon's AWS generated $2.4 billion in the fourth quarter, and expects to top $10 billion this year. Microsoft doesn't break out revenue for Azure, its enterprise cloud services division, but its entire cloud division run rate topped $9.4 billion last quarter. Its Azure division grew revenue 140% year over year on a constant-currency basis.
Apple's decision to do business with Google points to the aggressiveness of Google's efforts to win share of the cloud-computing market. Google may have provided a price break for Apple, or conceded to Apple's demands that Amazon and Microsoft were unwilling to meet. While that might not be great for profit margins, having a brand like Apple in your portfolio is an excellent selling point for Diane Greene and her team.
But it might not lastApple's cloud expenses have grown so big over the past few years that it's only logical for it to build its own infrastructure, especially with the bounties of cash reserves it has on hand. It also probably doesn't like funding its rival device and software companies like Google, Microsoft, and Amazon. The company spent an estimated $1 billion on AWS last year, nearly 13% of the division's total revenue.
Apple is reportedly already working on its own network of data centers and cloud servers to store and deliver content all over the world. CDN partner Akamai expects a significant drop in revenue contribution from its two largest customers, from 13% of revenue to 6% of revenue, thanks to "increased do-it-yourself, or DIY efforts."
Meanwhile, Apple is planning to open three new data centers over the next two years, according to Morgan Stanley analysts. Once completed, Apple would have seven total data centers totaling roughly 40% of the footprint of Amazon's data centers. That's plenty of capacity to support iCloud and its other services like iTunes, the App Store, and Apple Music.
The loss of Apple's business will be huge, not just for Amazon, but for the entire industry. For Apple, it represents a long-term opportunity to increase profits, and it's a smart way to deploy some of its cash. Google may be able to get a boost from adding the big spender to its portfolio as it aggressively shops around its offerings, and Amazon will likely bounce back from any decline in spending from Apple as its huge cloud division continues to grow rapidly.
The article Apple, Inc. Just Struck a Huge Blow to Amazon originally appeared on Fool.com.
Suzanne Frey, an executive at Alphabet, is a member of The Motley Fool's board of directors. Adam Levy owns shares of Amazon.com and Apple. The Motley Fool owns shares of and recommends Alphabet (A shares), Alphabet (C shares), Amazon.com, and Apple. Try any of our Foolish newsletter services free for 30 days. We Fools may not all hold the same opinions, but we all believe that considering a diverse range of insights makes us better investors. The Motley Fool has a disclosure policy.
Copyright 1995 - 2016 The Motley Fool, LLC. All rights reserved. The Motley Fool has a disclosure policy.