Apple, Inc. Just Gave Facebook's Messaging Play a Big Boost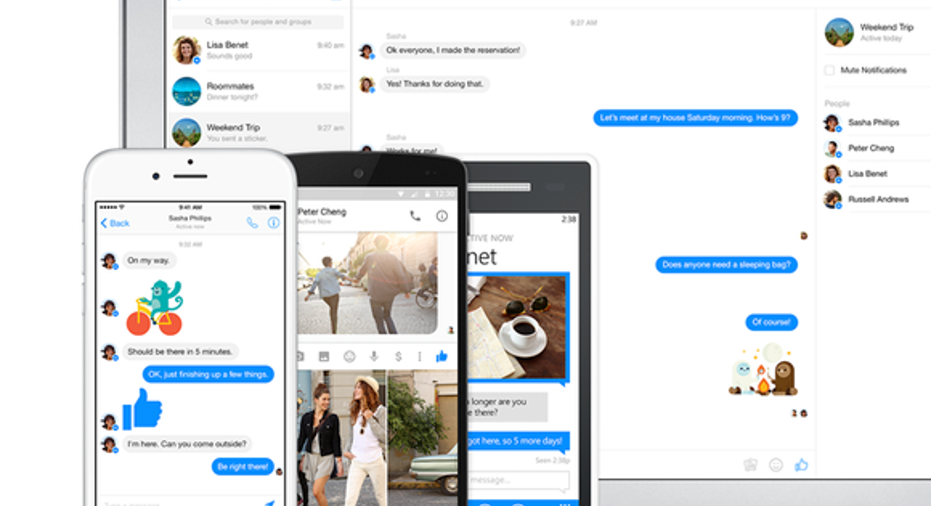 While Siri's debut on Mac, Apple's decision to hand over the voice assistant to iOS app developers, and instant apps for Apple Watch may have stolen the show at Apple's Worldwide Developers Conference, or WWDC, there's another takeaway from the event that Facebook investors may want to hone in on: Apple heavily endorsed Facebook's big bet on messaging and launched major features to integrate third-party message apps like Facebook's Messenger and Whatsapp prominently in iOS.
Facebook Messenger. Image source: Facebook.
Apple's messaging endorsement
One of Apple's key new features announced at its WWDC event on Monday is a complete overhaul of iMessage.
Apple summarized iMessage's new features in a press release:
The common theme for iMessage's new features is greater expression and personalization -- two areas where Messenger and WhatsApp have excelled. Apple's move to go all out in this area suggests it believes Facebook is on to something with its rapid rollout of increasingly more personalization and customization in its messaging apps.
But Apple went further than endorsing Facebook's approach to improving messaging. The tech giant also gave messaging apps key, integrated real estate. Apple announced that third-party cross-platform messaging, as well as voice over IP, or VoIP, calls would now display or ring in the same way native messages or phone calls come through on the iPhone. Furthermore, iOS 10 includes shortcuts within contacts to call or text using services outside of SMS or iMessage, even prominently suggesting whatever service has been used most for a particular contact.
With iOS 10, VoIP apps are integrated directly into an iPhone's lock screen, recent calls, and favorites. Contact cards are also enhanced so it remembers the services used most frequently to converse with a particular person.
Integration of third-party messaging apps into contact information on iOS 10. Image source: Apple.
Apple specifically said WhatsApp and Messenger cross-platform messaging services will be fully integrated into iOS 10.
Facebook's big bet on messaging
Apple's moves to both overhaul its own messaging capabilities and to prominently highlight services like WhatsApp and Messenger give credence to Facebook's meaningful investment into messaging.
When Facebook announced in 2014 that it planned to purchase cross-platform messaging app WhatsApp in a deal valued at $19 billion in stock and cash, it was difficult to justify such an enormous price tag. But WhatsApp, along with Messenger, has continued to grow and mature. Now the services have 1 billion and 900 million monthly active users, respectively, and Facebook is in the early stages of introducing ways to monetize the services.
Apple's latest moves in messaging give a thumbs-up to Facebook's big investments in the fast-growing and rapidly evolving space.
The article Apple, Inc. Just Gave Facebook's Messaging Play a Big Boost originally appeared on Fool.com.
Daniel Sparks owns shares of Apple. The Motley Fool owns shares of and recommends Apple and Facebook. The Motley Fool has the following options: long January 2018 $90 calls on Apple and short January 2018 $95 calls on Apple. Try any of our Foolish newsletter services free for 30 days. We Fools may not all hold the same opinions, but we all believe that considering a diverse range of insights makes us better investors. The Motley Fool has a disclosure policy.
Copyright 1995 - 2016 The Motley Fool, LLC. All rights reserved. The Motley Fool has a disclosure policy.