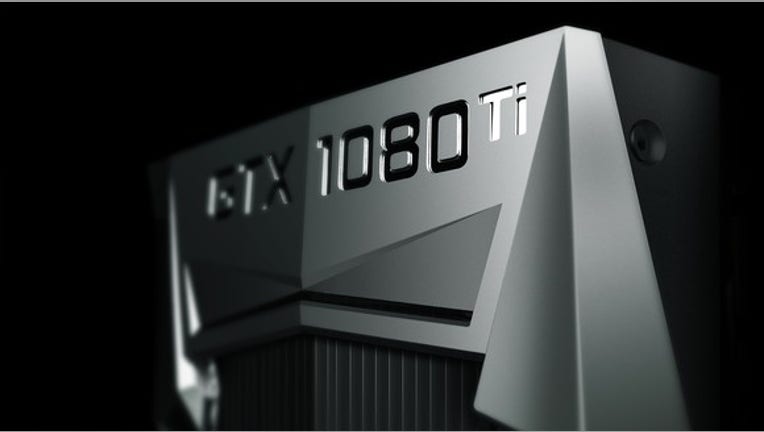 Respected Apple Insider columnist Daniel Eran Dilger recently penned an editorial in which he argued that Apple's (NASDAQ: AAPL) efforts to design and build its own graphics processor technology serves as a "major disruptive threat" to graphics specialist NVIDIA (NASDAQ: NVDA).
Though Dilger conceded that Apple isn't going to start selling stand-alone graphics processors to directly compete with NVIDIA's, he asserted that the former's "new GPUs could be expected to launch the company's existing products -- as well as potential new products ranging from [augmented reality] glasses to imaging devices and self-driving vehicles -- ahead of the market, leaving scraps for Nvidia's competitors." (Author's note: I believe Dilger meant "Nvidia's customers.")
Image source: NVIDIA.
"This creates an obvious potential for Nvidia's current clients to end up as blindsided as Nokia (NYSE: NOK), Palm, and Motorola were in phones and tablets," Dilger wrote.
He then went on to say that "the more of the gaming market Apple consumes with iOS (and tvOS) devices, the less money is left over for Nvidia, regardless of how much better Nvidia's GPU chips might legitimately claim to be."Though I am a fan of Dilger's work, I must disagree with him on this one. Here's why.
Understanding NVIDIA's business
NVIDIA's business can be broken down into four significant categories: gaming, automotive, professional visualization, and data center.
Thegaming business primarily consists of graphics processors sold in notebook and desktop personal computers targeted specifically at gaming applications, though the company's recent Nintendo Switch (NASDAQOTH: NTDOY) design win has added some embedded system-on-a-chip revenue to NVIDIA's gaming business.
Its automotive business has historically consisted of sales of Tegra processors used for in-vehicle infotainment systems, though the company aims to provide much more powerful hardware and software technologies to facilitate increasing levels of vehicular autonomy (i.e., self-driving cars).
NVIDIA's professional visualization business consists of high-performance graphics processors that go into notebook and desktop computers to support CAD/3D modeling and other similar professional work.
Finally, its data center business consists of high-performance graphics processors and associated software technologies that are sold to data centers looking to get much better performance on highly parallel workloads than traditional CPUs can provide.
There's little intersection between Apple's business and NVIDIA's
Apple's business is largely orthogonal to NVIDIA's. Apple sells iPhones, iPads, Macs, Watches, and Apple TVs, and Apple's internal graphics processing technology will only likely be used in the non-Mac product categories.
Gamers who buy big, expensive, powerful graphics processors (like the ones NVIDIA sells and makes much of its money from) aren't going to view iPhones, iPads, Watches, Apple TVs, or even Macs as potential substitute devices for their NVIDIA-powered gaming computers.
Apple could build the world's best mobile graphics processor (and, frankly, I think Apple will eventually do just that), but it wouldn't impact the buying decisions of PC gamers or even game console buyers such as folks interested in the Nintendo Switch one bit.
Now, one could argue that to the extent that virtual reality/augmented reality demand shifts from PC use to handheld device use, NVIDIA could "lose" to Apple. However, considering that VR is in its infancy and considering that the delta between mobile VR and PC VR is likely going to be like that of mobile gaming and PC gaming (and the former certainly hasn't hurt the latter), I'd hardly consider Apple's products a direct threat to NVIDIA's gaming business.
Apple is unlikely to be interested in building high-performance data center graphics processors (Apple's internal data center needs are unlikely to be great enough to justify such internal technology development), and to be quite blunt, it's unlikely to want to build graphics processors for professional visualization.
The only area of intersection that I can see is potentially autonomous vehicles. If Apple ultimately does commercialize a self-driving car, and if that car is powered by Apple silicon, then to the extent that Apple captures self-driving car share, NVIDIA would "lose."
Here's the thing, though: The self-driving car opportunity is quite greenfield, and so even if NVIDIA were to potentially lose share by Apple selling cars with its own silicon inside, that wouldn't mean much given that the market itself is expected to grow substantially and most self-driving cars are unlikely to be sold by Apple.
Apple and NVIDIA aren't on a collision course
NVIDIA has competitors in each of its core businesses and that is likely going to be the case for as long as NVIDIA exists. However, I simply don't see Apple's products and technologies fundamentally threatening NVIDIA -- whether they are powered by Apple-designed graphics processors or technologies licensed from others.
10 stocks we like better than AppleWhen investing geniuses David and Tom Gardner have a stock tip, it can pay to listen. After all, the newsletter they have run for over a decade, Motley Fool Stock Advisor, has tripled the market.*
David and Tom just revealed what they believe are the 10 best stocks for investors to buy right now... and Apple wasn't one of them! That's right -- they think these 10 stocks are even better buys.
Click here to learn about these picks!
*Stock Advisor returns as of April 3, 2017
Ashraf Eassa has no position in any stocks mentioned. The Motley Fool owns shares of and recommends Apple and Nvidia. The Motley Fool has the following options: long January 2018 $90 calls on Apple and short January 2018 $95 calls on Apple. The Motley Fool has a disclosure policy.