Apple, Inc. Is About to Sell Its Billionth iPhone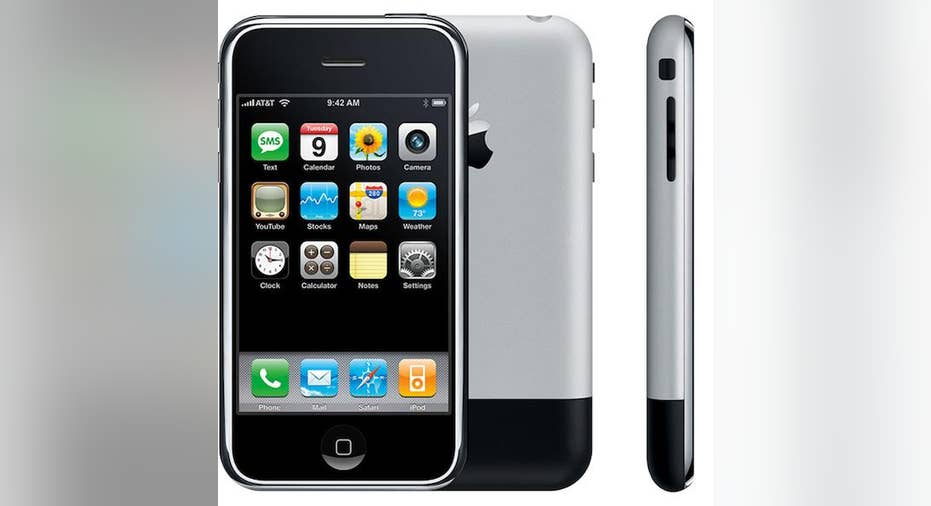 This is where it all started, the original iPhone in 2007. Image source: Apple.
Time flies when you're selling millions upon millions of iPhones. We're now approaching the 10th birthday of Apple's world-changing iPhone, which launched in Q2 2007. For a product that's flirting with double-digit age, Apple has moved an incredible number of units since the smartphone's inception. You may not realize it, but the Mac maker is on the threshold of hitting a massive milestone for its flagship smartphone.
In a matter of months, Apple will sell its billionth iPhone.
Almost to 10-digit territoryAs part of its relatively lackluster earnings release last night, Apple reported just over 51 million in iPhone units sold during the first quarter. That brings Apple's cumulative lifetime total iPhone unit sales to a whopping 947.7 million through the end of March.
Data source: SEC filings. Calendar quarters shown.
So Apple only needs to sell a little over 50 million more iPhones before it gets to 10-digit territory with the handset. Apple's guidance for the June quarter calls for continued declines in iPhone unit sales. For reference, the company sold 47.5 million iPhones in Q2 2015. But there should be little doubt that Apple can get to 1 billion over the next couple of quarters, even if unit volumes are trending lower as we reach the tail end of the 6s cycle. Plus, the iPhone 7 is due out in the fall, and years with redesigns tend to spur larger upgrade cycles.
The latest and greatest iPhone 6s. Image source: Apple.
Hitting 1 billion unit sales for any product is no easy task, and there aren't very many consumer electronics products that have successfully reached that threshold. Apple said in January 2015 that it hit 1 billion iOS devices sold, which includes iPads and iPod Touches. Of course, not all of these are still active today, and Apple's current installed base of devices (including all of its devices) recently hit 1 billion.
Well done, Tim. Well done.
The article Apple, Inc. Is About to Sell Its Billionth iPhone originally appeared on Fool.com.
Evan Niu, CFA owns shares of Apple. The Motley Fool owns shares of and recommends Apple. Try any of our Foolish newsletter services free for 30 days. We Fools may not all hold the same opinions, but we all believe that considering a diverse range of insights makes us better investors. The Motley Fool has a disclosure policy.
Copyright 1995 - 2016 The Motley Fool, LLC. All rights reserved. The Motley Fool has a disclosure policy.