Apple, Inc. Hits Amazon.com Where It Hurts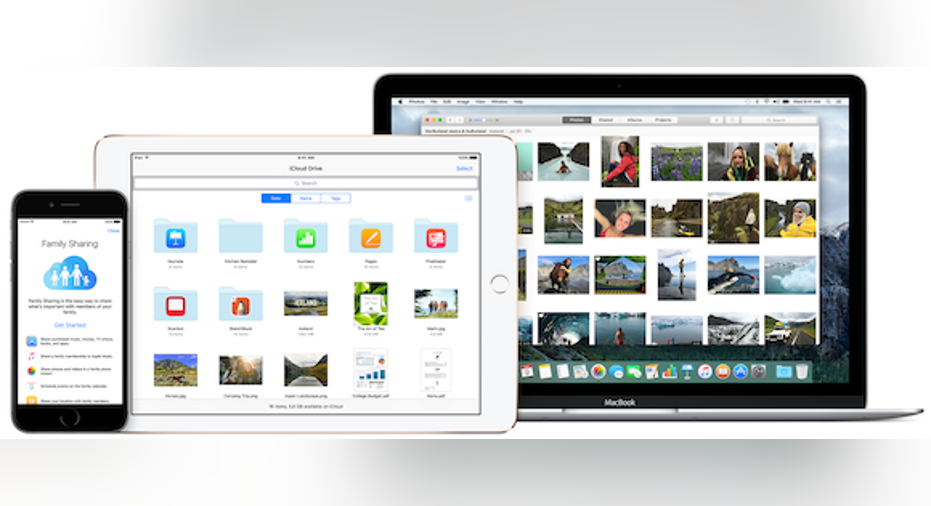 iCloud services are requiring more and more infrastructure. Image source: Apple.
Earlier this week, CRN reported that Apple has now drastically cut its spending at Amazon.com's all-important Amazon Web Services. Instead, the Mac maker is cozying up to Alphabet's Google Compute Platform. Apple and Alphabet signed the deal late last year, and has started transitioning away from AWS.
It's about time.
She called itThe news comes shortly after Morgan Stanley analyst Katy Huberty predicted that Apple may want to "move away from AWS," based in part on comments from the January earnings call. Apple noted that a big part of its projected growth in capital expenditures for 2016 relates to expanding data center infrastructure. Apple plans on spending an incredible $15 billion in capital expenditures in fiscal 2016, up from $11.2 billion in fiscal 2015.
As Apple's customer base grows, so does its need for cloud infrastructure to facilitate the wide range of services that it offers. For reference, here is the quote that Huberty is referring to from CFO Luca Maestri (via Thomson Reuters StreetEvents):
By Huberty's estimates, Apple would be spending a little over $1 billion on AWS in 2016, or 9% of what she her estimates for total AWS revenue for the year. Total AWS revenue last year was $7.9 billion. Either way, losing a big chunk of Apple's business will be a big blow to Amazon. But AWS is growing so fast (up 70% last year) that it can likely make up for the loss, or at least mitigate its impact on its most profitable business.
Among Apple's competitors, the company's rivalry with Amazon is perhaps the most bitter. Both companies continue to spurn each other's services as much as possible, particularly in areas like online video streaming.
Sending it back where it came fromApple is now expected to spend $400 million to $600 million on Google Compute, although AWS remains in the mix for the time being. It's not clear if this estimated spending range is an annual amount or to purchase a set amount of capacity. Alphabet has been trying to aggressive undercut AWS in an effort to win over market share, and it seems to be working. Google Compute's overall performance also offers compelling value, too. More broadly, a price war has broken out among the major cloud infrastructure vendors.
It's of little consequence for Apple to cut a check to its rival, though. The two companies formed an amicable coopetition long ago. Besides, Google paid Apple an estimated $1 billion for its default search spot in iOS Safari in 2014 alone, so that money's just going back where it came from anyway.
The article Apple, Inc. Hits Amazon.com Where It Hurts originally appeared on Fool.com.
Suzanne Frey, an executive at Alphabet, is a member of The Motley Fool's board of directors. Evan Niu, CFA owns shares of Apple. The Motley Fool owns shares of and recommends Alphabet (A shares), Alphabet (C shares), Amazon.com, and Apple. Try any of our Foolish newsletter services free for 30 days. We Fools may not all hold the same opinions, but we all believe that considering a diverse range of insights makes us better investors. The Motley Fool has a disclosure policy.
Copyright 1995 - 2016 The Motley Fool, LLC. All rights reserved. The Motley Fool has a disclosure policy.