Apple Inc. Facing iPhone SE Shortage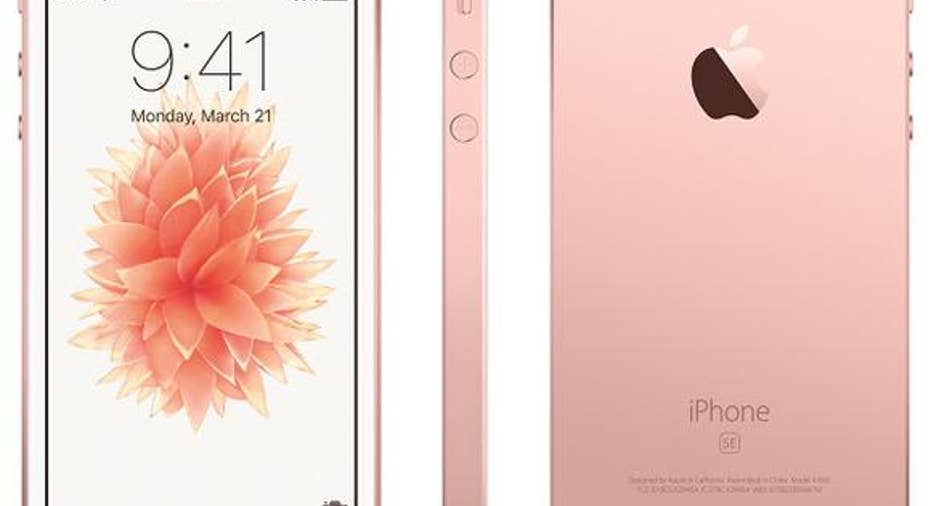 Image source: Apple.
Although Apple's most recent earnings results and forward guidance suggest that the company's iPhone business is in the proverbial dumps, there appears to be a lone bright spot: the iPhone SE.
Introduced in late March and first available for sale shortly thereafter, the phone received mostly positive reviews as it packs flagship-class hardware into a (relatively) affordable, compact package. Though respected KGI Securities analyst Ming-Chi Kuo characterized demand for the phone as "lackluster," CEO Tim Cook indicated that demand for the SE is robust and is cruising past the company's original expectations.
In other words, just as Apple did with the predecessor to this device -- the iPhone 5s -- it underestimated demand.
The bad news firstObviously, the bad news here is that it's going to take time for Apple to come into supply/demand balance, which means that -- in a quarter in which iPhone good news is sorely needed (fiscal Q3) -- Apple will be unable to meet demand for this product. This clearly means that Apple will ship fewer iPhone SEs than it otherwise could have, bringing revenue lower than they might otherwise have been.
This also means that customers looking to buy a new phone in the $400-$500 range who were originally considering an iPhone SE may opt for a product from a competitor. Apple not only loses out on a phone sale but all of the accompanying ecosystem/services revenue that would have otherwise come with it.
Now, if we were talking about a "shortage" in the sense that one wouldn't get their phone delivered to them in a matter of a few days or a week, this wouldn't be an issue. However, on Apple's online store, the lead times appear to be around two to three for the 64 gigabyte rose gold iPhone SE -- a long time to wait.
The good newsWith the bad news out of the way, let's get to the good news. The impressive demand for the iPhone SE validates the existence of a fast 4-inch iPhone in the company's lineup. If Apple is smart, it will continue to invest in updating the "iPhone SE" lineup. In fact, I suspect in the coming product cycle, Apple will stop using the "SE" moniker (which implies a "one-off" product) and will refer to it as the iPhone 7 mini or something to that effect.
The addition of a credible product at this point should help Apple gain share, particularly in price-sensitive emerging markets, and ultimately boost iPhone unit shipments/revenue to higher levels than they otherwise would have been without the 4-inch model in the mix.
Expect an iPhone 7 mini next yearIn order to keep the year-over-year comparisons consistent, I expect Apple to roll out the successor to the iPhone SE -- which I'll call the iPhone 7 mini -- in March of next year. I expect this to have an A10 chip, an updated display (same resolution but improved contrast/viewing angles), and an improved camera subsystem.
I could also see Apple taking the opportunity to slim down the device a smidgen in order to give it some visual/aesthetic differentiation (the design has now been used for three phone generations), but nothing dramatic.
The article Apple Inc. Facing iPhone SE Shortage originally appeared on Fool.com.
Ashraf Eassa has no position in any stocks mentioned. The Motley Fool owns shares of and recommends Apple. Try any of our Foolish newsletter services free for 30 days. We Fools may not all hold the same opinions, but we all believe that considering a diverse range of insights makes us better investors. The Motley Fool has a disclosure policy.
Copyright 1995 - 2016 The Motley Fool, LLC. All rights reserved. The Motley Fool has a disclosure policy.