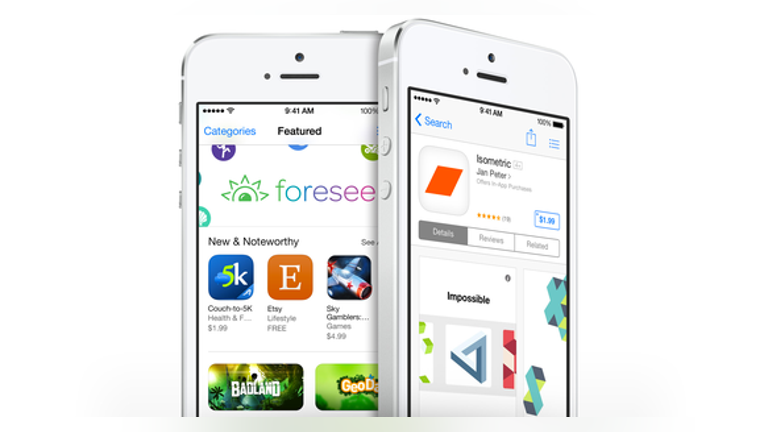 Ahead of Apple's (NASDAQ: AAPL) first-quarter earnings report on Tuesday, investors were primarily looking for the company to show that it can reverse its recent declining iPhone business. And Apple did exactly this, reporting 5% year-over-year growth in both iPhone unit and revenue growth, helping the company's total revenue increase 3% year over year. Even better, the company said it expected more growth in its second quarter.
But beyond Apple's financial performance, investors likely had other questions on their minds -- questions more suitable for management's earning call following the release. To this end, I laid out three questions Apple management would hopefully address during the call. As it turns out, Apple management addressed all three of these important topics.
Apple CEO Tim Cook. Image source: Apple.
Here's how Apple CEO Tim Cook and his management team answered these three questions on Tuesday:
1. How confident is management in its product pipeline?
While the iPhone did return to growth in Apple's first quarter, it was still relatively slow growth. The iPhone's headwinds have put the pressure on the company to develop new products to help accelerate growth. While investors obviously shouldn't have expected Apple to spill the beans on anything specific on Tuesday, Tim Cook did express confidence in the company's pipeline of upcoming products.
In Apple's first-quarter earnings press release, Cook said Apple is "very excited" about the products in its pipeline. And during Apple's earnings call, Cook showed even more enthusiasm, saying, "we've got some exciting things in the pipeline; I feel really, really good about it."
2. What could Apple's services revenue growth look like going forward?
Services continue to grow in importance to Apple, and the company's first quarter was no exception. Services revenue climbed 18% year over year, growing to about 9% of total sales, up from about 8% last year. And even this growth understates how sharply the segment is climbing, as the company's services segment benefited from a one-off $548 million patent-infringement payment in the year-ago quarter.
App Store sales are helping fuel services growth. Image source: Apple.
Going forward, Cook said (here's a Reuters transcript of the earnings call) that he expects services to become even more integral to Apple's business:
These expectations for Apple's services segment translate to a forecast of about 20% annualized growth over the next four years.
3. If there's a tax break for repatriation, does Apple plan to take advantage of it?
With President Donald Trump saying he plans to offer a one-off tax holiday for U.S. companies to repatriate their overseas funds at a lower tax rate, investors have good reason to be interested in what Apple's CEO thinks of this. After all, of Apple's $246.1 billion in cash and marketable securities, an incredible $230.2 billion is outside of the United States.
Fortunately, Cook talked about this potential holiday, signaling he expected Apple to take full advantage:
But Cook said investors will have to wait to see how repatriated funds would be allocated:
Beyond acquisitions, Apple could obviously allocate funds toward other capital investments in its own business, a dividend increase, a special dividend, share repurchases, or even all of the above.
While these were some of the more important topics covered during the call, management also covered more details on the company's services business, its regional results, the smartphone market, and more. Investors can find a copy of the earnings call on Apple's investor-relations website.
10 stocks we like better than Apple When investing geniuses David and Tom Gardner have a stock tip, it can pay to listen. After all, the newsletter they have run for over a decade, Motley Fool Stock Advisor, has tripled the market.*
David and Tom just revealed what they believe are the 10 best stocks for investors to buy right now... and Apple wasn't one of them! That's right -- they think these 10 stocks are even better buys.
Click here to learn about these picks!
*Stock Advisor returns as of January 4, 2017
Daniel Sparks owns shares of Apple. The Motley Fool owns shares of and recommends Apple. The Motley Fool has the following options: long January 2018 $90 calls on Apple and short January 2018 $95 calls on Apple. The Motley Fool has a disclosure policy.