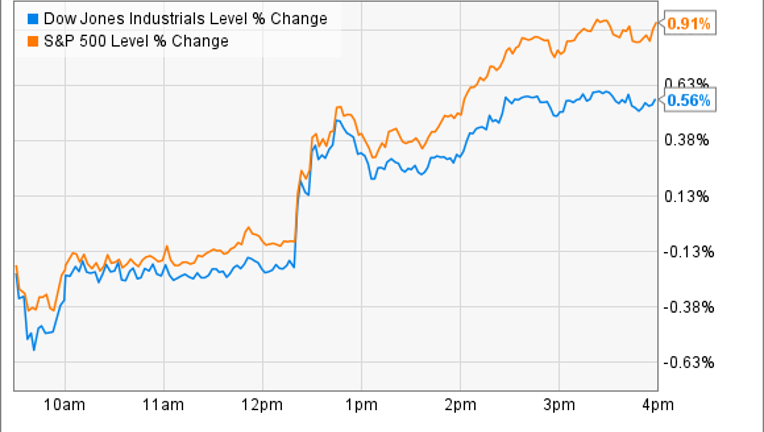 Stocks spent the morning hours in negative territory before leaping in the afternoon to end the day solidly higher. The Dow Jones Industrial Average added 97 points by the closing bell, or 0.6%, and the S&P 500 gained 18 points, or 0.9%.
The big economic news of the day came from Federal Reserve chair Janet Yellen, who said in a speech to the Economic Club of New York that global economic risks justify the Fed moving "cautiously" in adjusting its monetary policy. Earlier this month the central bank projected just two quarter-point interest rate raises in 2016 down from the prior forecast of four and Yellen's speech seemed supportive of that guarded approach.
Meanwhile, individual stocks making notable moves today included tech giant Apple and food flavoring specialist McCormick .
Apple's small phone gets a big reception Apple, with its 2.3% rise, was the biggest percentage-point gainer on the Dow. The consumer tech titan's stock is now back in positive territory for the year after having shed 11% by mid-February.
Investors are warming up to the company's latest iPhone model, the SE, which was made available for pre-orders late last week. Early reports claim that the smaller, cheaper, and more powerful model could be sparking strong initial demand, particularly in China.
iPhone SE. Source: Apple.
The iPhone SE has won over many tech reviewers since its unveiling, including a columnist at The Wall Street Journal who wrote that Apple's "new 4-inch iPhone has the size and battery performance that many have been waiting for." A performance benchmarking test suggests that the device is just as fast as the more expensive iPhone 6s at many tasks, adding heft to Apple's claim that it packs tons of power under its 4-inch display.
The $400 price tag might steal sales from some of Apple's pricier models, but it should also expand the iPhone's market to include millions of additional users, especially Android switchers. CEO Tim Cook said the company attracted a record number of such converts in fiscal Q1, and it hopes to kick that momentum up a notch when this device begins selling on March 31.
McCormick & Co's spicy earnings Spice and flavorings specialist McCormick rose 2% today to set a new all-time high after announcing strong fiscal first quarter earnings results. Sales improved by 7% after accounting for foreign currency swings and adjusted earnings rose 6% to $0.74 per share. The revenue figure met consensus estimates while the earnings number significantly outpaced Wall Street forecasts.
Source: McCormick.
McCormick's profitability improved significantly. Gross profit rose to 39.4% of sales from 38.6% a year ago and net income margin jumped to 9% of sales from 7% a year ago, thanks in part to a successful cost cutting program. The company sees more room for savings ahead, too, as it plans to cut a further $400 million of costs out the business over the next four years.
CEO Lawrence Kurzius and his team see healthy sales growth for the remainder of this fiscal year. Sales should rise 5% at the midpoint of guidance on a constant currency basis, but profits should grow much faster: Operating income is forecast to grow by as much as 20% to $660 million. "Consumer demand for healthy flavor and high quality products is increasing globally and we are meeting this demand with a growing portfolio of on-trend products," Kurzius said in a press release.
The article Apple Inc. and McCormick & Company Jump as Stocks Rise originally appeared on Fool.com.
Demitrios Kalogeropoulos owns shares of Apple. The Motley Fool owns shares of and recommends Apple. The Motley Fool recommends McCormick. Try any of our Foolish newsletter services free for 30 days. We Fools may not all hold the same opinions, but we all believe that considering a diverse range of insights makes us better investors. The Motley Fool has a disclosure policy.
Copyright 1995 - 2016 The Motley Fool, LLC. All rights reserved. The Motley Fool has a disclosure policy.