Apple Energy: Is This Apple's Next Billion Dollar Business?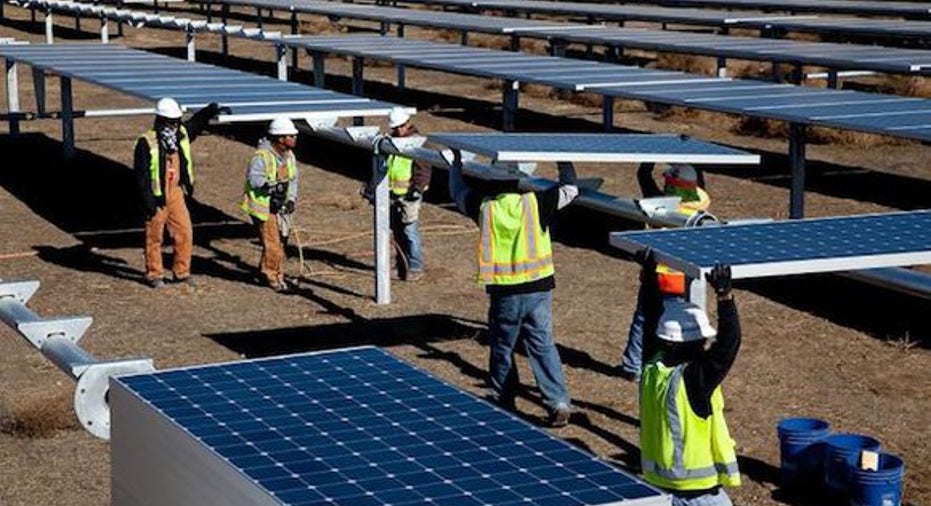 Apple is planning to buy enough renewable energy to power all of its operations worldwide, including retail stores, on clean energy. Image source: Apple.
Apple , the personal computing company, now has a new subsidiary, Apple Energy LLC, the wholesale electricity company. It's an unusual move for an electricity customer to become an electricity competitor, but it may become the norm for big companies in the U.S. and shows just how much Apple thinks about its energy consumption.
As corporate America looks to push a greener image, have more energy control and flexibility, and save on costs, they're looking for options beyond just buying electricity from the grid. Apple is one of the first to take it as far as creating its own energy business, but is this a side business or a sign of bigger things to come?
Apple is now in the business of owning renewable energy power plants, like this one. Image source: SunPower.
Apple is pushing into uncharted territory
We've known for a while that Apple has been both building renewable energy power plants on its property as well as buying energy from third-party plants through power purchase agreements. First Solar and SunPower , two of the largest solar developers in the world, have both worked with Apple on building out its renewable infrastructure in the past few years. Plus, the company also owns fuel cell energy generation.
This generation is primarily intended to be used to directly or indirectly power Apple's facilities, but owning an energy company could allow Apple to sell excess electricity to the grid. That could mean Apple will build even more than it needs to power its facilities, making it over 100% powered by green energy. In fact, the new company's regulatory filings are intended to allow Apple the express ability to sell electricity to the electricity market -- or it could mean bigger energy plans at Apple.
Just what are Apple's energy plans?
Apple could also have plans beyond just generating and selling its own renewable energy, which would make sense because it probably doesn't want to become a utility. Reuters recently reported that Apple had shown interest in charging station technology for electric vehicles, something the company is rumored to be working on. Could it intend to use Apple Energy to be the power company for an electric vehicle charging fleet of some kind?
It has also talked about HomeKit, which is intended to make energy usage smarter. This could be expanded to controlling energy storage systems to maximize energy savings or sell energy to the grid when prices are at their highest. Data will be a key to any integrating homes and businesses with energy storage, smart devices, demand response, and other new technology. Could Apple Energy play some role in that future?
It's also possible that Apple just wants to give itself flexibility in maximizing the benefit of its renewable energy assets. And that alone should have utilities scared.
Who is this bad for?
Even if Apple simply intends to use Apple Energy to reduce its reliance on the grid and generate more of its own energy, it is bad news for utilities. We've seen MGM Resorts say it will pay nearly $90 million to leave NV Energy in Nevada to buy its own power from third parties. Instead of buying from a third party, Apple may just be creating its own independent power producer subsidiary.
If this becomes a trend, wholesale power companies like Dynegy , Calpine , and NRG Energy are going to be some of the hardest hit if large corporate customers generate more of their own electricity. They rely on demand from utilities to generate revenue, and if utilities see demand go down, wholesale producers, which don't have regulated returns, will see the brunt of the lost revenue.
Is Apple an outlier or a sign of things to come?
Apple Energy is an interesting move by the tech giant, but we still don't know whether it's a sign that big corporate customers will start creating their own power subsidiaries or if the company has other plans in energy markets. Keep an eye on this because if Apple is going to enter the power business, it could be a disruptive force like we've never seen before.
The article Apple Energy: Is This Apple's Next Billion Dollar Business? originally appeared on Fool.com.
Travis Hoium owns shares of Apple, First Solar, and SunPower. The Motley Fool owns shares of and recommends Apple. The Motley Fool owns shares of NRG Energy, Inc. and has the following options: long January 2018 $90 calls on Apple and short January 2018 $95 calls on Apple. Try any of our Foolish newsletter services free for 30 days. We Fools may not all hold the same opinions, but we all believe that considering a diverse range of insights makes us better investors. The Motley Fool has a disclosure policy.
Copyright 1995 - 2016 The Motley Fool, LLC. All rights reserved. The Motley Fool has a disclosure policy.