Apple and Intel Parting Ways? Dont Be Ridiculous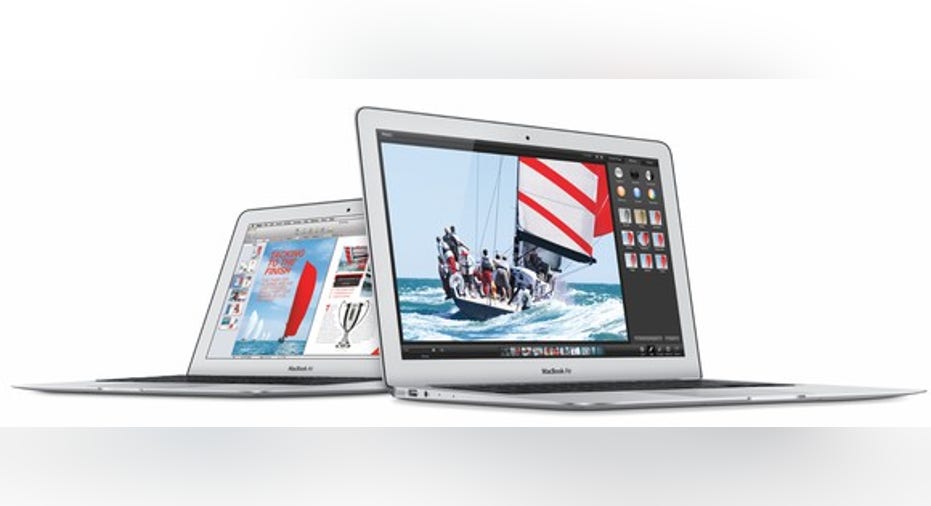 Image source: Getty Images.
Writing for The Verge, Vlad Savov recently argued that microprocessor giant Intel (NASDAQ: INTC) "let Apple (NASDAQ: AAPL) down once with the original MacBook's underpowered Core M processor, and the absence of an Intel Skylake upgrade for either the MacBook Pro or Air this year also seems to have been caused by Apple's dissatisfaction with Intel's CPUs."
Savov continues, declaring that "there is nothing that Apple would like to do more than rid itself of its reliance on Intel, which would eliminate such unforeseen hiccups in the future."
To that, I respond with the following: Don't be ridiculous.
If the first-gen Core M is under-powered, what was the A8X?
The first point that Savov brings up is the fact that the first-generation of Core M processor inside of Apple's first 12-inch fan-less MacBook was "underpowered."
I can sort of see what the author is talking about here. Intel's marketing claim that these chips delivered "the experience of Intel Core in fanless form factors" was something of a stretch. However, it was a reasonable first step.
According to Geekbench 4, the Core M-5Y71-based 12-inch MacBook (the Core M-5Y71 is the fastest of the Broadwell-based Core M chips) achieves a single-core score of 3251 and a multi-core score of 5691. Apple's fastest shipping processor at the time -- the A8X -- achieved a single-core score of 1833 and a multi-core score of 4001.
It looks to me that despite Savov's claim that the original Core M chip was "underpowered," Apple wasn't really fielding anything better at the time.
Later in 2015, Apple released the A9X chip, and Intel released a second-generation set of Core M processors based on a new architecture. The A9X was quite impressive, achieving a single-core score of 3150 and a multi-core score of 4893 -- almost as good as the first-generation Core M chip that Savov dissed.
Image Source: Apple.
The second-generation Core M-6Y75, in the same Geekbench 4 test, achieves a single-core score of 3715 and a multi-core score of 6974 -- solidly ahead of the older Core M chip, as well as Apple's A9X. This score is also better than what the A10 Fusion is able to put up (though if I were Intel, I would probably be sweating the fact that a smartphone processor is able to come this close to a late 2015 fan-less notebook/2-in-1 processor).
Intel has already announced the successor to the Core M-6Y75, known as the Core i7-7Y75, which should pull even further ahead of the A9X. That being said, I do expect Apple's upcoming A10X to be very close in performance to the i7-7Y75 (in Geekbench 4, my guess is that single-core performance between the two will be similar, with Intel pulling ahead in multi-core performance), which should be an excellent achievement for Apple.
Apple is good --really good. But it's important to keep in perspective that we are not comparing tablet-class Apple processors to power-hungry desktop processors -- we're comparing the Apple chips to very low-power Intel processors suitable for very thin and light fan-less devices, such as the 12-inch MacBook.
Savov claims that if a company wants to "develop the next great processor," that company had "better be going mobile first and building from there." Given the amount of effort that Intel has been putting into its low-power notebook processor efforts over the last several years, and given the fact that Intel has successfully developed Core architecture chips that can adequately power thin, light, and fan-less devices, such as the 12-inch MacBook, it's not clear where the author's criticism of Intel's efforts comes from.
How about that second claim?
Savov also argued that the fact that Apple hasn't updated its MacBook Air/Pro lineup to include Intel's sixth-generation Core processors (the Airs and the 13-inch Pro use fifth-generation Core chips; the 15-inch Pro uses a fourth-generation Core chip) is indicative of Apple's "dissatisfaction with Intel CPUs."
There's just no evidence to really substantiate that claim, particularly since the sixth-generation Core chips aremuchbetter than the fourth/fifth-generation Core chips that Apple is currently shipping in its MacBook Air and MacBook Pro lines.
It has been widely reported that Apple is planning substantial form factor and technology changes to its next-generation MacBook Pro products. These systems will very likely use Intel's sixth-generation Core processors.
If Apple is going to adopt these Intel processors anyway (albeit later than the rest of the industry), does it really make sense that the reason that we can't buy Skylake-based MacBook Pros today is that Apple is "dissatisfied" with Intel's chips?
It seems more likely to me that Apple didn't see the point in updating its systems with newer Intel processors without significant form factor/user experience changes elsewhere.
In other words, it looks more like a matter of Apple's Mac software/hardware development timeline not synchronizing with Intel's processor release cadence (which, frankly, is probably more dictated by the likes of Dell than by Apple)more than anything else.
A secret billion-dollar stock opportunity The world's biggest tech company forgot to show you something, but a few Wall Street analysts and the Fool didn't miss a beat: There's a small company that's powering their brand-new gadgets and the coming revolution in technology. And we think its stock price has nearly unlimited room to run for early in-the-know investors! To be one of them, just click here.
Ashraf Eassa owns shares of Intel. The Motley Fool owns shares of and recommends Apple. The Motley Fool has the following options: long January 2018 $90 calls on Apple and short January 2018 $95 calls on Apple. The Motley Fool recommends Intel. Try any of our Foolish newsletter services free for 30 days. We Fools may not all hold the same opinions, but we all believe that considering a diverse range of insights makes us better investors. The Motley Fool has a disclosure policy.