Apogee Enterprises Soars Through the Ceiling on Its Upbeat Outlook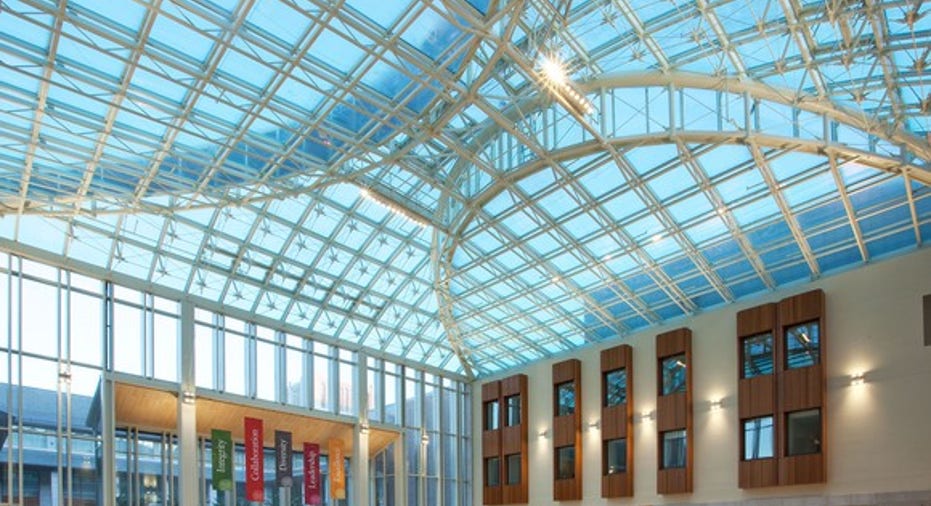 Image source: Apogee Enterprises.
Few companies have the opportunity to combine form, function, and artistry, but glassmaker Apogee Enterprises is one exception. The company uses innovative and distinctive techniques to make commercial buildings, artwork, and other applications beautiful, and coming into Wednesday's fiscal first-quarter financial report, Apogee investors wanted to see the company continue to benefit from its unusual mix of offerings. Apogee's results again impressed its core investors, and upbeat guidance for the remainder of the year led many to feel more comfortable about the company's prospects for sustained long-term growth. Let's look more closely at what Apogee Enterprises said in its most recent report and whether it can keep up the positive momentum throughout calendar 2016 and beyond.
Apogee keeps building higher
Apogee's fiscal first-quarter results demonstrated the company's ability to adapt to changing conditions successfully. Revenue climbed 3% to $247.9 million, eking just slightly above what investors had expected to see on Apogee's top line. Net income soared 46% to $17.7 million, and that produced earnings of $0.61 per share. That was far above the $0.49 per share consensus forecast among those following the stock, and a drop in share count meant that the figure jumped by nearly half from year-ago levels.
Looking more closely at Apogee's report, some headwinds that the glassmaker has faced started to ease. Currency impacts only reduced revenue by a single percentage point, down from previous quarters. Operating margin again jumped by three percentage points to 10.6%, showing the success that Apogee has had in controlling costs and maximizing profit. Backlog levels climbed 8% from year-ago levels, but the $509.7 million was less than 1% higher sequentially from what Apogee reported at the end of its fiscal fourth quarter three months ago. The backlog is split roughly 70/30 between expected completion in this fiscal year versus next year.
Apogee's segments had mixed results that were nevertheless in line with expectations. The key architectural glass division suffered an 8% drop in revenue, but Apogee had predicted the drop because of timing of its projects. Revenue in architectural services and architectural framing systems was up 13% in both segments, and Apogee even managed to produce flat sales for its large-scale optical business, which has historically lagged behind its architectural peers in growth. Operating income rose 15% in architectural glass, more than tripled in architectural services, and nearly doubled in architectural framing, while posting just a 4% decline on the optical side.
Apogee CEO Joseph Puishys reiterated how impressive the company's growth numbers were. Even though overall top-line growth of 3% doesn't look all that impressive, Puishys characterized the results as "consistent with our expectations, given the timing of project activity." The CEO also noted the positive aspects of segment performance.
A brighter future for Apogee
More importantly, Apogee sees better times ahead. Puishys was upbeat about the rest of fiscal 2017, noting that the company had "solid operational performance in the quarter and expectations that this level of execution will continue through the year."
The upbeat assessment led to an increase in its fiscal 2017 guidance. Apogee now believes it will bring in earnings of $2.70 to $2.85 per share, up a nickel from its previous projections. The company continues to expect 10% growth in sales, and the projections are based on an assessment that assumes growth in the U.S. commercial construction market in the mid-single digit percentage range.
Apogee expects the long run to be even more lucrative. Expansion with new areas, products, and markets, along with being smarter about choosing projects and improving productivity, should in Puishys' words "support our fiscal 2018 goals of at least a 12% operating margin on revenues of $1.2 billion to $1.3 billion."
Apogee investors celebrated the news, sending the stock up 8% in after-market trading following the announcement. The glassmaker now appears to be on track to benefit from solid conditions in the construction industry, and that could keep the stock moving higher for the rest of the year if things keep going well for Apogee.
The article Apogee Enterprises Soars Through the Ceiling on Its Upbeat Outlook originally appeared on Fool.com.
Dan Caplinger has no position in any stocks mentioned. The Motley Fool recommends Apogee Enterprises. Try any of our Foolish newsletter services free for 30 days. We Fools may not all hold the same opinions, but we all believe that considering a diverse range of insights makes us better investors. The Motley Fool has a disclosure policy.
Copyright 1995 - 2016 The Motley Fool, LLC. All rights reserved. The Motley Fool has a disclosure policy.