AP FACT CHECK: White House's selective reading on economy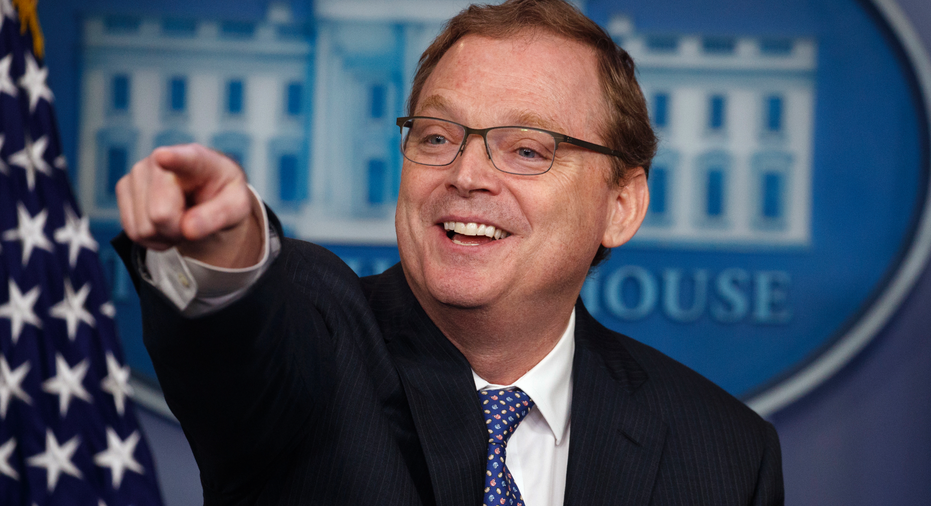 President Donald Trump pitched a wildly off-base claim about economic growth Monday as the White House used selective statistics to build a case that the economy is doing much better than when Barack Obama was in office.
The attention on Obama comes as the ex-president steps back into the political arena on behalf of Democrats in the November elections. The White House dispatched economic adviser Kevin Hassett to rebut Obama's point that his policies helped end the Great Recession and put the economy on a growth path that Trump is now mostly benefiting from.
Companies are much more optimistic and have increased spending on buildings and equipment, Hassett said. Americans are starting new businesses and the increase in startups is accelerating more quickly than it did under Obama, he added, and blue-collar jobs — in mining, construction and manufacturing — are growing more rapidly.
Yet some of the White House's case is wrong, exaggerated or lacks context:
TRUMP, in a tweet: "The GDP rate (4.2 percent) is higher than the Unemployment Rate (3.9 percent) for the first time in over 100 years!"
HASSETT: "The correct number is 10 years."
THE FACTS: Actually, the correct number is 12 years. In the first three months of 2006, the economy expanded at a 5.4 percent annual rate. At the same time, the unemployment rate was 4.7 percent.
The economy's growth rate, which reached 4.2 percent in the April-June quarter, has been higher than the unemployment rate dozens of times since World War II. Hassett acknowledged Trump's tweet was wrong.
___
HASSETT: "There was an inflection at the election of Donald Trump, and ... a whole bunch of data items started heading north."
THE FACTS: If you look at a chart of monthly job gains or the economy's growth rate, that inflection point is hard to spot. Hassett notably did not include in his presentation any mention of overall job creation or the broadest measurement of the economy's output, GDP.
That's probably because the growth rate Trump repeatedly cites, the 4.2 percent expansion at an annual rate that occurred in the April-June quarter, isn't out of line with Obama's record. The economy grew more quickly than that four times during Obama's eight years in office.
Economists generally acknowledge that growth has accelerated this year compared with 2016 and 2017, and most of them partly credit last year's tax cuts for fueling more consumer and business spending. The economy is on pace to grow at a 3 percent or faster pace in 2018, which would be the first time since 2005 it would reach that mark.
Yet it barely missed that cutoff in 2015, when it expanded 2.9 percent under Obama.
When it comes to jobs, the U.S. added more jobs in each of the last three years of Obama's presidency, 2014-2016, than it did last year, Trump's first in office. Job growth has picked up a bit this year but is still on track to come in below the 2014-2015 pace.
___
HASSETT: "Small-business optimism is near the highest level in 35 years."
THE FACTS: This is true. Small-business owners, as a whole, became far more optimistic about the economy after Trump's election.
Many small-business people felt Obama was dismissive toward their efforts, particularly after his "You didn't build that" comment in July 2012. Obama's larger point was that governments helped create success by building roads, bridges, and the foundations for the internet. But his opponent at that time, former Massachusetts Gov. Mitt Romney, seized on the comment as evidence that Obama didn't appreciate small business.
Still, optimism doesn't automatically translate into more spending or jobs. Small-business hiring has slowed in the past year as the unemployment rate has fallen to nearly an 18-year low. Larger firms are better able to attract workers in a tight labor market because they typically can offer higher pay and more benefits.
___
HASSETT: "And I think that if anyone were to assert that the capital spending boom that we're seeing right now was a continuation of the trend that President Trump inherited, then, well, they wouldn't get a high grade in graduate school for that assertion."
THE FACTS: It's true that companies are investing much more in buildings, computers and other capital goods than they were in the last two years of the Obama administration. And some of that additional investment may have been spurred by the Trump administration's corporate tax cut.
But another reason for the revitalization of business spending has been a turnaround in oil prices. Oil prices plunged in 2014 and 2015 from over $100 a barrel to roughly $30 a barrel in early 2016. They have since doubled to $67 a barrel. Those swings alternatively dampened investment in drilling rigs and other heavy machinery and helped send that spending higher.
Oil- and gas-related investment accounted for about 40 percent of the growth in business investment in the April-June quarter this year.
___
Online:
White House charts: https://bit.ly/2CI6twl
Contact Chris Rugaber on Twitter at http://Twitter.com/ChrisRugaber
Find AP Fact Checks at http://apne.ws/2kbx8bd
Follow @APFactCheck on Twitter: https://twitter.com/APFactCheck