AP FACT CHECK: Trump's errant claims on Kavanaugh, economy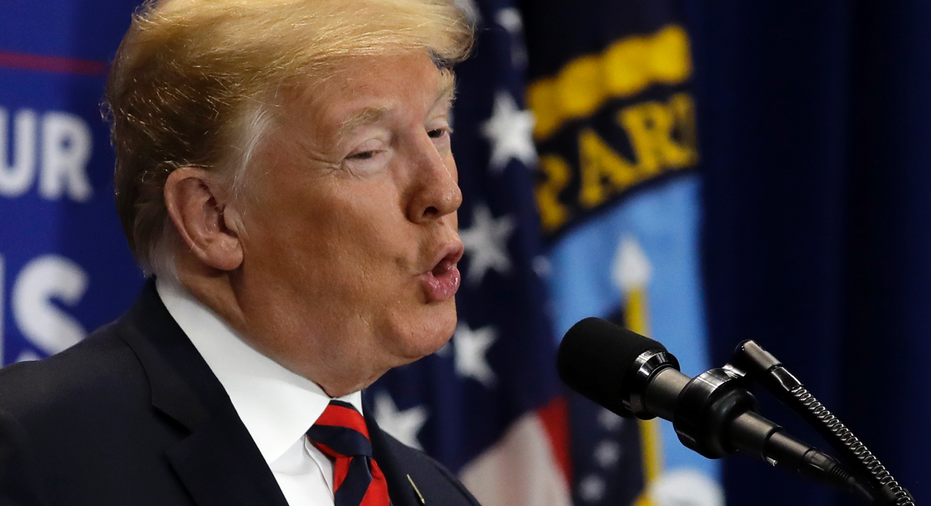 Juggling a suddenly hot-potato Supreme Court nomination and midterm-election jousting, President Donald Trump flubbed facts across a broad front over the past week.
His comments about nominee Brett Kavanaugh's accuser betrayed a misunderstanding of how the process works. His claim to be in the league of George Washington when it comes to placing judges on the bench is refuted by the record. His statements that the economy has never been better ignore the bad mixed in with the good. His boast about moderation in "Obamacare" premiums overlooks reasons why.
A look at recent rhetoric and the reality behind it:
KAVANAUGH
TRUMP, on Christine Blasey Ford's allegation that Kavanaugh assaulted her at a party in the 1980s: "The radical left lawyers want the FBI to get involved NOW. Why didn't someone call the FBI 36 years ago?" — tweet Friday.
THE FACTS: The FBI would not have been the number to call. The behavior alleged by Ford is not a federal crime but one that might have been investigated by local authorities if reported. She said he pinned her on a bed and tried taking off her clothes during a high school party in Maryland in the 1980s; Kavanaugh denies the allegations.
Democrats want the FBI to get involved now because the bureau conducts background checks on presidential nominees. The FBI background check of Kavanaugh was completed before the allegations emerged. Democrats and various advocates, not just "radical left lawyers," want the FBI to reopen its investigation in light of the accusation. The FBI can only do so if the White House requests that step.
Trump is trying to cast suspicion on Ford's credibility by questioning why the then-teenager "or her loving parents" did not go to the police "if the attack on Dr. Ford was as bad as she says," as he put it in another tweet. It has long been the norm for sexual assaults to go unreported to authorities.
A Justice Department report estimated that from 1992 to 2000, just more than one-third of rapes or attempted rapes were reported to police, only 26 percent of sexual assaults and less than 10 percent on college campuses.
___
TRUMP, on Democratic calls for the FBI to reopen its background investigation: "Well, it would seem that the FBI really doesn't do that. They've investigated about six times before, and it seems that they don't do that." — remarks Wednesday.
DEMOCRATIC SEN. DIANNE FEINSTEIN of California: "Fact check: The FBI can investigate Dr. Blasey Ford's allegations as part of its background investigation - that is their job. To say otherwise is FALSE. It investigated Anita Hill's allegations of sexual harassment against Clarence Thomas. It should investigate this too." — tweet Tuesday.
THE FACTS: Neither Trump nor Feinstein is entirely correct.
Only the White House can order the FBI to look into the claim as part of Kavanaugh's background investigation because Ford is not accusing Kavanaugh of a federal crime.
The FBI could interview Ford, Kavanaugh and others about the allegation if Trump asked the bureau to reopen its background investigation. But Trump said the FBI has already done its work.
Each side's take on the propriety of a reopened FBI probe has political calculations. Republicans are seeking to wrap up Kavanaugh's confirmation quickly while they are still in control of the Senate, and Democrats view it as more advantageous to delay a vote until after the November elections, when they hope to gain a majority.
As for Feinstein's point that the FBI investigated Hill's accusations against Thomas, that's true but it was because Republican President George H.W. Bush asked the bureau to do so.
___
ECONOMY
TRUMP: "I don't think we've ever had an economy like this." — remarks Wednesday on White House's South Lawn.
THE FACTS: The president is correct as far as that statement goes, but not entirely in the favorable ways he suggests.
It is true that the U.S. economy is relatively healthy with solid hiring gains and a strong stock market. Growth got an adrenaline boost this year because of the deficit-financed tax cuts that Trump signed into law last year. But economic growth has hardly ascended to a new peak. The 4.2 percent annual growth in the second quarter was bested twice, as recently as 2014 under President Barack Obama.
Instead, what makes the U.S. economy unique under Trump are major trends that aren't very positive:
—Never has the U.S. economy been involved in a trade conflict equal to the magnitude of its current showdown with China. The tariffs imposed by the Trump administration and China's retaliations have opened up a battle between the world's two largest economies that could last for weeks or decades, according to trade experts.
—Never has the federal deficit been set to climb so high during a period of economic stability. When Trump cut taxes last year, he piled on roughly $1.5 trillion of debt over the next decade. Additional spending in his budget only added to the imbalance. Publicly held government debt will be equal in size to the entire U.S. gross domestic product in 2028, according to the Congressional Budget Office. That's the most since 1946, when the United States was coming out of World War II and the Great Depression.
—Income inequality has worsened. Someone in the top 5 percent of earners makes 3.86 times more than the median U.S. household with an income of $61,372, according to the Census Bureau. That is the highest gap ever tracked by Census data going back 50 years. In 1967, the top 5 percent earned 2.66 times the median.
These forces have helped lead the economy into seemingly unprecedented territory under Trump.
___
FEDERAL JUDGES
TRUMP: "We'll have more judges put on than any other president other than one. Do you know who the one is? George Washington. Percentage wise." ''You know I have 145 (judges nominated), plus hopefully two Supreme Court judges. And that's assuming nobody leaves the bench which they will over the next period of time." ''I often say, 'Who has highest percentage of federal judges.' They say, 'You do.' I'll say, 'No, no. I got killed.' They said, 'George Washington' ... because he appointed a hundred percent of the judges." — interview released Wednesday with Hill TV.
THE FACTS: Not so fast. His claim of appointing more judges than any other president except for perhaps Washington is highly questionable, according to an analysis of judicial appointment data conducted for The Associated Press.
So far Trump has appointed 68 judges who have been confirmed to the federal courts. That translates to about 8 percent of the total federal judgeships at the 20-month mark in his presidency. That lags at least four previous presidents in terms of both raw numbers and percentages, said Russell Wheeler, a visiting fellow at the Brookings Institution and expert on judicial appointments.
Wheeler, a former deputy director of the Federal Judicial Center, crunched historical data from the center and the Administrative Office of the U.S. Courts. He found that Trump trails Republican presidents George W. Bush (77) and Ronald Reagan (78), as well as Democrats Bill Clinton (85) and John F. Kennedy (109) at the comparable points in their presidencies.
Wheeler also put together a ranking based on the number of appointees in 20 months as a percentage of "authorized judgeships," or the total seats created by Congress. Trump lagged at least 17 other presidents, including Washington, who as the first president appointed 100 percent of the federal judges. At the 20-month mark, for instance, Kennedy appointees occupied roughly 27 percent of the judicial seats then authorized by Congress, far higher than Trump's 8 percent.
Trump appears to be including in his cited figure those he has nominated to the federal bench, but who have not yet been confirmed.
Even when accounting for that, Trump's total of confirmed judges and current nominees represents 16 percent of the total judgeships. Kennedy and Grover Cleveland reached higher percentages based on their confirmed judges alone.
"It's hard to comprehend what President Trump exactly meant by his statement," Wheeler told the AP. "He does have a strong record so far in appointments to the U.S. Court of Appeals — 20 months in, Trump appointees occupy 15 percent of authorized circuit judgeships — but on that score he still trails Kennedy and Eisenhower, and Grover Cleveland, for that matter."
___
HEALTH COSTS
TRUMP: "The thing that I really am very happy to announce is that the rates are far lower than they would have been under the previous administration, or under a Democrat administration. We're holding the rates down. ... The remnant of Obamacare is much less expensive than people thought. They were going up, before I got here, at 118 percent, in some cases; 150 percent, 160 percent, 55 percent. We have the percentage going up at a much lower level because we're managing it very, very carefully." — remarks Monday at a meeting of the National Council for the American Worker.
THE FACTS: He's taking undue credit for the turnaround.
Trump appears to be referring to a recent analysis by Avalere Health and the AP that found a 3.3 percent average increase in proposed or approved premiums across 47 states and Washington, D.C., for 2019. After two years of double-digit increases, premiums are expected to decline in about a dozen states. The analysis also found that 19 states will see either new insurers enter their market or expand into more areas.
Experts say the main reason for the flip in the heath law's fortunes is that the premium increases of previous years allowed insurers to return to profitability. About 9 in 10 Affordable Care Act customers receive subsidies that are designed to increase with the rising cost of insurance, protecting them from price jumps. Those taxpayer-backed subsidies allowed the insurers to stanch their earlier losses. At the same time, the companies are savvier about managing risks in the market.
A major factor behind last year's spike in premiums was Trump's abrupt cancellation of a separate major stream of payments to insurers. But this midterm election year the administration has refrained from roiling the markets.
Trump's claim that rates are far lower than they would have been under a Democratic administration is questionable, because Democrats have had no shortage of ideas for addressing high premiums.
The improved outlook for the health law is no consolation for people who need individual health insurance policies but make too much money to qualify for subsidies. They have been dropping out of the market in droves. The Trump administration is promoting lower-cost short-term policies and association health plans to help this group, but it's too early to say how those ideas will fare in the market.
___
TARIFFS
TRUMP: "Tariffs have put the U.S. in a very strong bargaining position, with Billions of Dollars, and Jobs, flowing into our Country - and yet cost increases have thus far been almost unnoticeable. If countries will not make fair deals with us, they will be 'Tariffed!'" — tweet Monday.
THE FACTS: In trade talks with China, Canada and Mexico, it's not entirely clear how much of an advantage the United States has gained from the tariffs. The import taxes imposed on steel and aluminum have been pressure points. So are the tariffs on $50 billion worth of Chinese goods, with the president suggesting he's prepared to tax an additional $467 billion of imports from China. But Americans have to see a final deal with Canada or China to assess whether these taxes are delivering a better bargain.
Still, have tariffs brought in billions of dollars and jobs without increasing inflation?
Yes, the tariffs have brought in slightly more revenue. It's hard to know if they've helped create jobs. And the companies closest to the tariffs say that, yes, inflation is a risk.
In theory, the tariffs should add money to federal coffers. The 25 percent tax the Trump administration slapped on $50 billion of Chinese imports should raise $12.5 billion if the flow of goods continues without interruption.
And even though many tariffs haven't been in place long enough to determine whether they're helping draw in significantly more revenue, the Treasury Department said there has been a $5.4 billion jump in the collection of customs and duties so far this fiscal year. Some of this increase is due to more imports. But customs and duties account for just 1.2 percent of federal revenues, so any increase from tariffs does little to address the ballooning budget deficit.
The U.S. economy was adding jobs before the tariffs were announced, and it has been adding jobs since. It's hard to know at this stage how the tariffs have influenced the pace of job creation, since any analysis would need to consider the whole of the nine-year expansion and the stimulus from Trump's deficit-funded tax cut.
___
TRUMP: "Our Steel Industry is the talk of the World. It has been given new life, and is thriving. Billions of Dollars is being spent on new plants all around the country!" — tweet Monday.
THE FACTS: Trump has certainly helped steelmakers, but so far it's not the dramatic turnaround that he portrays.
Analysts at Citibank said this month that steel companies have approved more than $3 billion in investment following the tariffs. Some steel mills have restarted old lines and added new capacity.
Manufacturers focused on primary metals have added 7,100 workers in the past 12 months for a total of 381,700 jobs, according to the Labor Department. But that total still lags the 402,600 jobs with primary metal manufacturers at the end of 2014. A stronger dollar and lower oil prices hurt the demand for steel products, causing production and employment to fall. And Trump is a long way from the more than 450,000 jobs in this sector at the start of 2008.
More importantly, steel is a modest component of U.S. job growth. Primary metals represented just 0.3 percent of the 2.33 million job gains in the past year.
___
Associated Press writers Josh Boak, Ricardo Alonso-Zaldivar and Christopher Rugaber contributed to this report.
___
Find AP Fact Checks at http://apne.ws/2kbx8bd
Follow @APFactCheck on Twitter: https://twitter.com/APFactCheck