AP FACT CHECK: 3 Iowa stores closed under Fred Hubbell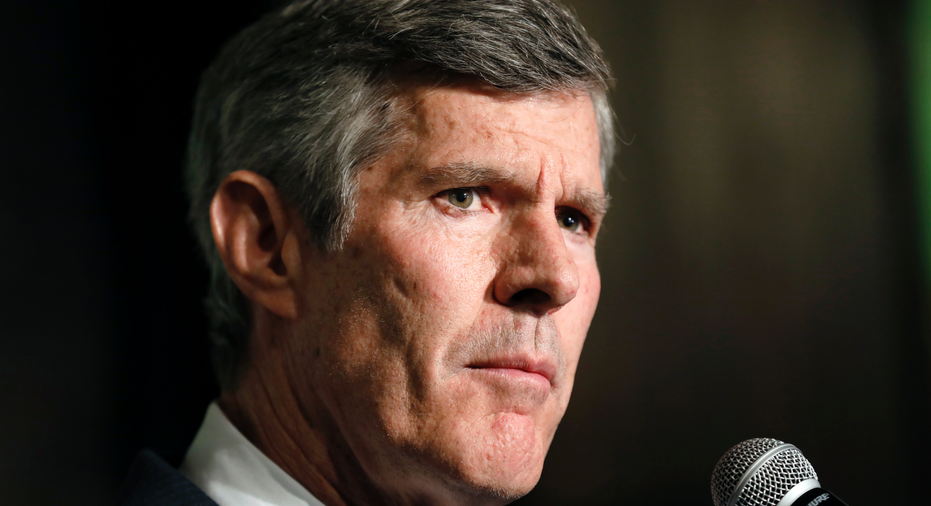 Republican Gov. Kim Reynolds campaign launched an ad critical of Democratic opponent Fred Hubbell's management of a once-popular Iowa department store chain called Younkers.
Hubbell is a wealthy businessman who hails from one of the state's best-known families. He's hoping to unseat Reynolds, who is seeking a four-year term after succeeding former Gov. Terry Branstad when he became ambassador to China under President Donald Trump. Reynolds, who has a modest background and as a teenager waitressed at a Des Moines Younkers, has said she will highlight Hubbell's affluence as a campaign strategy.
In Reynold's TV ad, launched last month, multiple narrators talk about the impact Younkers store closures had on three different Iowa cities.
A look at the Reynolds' campaign claim:
REYNOLDS CAMPAIGN: "Younkers was the heart of our town, 'til Fred Hubbell shut it down and fired everyone. Small towns were a drain on Hubbell's profits -- that's what they told us. So he closed stores in Spencer, Ottumwa and Newton." -- narrators in the TV ad.
THE FACTS: It's true that those three Younkers stores closed while Hubbell was in charge of the companies that owned them.
In 1984, Younkers __ a now-defunct retail chain owned by Hubbell's family business, Equitable of Iowa, and founded in the state more than a century ago __ operated nearly 30 department stores, mostly in Iowa and Nebraska.
By December of that year, however, The Associated Press reported the company's then-president planned to close a store in Ottumwa, a city of roughly 27,000 people at the time that faced economic troubles during the farm crisis.
The next week, in January 1985, Equitable dismissed Younkers' president and put Hubbell in charge of the department stores on an interim basis. Prior to that, Hubbell worked as Vice President of Equitable.
The three-level Ottumwa store, which employed 25 people, officially shut down while Hubbell was in command on January 31, 1985, according to newspaper archives.
By 1990, Hubbell had become president for Equitable, his campaign confirmed. Equitable had life insurance and retail business segments __ remaining the parent company of Younkers while Hubbell was president. A campaign spokesman for Hubbell said he was not involved in the "day to day" decision-making at the department chain store.
Younkers President Tom Gould held a press conference in December of 1990, announcing plans to close three "marginally profitable" stores, eliminating 60 jobs, in Nebraska and Iowa, according to AP archives. Gould said Younkers would shift to larger markets. The Iowa stores in Spencer and Newtown, both cities of less than 15,000 people, closed the following month.
In a campaign ad released last week, Hubbell lists himself as chairman of Younkers from 1985 to 1992 and acknowledges some stores were closed during that time.
"When I went into Younkers in 1985, Iowa was in the midst of a farm crisis," Hubbell says in the ad. "We kept as many people employed as possible because we knew the importance of every hour worked to help people make ends meet."
___
Associated Press news researcher Rhonda Shafner in New York contributed to this report.
___
Find AP Fact Checks at http://apne.ws/2kbx8bd
Follow @APFactCheck on Twitter: https://twitter.com/APFactCheck
___
Sign up for "Politics in Focus," a weekly newsletter showcasing the AP's best political reporting from around the country leading up to the midterm elections: https://bit.ly/2ICEr3D