Another Reason Tesla and Trump May Be a Better Fit Than First Thought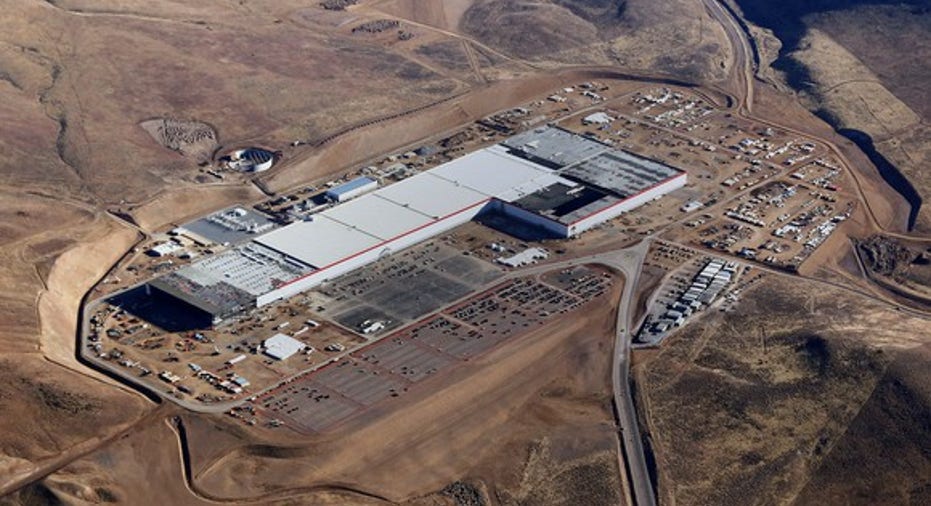 After Donald Trump was elected to be the next president of the United States in November, shares of electric-car maker Tesla Motors (NASDAQ: TSLA)fell about 5% during the next seven days. Some investors may have been concerned about how a Republican-controlled White House and Congress could impact electric-vehicle and solar incentives -- both of which play a role in Tesla's business.
But concerns about Tesla's prospects during a Trump presidency have eased after the President-elect invited Tesla CEO Elon Musk to his Tech Summit meeting, and even appointed him to his Strategic and Policy forum. Indeed, Tesla stock proceeded to soar 17.5% in December.
Now, investors may have another reason not to worry about Tesla's potential during a Trump administration: Elon Musk thinks the Trump administration could surprise when it comes to renewables.
Tesla factory in Fremont, CA. Image source: The Motley Fool.
Report: Trump may be "positive on renewables"
In a telling report from Electrek, managing editor Fred Lambert noted that investors attending Tesla's Gigafactory event this week said Musk was actually upbeat about Trump's plans for renewables:
While it's impossible to know exactly how the Trump administration may "be positive on renewables," Musk's words about the President-elect should carry some weight after Musk's recent face-to-face interactions with Trump.
Trump and Musk's shared vision for jobs
It's possible that Trump could be positive on green technologies because of the potential jobs that could be created from nascent renewables segments. It's no secret that one of Trump's top priorities when he takes office is to create domestic manufacturing jobs. And Musk's Tesla is arguably leading the charge in the U.S. when it comes to job creation.
Tesla alone has created over 13,000 jobs in the U.S. (excluding contractors), most of which are manufacturing related. And the Tesla-acquired SolarCity has created about 12,000 U.S. jobs. Yet Tesla is just getting started.
The company recently announced a major expansion to its car factory in California -- the expansion will create about 3,000 more jobs. Further, Tesla CEO Elon Musk has said its Gigafactory in Nevada will likely employ around 10,000 people at peak production, and indirectly create between 20,000 to 30,000 additional jobs in surrounding regions.
Tesla's under-construction Gigafactory in Nevada. Measured by footprint, the factory will be the largest building in the world when it's complete. Image source: Tesla Motors.
Notably, however the Trump administration may impact electric-vehicle and solar incentives, Musk is confident Tesla will thrive. Indeed, Musk even noted in a November shareholder meeting about the company's acquisition of SolarCity that he believed Tesla's competitive position would increase if electric-vehicle incentives were removed, since under the current zero-emission vehicle mandates, competitors would be able to monetize their zero-emission vehicle credits at face value while Tesla would only get about $0.50 on the dollar for its credits.
Still, Musk is far from being against renewables incentives. During the same shareholder meeting, he said that Tesla does believe "there should be incentives." But Musk said he believes the incentives should exist "for the good of the industry and to accelerate the advent of sustainable transport, not because Tesla needs them."
Whatever the fate is for renewables mandates and incentives after Trump takes the Oval Office, Musk's surprising positivity about the Trump administration's potential actions surrounding renewables is good news for investors.
10 stocks we like better than Tesla Motors When investing geniuses David and Tom Gardner have a stock tip, it can pay to listen. After all, the newsletter they have run for over a decade, Motley Fool Stock Advisor, has tripled the market.*
David and Tom just revealed what they believe are the 10 best stocks for investors to buy right now... and Tesla Motors wasn't one of them! That's right -- they think these 10 stocks are even better buys.
Click here to learn about these picks!
*Stock Advisor returns as of January 4, 2017
Daniel Sparks owns shares of Tesla Motors. The Motley Fool owns shares of and recommends Tesla Motors. The Motley Fool has a disclosure policy.