Another General Motors Vehicle Bites the Dust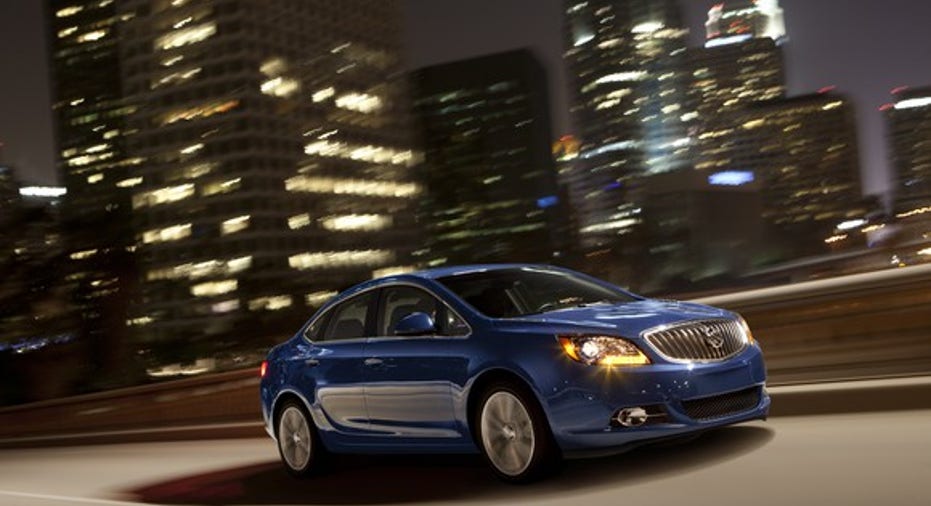 General Motors' Buick Verano. Image source: General Motors.
The ever-evolving automotive industry and changing consumer tastes have claimed their latest victim: the Buick Verano. At a time when gas prices remain cheap and America's love affair with SUVs has reignited, General Motors (NYSE: GM) has decided to phase out the Verano compact sedan in the U.S. market. It was a short life for the Verano, which was redesigned for China last year and posted its first full year of sales during 2012. So, what happened?
No traction
The idea behind the Buick Verano was simple: bring consumers to the brand. The compact sedan was intended to be a conquest vehicle, one that would sell in higher volumes at lower prices. However, that role seemed to be filled by Buick's Encore, a crossover that was launched about a year after the Verano, after sales of the latter peaked at 45,527 during 2013 before declining to 31,886 last year. Meanwhile, the Encore's sales went from just under 32,000 units during 2013 to more than 67,000 units last year.
Originally, the Verano made sense, at least on paper, as it carved a niche in the market, priced between cheaper mainstream sedans and luxury offerings that extended beyond $30,000. However, now more mainstream sedans are expanding their options to be more competitive with more expensive options -- think the Titanium trim for many of Ford'smainstream vehicles. Also, the luxury automakers are lowering the price of certain sedans to try and scoop up incremental consumers-- think the Mercedes-BenzCLA class.
Essentially, Buick doesn't have a need for a compact car that lost its niche in the market and isn't selling well at a time when SUVs are all the rage. It makes sense according to the strategy Buick chief Duncan Aldred mentioned to Automotive News in 2014, when he took over the brand.
"What we can't have at Buick is 10 vehicles all selling a few thousand units each. I've seen that. It doesn't work," Aldred said in the 2014 interview. "We need to bring in cars, trucks, whatever, that can offer substantial volume ... and that are important for the dealers who will then buy them, stock them and spend marketing dollars on them."
Eliminating any vehicle is risky
GM's decision to end the Buick Verano's run, likely after the 2017 model year, is not without risks. Consider that in 2012 crossovers generated 31% of Buick's sales in the U.S. market. That figure jumped to almost 60% last year, and market researcher LMC Automotive estimates it will jump to 68% during 2017. However, as we have learned many times, trends and consumer tastes can change quickly. It isn't difficult to imagine a scenario where focusing more heavily on SUVs than sedans could come back to haunt Buick. Furthermore, there were nearly 32,000 consumers last year that purchased a Verano above all other models, and some of those consumers would have undoubtedly gone to a different automaker.
While the Verano's run was a short-lived experiment that didn't live up to sales expectations, it certainly won't be the last victim claimed by the ever-evolving U.S. automotive industry and finicky consumer preferences. And, ultimately, this isn't a big deal for investors: as long as full-size pickups and SUVs continue to accelerate sales and average transaction prices, expect GM to continue posting huge profits.
The article Another General Motors Vehicle Bites the Dust originally appeared on Fool.com.
Daniel Miller owns shares of Ford and General Motors. The Motley Fool owns shares of and recommends Ford. The Motley Fool recommends General Motors. Try any of our Foolish newsletter services free for 30 days. We Fools may not all hold the same opinions, but we all believe that considering a diverse range of insights makes us better investors. The Motley Fool has a disclosure policy.
Copyright 1995 - 2016 The Motley Fool, LLC. All rights reserved. The Motley Fool has a disclosure policy.