Anheuser-Busch InBev Keeps Moving Forward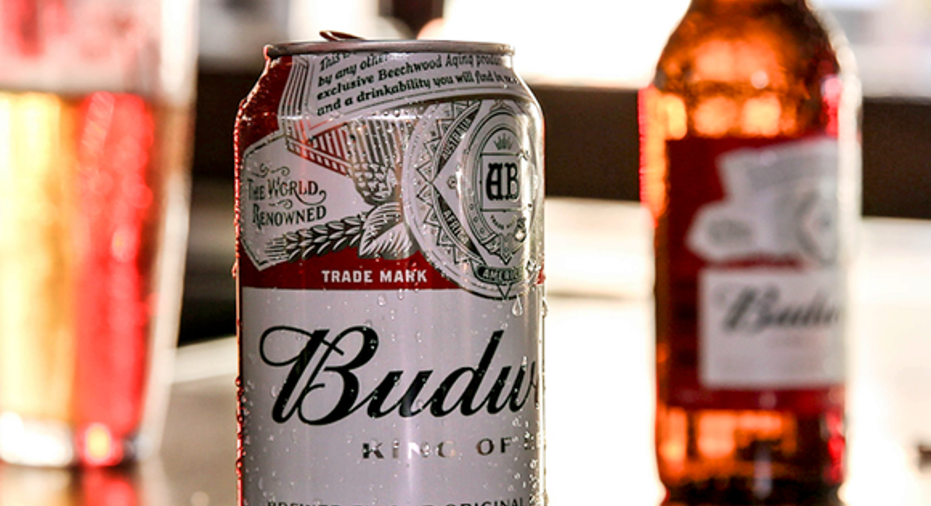 Image source: Anheuser-Busch InBev
Anheuser-Busch InBevreleased first-quarter 2016 results on May 4. After suffering another modest decline that day as those results again technically fell short of expectations, shares of the beer behemoth have all but bounced back since then.
Let's take a closer look at how AB InBev started the new year.
Anheuser-Busch InBev results: The raw numbers
| Metric | Q1 2016 Actuals | Q1 2015 Actuals | Year-Over-Year Growth |
| --- | --- | --- | --- |
| Revenue | $9.40 billion | $10.45 billion | (10.1%) |
| Normalized profit (attributable to shareholders of AB InBev) | $844 million | $2.294 billion | (63.2%) |
| Normalized earnings per share (diluted) | $0.51 | $1.40 | (63.6%) |
Data source: Anheuser-Bush InBev SA.
What happened with Anheuser-Busch InBev this quarter?
AB-InBev's top line included a $1.31 billion negative impact from currency translation; organic revenue growth was 3.1%.
Revenue per hectoliter grew 4.9% (5.2% on a constant geographic basis), driven by revenue management and "premiumization" initiatives.
Total volumes declined 1.7% in Q1, driven primarily by a 1.4% decline in AB InBev's own beer volumes as challenging macroeconomic conditions in Brazil more than offset strength in Mexico.
Revenue from global brands, including Corona, Stella Artois, and Budweiser, grew by 5.9% year over year.
That result was led by 22% growth from Corona's strength in Mexico, Chile, China, and the UK.
Budweiser revenue climbed 0.6%, as "soft" volumes in the U.S. and China were offset by strength in Brazil and Russia.
Stella Artois revenue fell 2%, albeit primarily because of timing of shipments in the U.S.
Earnings before interest, taxes, depreciation, and amortization (EBITDA) climbed 2.5%, to $3.46 billion.
EBITDA margin declined 20 basis points, to 36.8%.
Net finance costs (excluding non-recurring net finance results) were $1.219 billion, compared with net finance income of $91 million in last year's first quarter, driven primarily by a $138 million unfavorable mark-to-market adjustment during the quarter linked to hedging of share-based compensation programs, compared with a $757 million gain in last year's Q1. Net interest expense also increased $273 million as a result of pre-funding the proposed combination with SABMiller.
Normalized earnings were also technically flat from the same year-ago period, excluding the impact of unfavorable currency exchange, mark-to-market adjustment linked to hedging of share-based compensation programs, and the net cost of pre-funding AB InBev'sSABMillerpurchase price.
The company is making "good progress" toward obtaining the required regulatory clearances for the SABMiller merger, which AB InBev continues to expect will close in the second half of 2016.
What management had to say
Regarding financing for the SABMiller deal, Anheuser-Busch InBev CEO Carlos Alves de Brito explained, "[W]e have essentially completed the pre-funding of the transaction following a series of bond issuances in the first quarter, allowing us to cancel, as of today, $55 billion of the committed senior acquisition facilities put in place prior to the announcement of the transaction."
Brito also elaborated on AB InBev's current market position and strategy:
Looking forward
Despite its light start to the year, AB InBev reiterated its expectation that revenue per hectoliter should grow organically ahead of inflation on a constant-geographic basis.
On one hand, that should entail continued improvement in industry volumes in the U.S., as well as improvement in revenue per hectoliter thanks to a favorable brand mix. AB InBev also still sees solid growth in Mexico volume, driven by the company's commercial initiatives as well as the country's favorable macroeconomic environment. On the other hand, Brazil is expected to remain a challenge in the near term, and industry volumes in China will probably see continued pressure this year -- though in the Middle Kingdom in particular, AB InBev believes its enviable portfolio of premium and super-premium brands should outperform the broader industry's growth.
Once again despite its shortfall, I still think the market should be pleased knowing AB InBev's acquisition of SABMiller remains on pace for a second-half 2016 close. When that happens, investors will be left with anevenmore dominant brewing industry juggernaut, with a greater than 30% share of the worldwide beer market.
The article Anheuser-Busch InBev Keeps Moving Forward originally appeared on Fool.com.
Steve Symington has no position in any stocks mentioned. The Motley Fool recommends Anheuser-Busch InBev NV. Try any of our Foolish newsletter services free for 30 days. We Fools may not all hold the same opinions, but we all believe that considering a diverse range of insights makes us better investors. The Motley Fool has a disclosure policy.
Copyright 1995 - 2016 The Motley Fool, LLC. All rights reserved. The Motley Fool has a disclosure policy.