Anheuser-Busch InBev Earnings: One Step Closer to World Domination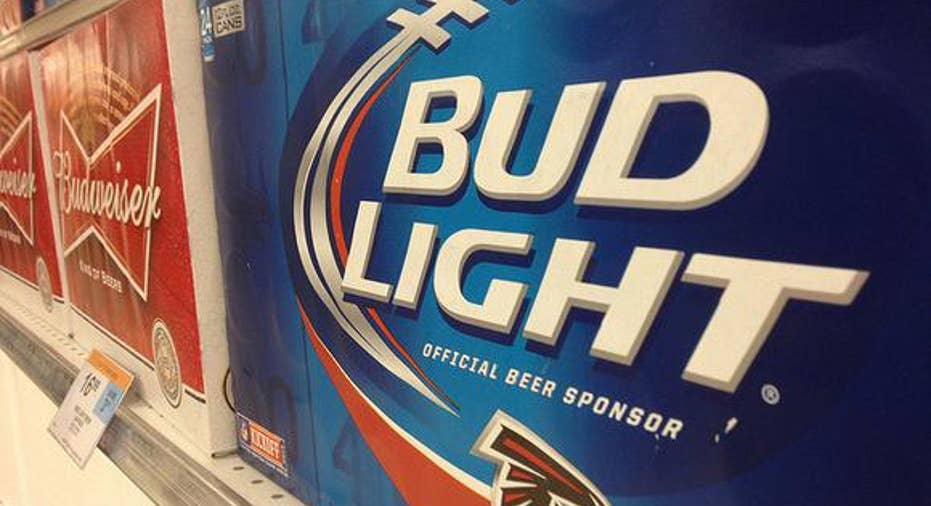 Anheuser-Busch InBev released fourth-quarter 2015 results on February 25, 2016. After suffering a modest decline as those results technically fell short of Wall Street's expectations, shares of the brewing giant have rebounded nicely since then. Now that the dust has settled, let's take a closer look at how AB InBev closed its latest fiscal year.
Anheuser-Busch InBev results: The raw numbers
| Metric | Q4 2015 Actuals | Q4 2014 Actuals | Growth (YOY) |
| --- | --- | --- | --- |
| Revenue | $12.02 billion | $10.72 billion | 7% |
| Normalized profit (attributable to shareholders of AB InBev) | $2.56 billion | $2.52 billion | 1.6% |
| Earnings per share (diluted) | $1.56 | $1.54 | 1.3% |
Data source: Anheuser-Bush InBev SA.
What happened with Anheuser-Busch InBev this quarter?
Total volumes declined 0.7% in Q4, as a 0.2% increase in beer volumes was more than offset by a 6.5% decline in non-beer volumes.
Volumes of global brands increased 6.7% year over year in Q4, while total focus brands volumes grew 0.7%.
Volumes from global brands (including Budweiser, Stella Artois, and Corona) rose 7.3% in fiscal 2015, while revenue from global brands climbed 12.6%.
Earnings before interest, taxes, depreciation and amortization (EBITDA) climbed 6.6%, to $4.3 billion.
EBITDA margin climbed 55 basis points in 2015, to 38.6%.
AB InBev's board is proposing a final dividend for 2.00 euros per share, subject to shareholder approval at the company's annual general meeting on April 27, 2016. Combined with AB InBev's interim dividend of 1.60 euros paid in November, this would bring the full-year dividend to 3.60 euros per share, up 20% from 2014.
Net finance costs (excluding non-recurring net finance results) fell 32.2% year over year, to $1.239 billion, driven primarily by net foreign exchange gains on U.S. dollar cash balances held in Mexico, and positive mark-to-market adjustment from hedging of share-based payment programs.
AB InBev's proposed merger with SABMiller is still expected to close in the second half of 2016
AB InBev has pre-funded roughly $47 billion of the purchase price through U.S. dollar bond issuances, allowing it partially to cancel $42.5 billion of the $75 billion committed senior facilities.
According to CEO Carlos Alves de Brito, "Integration planning is well underway, but our focus is on obtaining the necessary regulatory clearances so that we can close the transaction in the second half of the year."
First-country approval has been received from India.
What management had to sayDuring the subsequent conference call, Anheuser-Busch InBev CEO Carlos Alves de Brito stated,
Looking forwardFor perspective, that's up from 16 global brands achieving at least $1 billion in annual retail sales at this time last year. And according to de Brito, AB InBev has identified four commercial priorities that should enable it to continue accelerating its top-line growth from here. The first two are growing global brands by leveraging the potential of Budweiser, Stella Artois, and Corona, and then "premiumizing and invigorating beer [...] by bringing new energy and variety to the beer experience." Third is elevating major core brands through differentiated marketing and large-scale activations; and finally, further developing the "near beer" segment to compete for a greater share of the total alcohol market.
For the full year 2016, AB InBev expects revenue per hectoliter to grow organically ahead of inflation on a constant-geographic basis. More specifically in the U.S., industry volumes should continue to improve over fiscal 2015, thanks to favorable brand mix. Growth in industry volumes is also expected be "solid" in Mexico, driven by a favorable macro economic environment and commercial initiatives.
In Brazil, AB InBev anticipates net revenue to grow organically in the mid-to-high single digits this fiscal year, despite difficult year-over-year comparisons in the first quarter, and a challenging economy. Finally, in China, AB InBev expects volumes to continue to remain under pressure, though the company's volumes should still perform better than the broader industry in the Middle Kingdom thanks to premium and super-premium brands.
In the end, though, investors should be most encouraged that AB InBev's pending acquisition of SABMiller continues to progress as planned, which will effectively form the firsttrulyglobal brewer with a more than 30% share of the worldwide beer market. When you combine Anheuser-Busch InBev'soperational expertise with its proven ability to innovate new billion-dollar brands, I think shareholders should be more than pleased with where the company stands today.
The article Anheuser-Busch InBev Earnings: One Step Closer to World Domination originally appeared on Fool.com.
Steve Symington has no position in any stocks mentioned. The Motley Fool recommends Anheuser-Busch InBev NV. Try any of our Foolish newsletter services free for 30 days. We Fools may not all hold the same opinions, but we all believe that considering a diverse range of insights makes us better investors. The Motley Fool has a disclosure policy.
Copyright 1995 - 2016 The Motley Fool, LLC. All rights reserved. The Motley Fool has a disclosure policy.