Anavex Life Sciences Corp.'s Worst Moves in 2016 So Far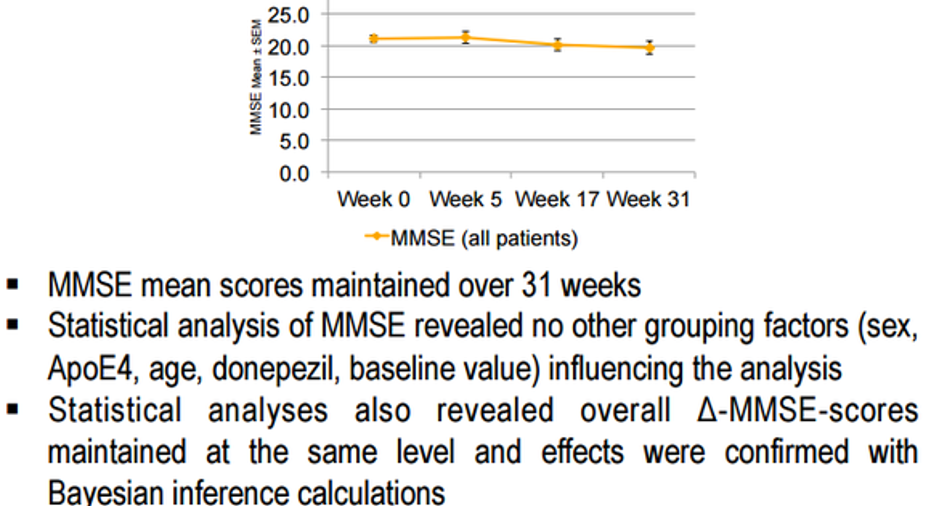 Image source: Getty Images.
Clinical-stage biotech Anavex Life Sciences (NASDAQ: AVXL) made a huge mistake last fiscal year that led to a recent implosion. In December 2014, the company began a phase 2 trial with its lead Alzheimer's diseasecandidate, 2-73, to determine a safe dosage for use in later studies. The 32-patient trial also included efficacy tests, such as the mini-mental state exam (MMSE), but lacked a control group for comparison.
While the trial will probably succeed at finding a safe dosage, all eyes were on the efficacy data. The stock plunged more than 50% in response to this minor decline in average MMSE scores at the 31-week interim of a 52-week trial.
Image source: Anavex Life Sciences.
The observed MMSE decline from baseline scores isn't that bad, considering the mix of mild to moderate patients. If patients in a control arm had declined significantly further, the stock probably would have moved in the opposite direction, making this one of the worst blunders of Anavex's last fiscal year.
The safety data will probably be enough to allow a larger, randomized, placebo-controlled trial for 2-73 intended to support applications for treatment of Alzheimer's disease at some point in the future, but when that trial might begin is anybody's guess. The company still hasn't announced a partner, and its own financing options are looking grim. Worse still, Anavex hasn't had a flawless 2016 either -- let's look at some recent blunders that might lead to another market meltdown.
Lopsided spending
Most biotechs in their first year as a public company (Anavex was on the Pink Sheets for years but uplisted to the Nasdaq exchange last year) focus their limited resources into developing new drug candidates they can outlicense or commercialize themselves to begin generating revenue as quickly as possible.
Anavex hasn't been operating as most clinical-stage biotechs. During the nine months ended in June, the company recorded about $6.1 million in general and administrative (or G&A) expenses, more than twice its research-and-development (or R&D) outlay of $2.9 million. At this pace, the company's R&D expenses this year will barely exceed CEO Christopher Missling's total compensation of $3.74 million in 2015.
Over the past decade, a measly 15.3% of new drug candidates with phase 2 successes eventually earned approval.Not planning for the worst is a tremendous risk in any disease area, but Alzheimer's is especially perilous since there are zero long-term disease-modifying successes to date.
Given the dismal odds of scoring with a first shot on goal, advancing additional candidates into early clinical (human) testing creates a crucial safety net. Spending twice as much on G&A than R&D isn't a step in that direction.
Get out of the (rented) lab, already
Bringing candidates to a stage where you can suggest it works in a test tube is relatively easy, but it isn't free. The most disturbing aspect of Anavex's extensive laboratory program is that it lacks a laboratory. At the end of June, the Manhattan-headquartered company reported long-term assets worth just $506,which is probably less than the cost of the device you're using to read this.
Anavex is pursuing more indications for 2-73 and additional drug candidates but hasn't developed anything further than bare minimums for issuing press releases. Since beginning the 32-patient trial with 2-73 in December, 2014, it has touted preclinical (non-human) data suggesting 2-73 has potential in Rett syndrome, infantile spasms, and autism.It's also announced preclinical data suggesting another candidate, 3-71 has potential in Alzheimer's or other dementias.
In financial statements, Anavex disclosed preclinical data that suggests a third candidate, 1-41, has neuroprotective properties, and a fourth, 1037 might play a role in prostate cancer.
Anavex hasn't started any human trials with 2-73 in the three non-Alzheimer's indications with preclinical data, and ithasn't announced, or disclosed, any investigational new drug applications (a requirement to begin human testing) for 3-71, 1-41, or 1037.
Shunning investors
A lack of financing could explain the need to rent laboratory space and the reluctance to begin more clinical trials. If that's the case, shunning potential investors is the worst move of all. Anavex is the only Nasdaq-listed biotech I know of that doesn't conduct conference calls with investment bank analysts to discuss quarterly earnings reports.
Investment banks generally want to remain on good terms with companies that might pay for their services in the future, and their analysts typically lob puffball questions at management during earnings calls. Not submitting itself to this limited level of scrutiny each quarter is a bad move for a company in desperate need of financing.
It's not all bad
There were some flecks of good news in the company's recent earnings report. Anavex is looking forward to updating a clinical development plan for an eventual phase 2 trial with 2-73 in Rett syndrome.A firm timeline would be nice, but at least it's looking in the right direction.
Perhaps the best disclosure in the recent earnings release is news that Securities and Exchange Commission staff advised Anavex's legal counsel that it did not intend to recommend enforcement action in connection with a formal investigation the regulator began last December.
Anavex may have dodged a big legal bullet, but I don't think now is a good time to begin a long position in the troubled biotech. Staying on the sidelines until it secures enough financing to advance another candidate into clinical trials, or prove 2-73 can beat a placebo in Alzheimer's disease or another indication, could save you a bundle.
A secret billion-dollar stock opportunity The world's biggest tech company forgot to show you something, but a few Wall Street analysts and the Fool didn't miss a beat: There's a small company that's powering their brand-new gadgets and the coming revolution in technology. And we think its stock price has nearly unlimited room to run for early in-the-know investors! To be one of them, just click here.
Cory Renauer has no position in any stocks mentioned. You can follow Cory on Twitter, @TMFang4apples or connect with him on LinkedIn for more healthcare industry insight.The Motley Fool has no position in any of the stocks mentioned. Try any of our Foolish newsletter services free for 30 days. We Fools may not all hold the same opinions, but we all believe that considering a diverse range of insights makes us better investors. The Motley Fool has a disclosure policy.