Anavex Life Sciences Corp. in 3 Charts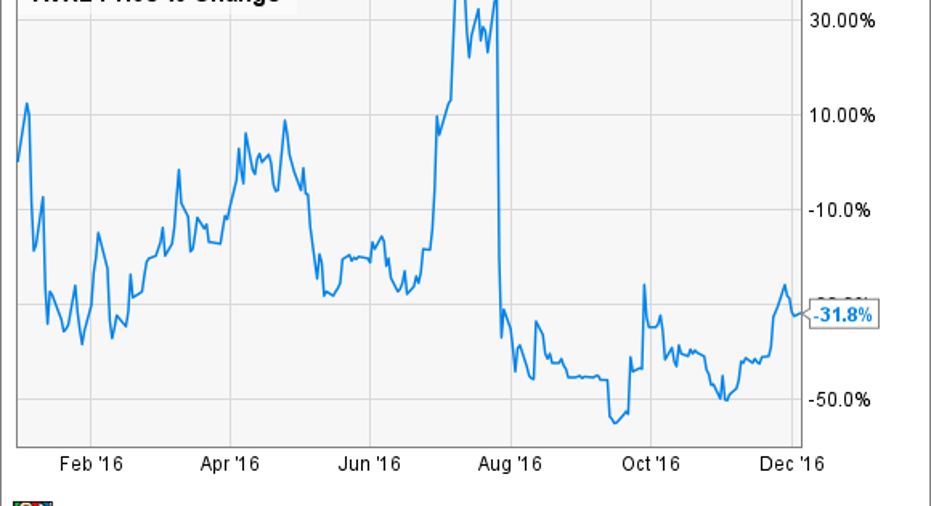 Anavex Life Sciences Corp. (NASDAQ: AVXL) celebrates the 13th anniversary of its founding in a little over a month. After all these years, the biotech hasn't made a penny in revenue. Still, Anavex remains a company to watch closely in the months ahead. Here are three charts that sum up this clinical-stage biotech.
Image source: Getty Images.
Stock performance
For investors thinking about buying shares of Anavex, you need to know one important thing: This stock is very volatile. The company's stock performance this year underscores that point.
Notice how Anavex's shares surged in late June. Investors were excited about the forthcoming announcement of clinical results for experimental drug Anavex 2-73, and that the U.S. Food and Drug Administration had granted orphan drug designation to the drug asa treatment for infantile spasms.
That excitement didn't last very long. Although the phase 2a results for Anavex 2-73 in treating Alzheimer's disease patients seemed positive overall, investors focused on a slight deterioration of cognitive and functional measures near the end of the 31-week study. Anavex's stock plunged on the concerns.
If you only looked at the last month, however, Anavex is on a roll. Why? One reason could beLilly's (NYSE: LLY) solanezumab failure. On November 23, the big drugmaker announced thatsolanezumab didn't slow cognitive decline in a late-stage clinical study targeting treatment of Alzheimer's disease.
This bad news for Lilly was potentially good news for Anavex. Lilly's approach with solanezumabfor tackling Alzheimer's was toprevent the buildup of amyloid plaque. Anavex has taken a different path bytargeting sigma-1 and muscarinic receptors. The theory is that these receptors canreduce stress levels in the brain and the protein misfolding associated with Alzheimer's disease.
Pipeline
Because Anavex doesn't have a product on the market yet, the company will succeed or fail based on the strength of its pipeline. Right now, that pipeline depends on Anavex 2-73, since all other candidates are only in pre-clinical testing.
Image source: Anavex Life Sciences.
Although investors were worried when Anavex released its 31-week phase 2a data for Anavex 2-73, they received some encouragement in late November. Anavex announced an update after 41 weeks of the study, which continuedstabilization of cognitive and functional measures.
As the pipeline chart shows, Anavex is evaluating Anavex 2-73 in other neurological indications. The company has reported promising early results from pre-clinical studies of the experimental drug in treating Parkinson's disease, infantile spasms, and autism-related disorders such as fragile X and Rett syndrome.
Cash
With no revenue to pay the bills, Anavex relies on cash generated from selling its stock to fund operations. How is the biotech's cash position looking?
AVXL Cash and Equivalents (Quarterly) data by YCharts.
Anavex has a purchase agreement in place with Lincoln ParkCapital Fund that allows it to sell $50 million worth of stock to Lincoln Park at its discretion. Since the biotech is burning through at least a couple of million dollars per quarter, Anavex will likely need to make use of that agreement in 2017 to generate more cash.
Looking ahead
Because of Anavex's need to sell more shares in the not-too-distant future, investors will see existing shares diluted. It's possible, however, that good news from clinical studies of Anavex 2-73 could help offset losses from potential dilution.
Anavex has indicated that it will search for partners in the coming months. A solid deal with a larger pharmaceutical company could serve as a positive catalyst for Anavex's stock.
There is still considerable risk with investing in Anavex, though. Essentially all of its hopes rest on one candidate. As we saw with Lilly recently, achieving success in treating Alzheimer's disease is a daunting challenge.
10 stocks we like better than Anavex Life Sciences When investing geniuses David and Tom Gardner have a stock tip, it can pay to listen. After all, the newsletter they have run for over a decade, Motley Fool Stock Advisor, has tripled the market.*
David and Tom just revealed what they believe are the 10 best stocks for investors to buy right now... and Anavex Life Sciences wasn't one of them! That's right -- they think these 10 stocks are even better buys.
Click here to learn about these picks!
*Stock Advisor returns as of Nov. 7, 2016
Keith Speights has no position in any stocks mentioned. The Motley Fool has no position in any of the stocks mentioned. Try any of our Foolish newsletter services free for 30 days. We Fools may not all hold the same opinions, but we all believe that considering a diverse range of insights makes us better investors. The Motley Fool has a disclosure policy.