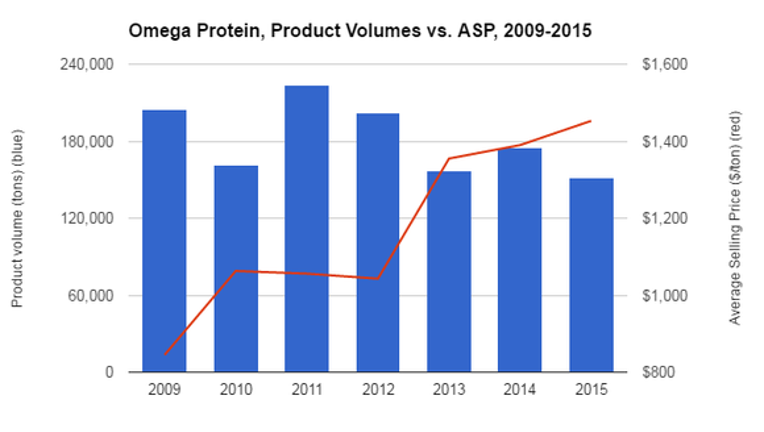 Image source: Joseph/Flickr.
Investors are always looking for opportunities to own great companies for the long haul. While many look for flashy and exciting businesses, there are plenty of examples of boring companies that run laps around the S&P 500. Financial advisor and columnist Josh Brown recently wrote about the tendency to chase complex investments over simpler ideas. He summarized the S&P Low Volatility Index, which recently touched record highs, as "an index comprised of companies making cookies for a nickel and selling them for a dime."
I thought of that quote when I stumbled across Omega Protein last month. The company will never be called "the next Amazon," but the industry in which it has quietly operated for over 100 years is taking on increasing importance. Swelling demand for protein in animal feed and human nutrition products has allowed Omega Protein to grow revenue 52% between 2012 and 2015. And although the stock outpaced the S&P 500 by 85% during the same time period, I'll bet most people have never heard of it.
Let's explore the opportunities and risks ahead for Omega Protein.
The business
The operation now called Omega Protein has been in business since 1913, but at the core, it's supported by a millennia-old practice: fishing. The company owns a fleet of fishing vessels along the Gulf Coast that harvest menhaden, a wild fish that is used to make various protein and fish oil products.
Now, when I first discovered that the company was involved in industrial fishing, I was a bit concerned. After all, there's a wealth of information about the dangers of overfishing. But after careful research I learned that Omega Protein presents no such ethical dilemmas for investors. Wild fish stocks in the United States are closely studied and total allowable catch volumes are carefully set each year. The Atlantic States Marine Fisheries Commission reports that menhaden stocks have held remarkably stable since the 1960s and are currently 42% below the threshold government monitors have set for overfishing. In other words, I don't think that's some investors should be concerned about.
After sustainably harvesting menhaden, Omega Protein transports the catch to one of its three processing facilities, which manufacture three types of products with the following applications:
Source: SEC filings.
These products are sold to over 200 corporate customers across the world. Let's dig a little deeper into the financial health of the company.
By the numbers
Omega Protein generates a substantial fraction of its total revenue from fish meal, although recent efforts to diversify into human nutrition markets are beginning to make a significant dent. Here's how growth stacks up from 2013 to 2015:
Source: SEC filings.
In addition to representing an important source of revenue growth, human nutrition has helped to insulate the company from year-to-year volatility in menhaden catch and product volumes. Consider the recent trend in volume of products sold and the average selling price per ton:
Image source: Compiled by author with data from SEC filings.
Despite that growth, Omega Protein's bottom line gets no contribution from its human nutrition segment, which reported an operating loss of $12 million in 2015. However, the figure last year would have shrunk to a loss of $2 million if not for a plant closure and the write-off of certain assets. Indeed, in the first quarter of this year, the segment reported an operating loss of just $370,000, which would amount to $1.5 million on an annualized basis.
Therefore, investors may see management's diversification strategy payoff in the very near future. Given the already sustainable profits from Omega Protein and the fact that it boasts a P/E ratio of 14, continued growth through the end of the decade could continue to push the stock higher.
Risks and competition
There are three categories of risk facing Omega Protein. First, volatility, which poses a steady long-term risk to the business. The company sells most of its products in forward 12-month contracts that are subject to volatility due to projected availability and pricing. However, recent pricing trends suggest that the animal feed and human nutrition markets have an insatiable appetite for protein. That's good for the overall trajectory of the business, as witnessed in the revenue totals above, even if subsegments suffer from short-term volatility.
Second, competition, which is increasingly coming from nontraditional sources. Several new ventures are producing protein and omega-3 ingredients sourced from algae or insect larvae instead of fish. While still in the early stages, these ventures have greater financial resources to invest than Omega Protein, and may face fewer logistical and regulatory hurdles. Omega Protein is hoping that a growing market can accommodate many new players, but that may not last indefinitely.
Third, and most important for investors now, is the scuffle between Omega Protein management and Wynnefield Capital, which owns 7% of the company.Wynnefield wants to replace three current board members, and pursue a sale of the company. The hedge fund argues that diversifying into human nutrition was a terrible and costly mistake that has wasted precious free cash flow for investors. I think the improving performance of the new segment and the long-term vision of Omega Protein management suggest otherwise, but shareholders will have a choice to make at the upcoming annual shareholder meeting on June 28.
What does it mean for investors?
Omega Protein has maintained a low-key operation for much of its existence. That could quickly change, however, as increased demand for protein pushes prices higher and thrusts the industry into the spotlight. While higher prices will also result in increased competition -- some of which is already beginning to hit the market -- the substantial demand for protein and the long-term sustainability of menhaden stocks could help to insulate Omega Protein's business for the foreseeable future. The more immediate concern for investors remains the upcoming stockholder vote at the end of June that will determine the fate of the company. In the meantime, I'll continue to keep Omega Protein in my watch list.
The article An Under the Radar Growth Stock You've Never Heard Of originally appeared on Fool.com.
Maxx Chatsko has no position in any stocks mentioned. Follow him on Twitter to keep up with developments in the engineered biology field.The Motley Fool has no position in any of the stocks mentioned. Try any of our Foolish newsletter services free for 30 days. We Fools may not all hold the same opinions, but we all believe that considering a diverse range of insights makes us better investors. The Motley Fool has a disclosure policy.
Copyright 1995 - 2016 The Motley Fool, LLC. All rights reserved. The Motley Fool has a disclosure policy.