An Important Milestone in Netflix's Quest to Become HBO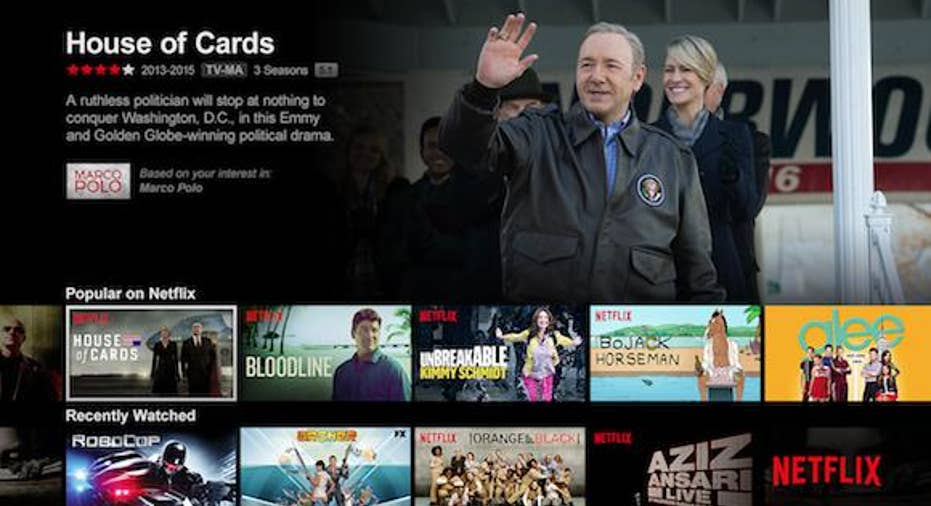 House of Cards is one of Netflix's flagship original shows. Image source: Netflix.
"The goal is to become HBO faster than HBO can become us."
That 2013 quote from Netflix CEO Reed Hastings has really resonated over the years and underscored Netflix's strategic trajectory, particularly as it relates to Time Warner's premium cable channel. Each rival service had something the other one wanted. HBO is known for high-quality, premium original content like Game of Thrones, among many other titles. Netflix's over-the-top model offered a simpler distribution method that appealed to cable-cutters and cable-nevers.
Netflix just achieved an important milestone in its quest.
Morgan Stanley has just put out a research note (via Business Insider) that shows a meaningful shift in how consumers perceive the quality of various streaming video services. The survey (n = 2,501) asks respondents to indicate which non-cable service has the best original content. HBO can now qualify as over-the-top thanks to its new HBO Now service. For the first time ever, Netflix took the top spot.
Who has the best original content?
| | 2016 | Change (YOY) |
| --- | --- | --- |
| Netflix | 29% | +6.4% |
| HBO | 18% | (13.2%) |
Data source: Morgan Stanley.
Notably, HBO took a pretty big hit in 2016 regarding its quality perception, losing over 13 percentage points compared to 2015. Morgan Stanley's data also suggested that these heavy investments in original content are paying off, with nearly half of respondents saying they signed up for original content.
Meanwhile, Netflix has pared back its catalog of licensed content over the past couple of years, in part to allocate that money toward investing in original content. In other words, Netflix is making a very concerted effort to prioritize quality over quantity, since newer original content earns higher reviews than older licensed content.
Party like it's 2016This is going to be a huge year for Netflix. Not only did the company announce a massive global expansion earlier this year, but Chief Content Officer Ted Sarandos had already made it quite clear that the company would be doubling its number of original series.
The whole cycle feeds on itself. As Netflix attracts subscribers with original content, that increases the company's ability to invest in higher production values and a broader portfolio of shows. Here's Sarandos on a conference call in January:
It's going to be a good year for both subscribers and investors.
The article An Important Milestone in Netflix's Quest to Become HBO originally appeared on Fool.com.
Evan Niu, CFA owns shares of Netflix. The Motley Fool owns shares of and recommends Netflix. The Motley Fool recommends Time Warner. Try any of our Foolish newsletter services free for 30 days. We Fools may not all hold the same opinions, but we all believe that considering a diverse range of insights makes us better investors. The Motley Fool has a disclosure policy.
Copyright 1995 - 2016 The Motley Fool, LLC. All rights reserved. The Motley Fool has a disclosure policy.