An Activist Shareholder's Legitimate Gripe With Buffalo Wild Wings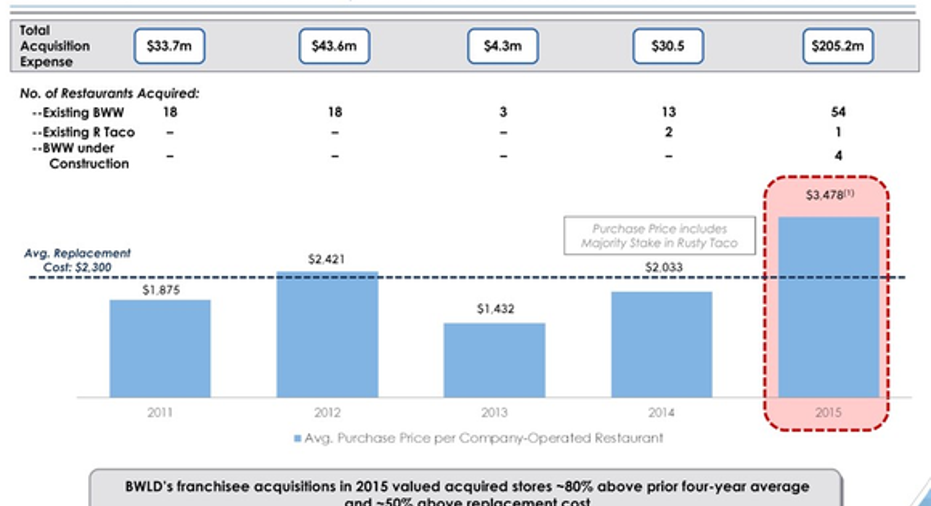 Image source: Buffalo Wild Wings' Instagram page.
You can usually gauge an activist shareholder group's conviction by its willingness to portray a company's executives as subpar, or worse, clueless. Marcato Capital Management, having amassed a 5.2% stake inBuffalo Wild Wings(NASDAQ: BWLD), obviously isn't afraid to air its dour assessment of the popular sports bar chain. The open letter above, written two months after the group met with Buffalo's management team to voice its concerns, demands "the introduction of fresh talent at both the Board and management levels."
The letter also agitates for operational improvements, the jettisoning of non-core test concepts in Mexican food and pizza, an increase in "urgency, follow-through, and accountability," and finally, an audit of the method by which management makes its investment decisions.
The letter and accompanying slide deck(which can be foundhere) form a textbook initial sally in an activist campaign, as they pan the corporation's leadership on multiple fronts.Yet, thumbing through the sprawling, dense, presentation, it becomes clear that Marcato's most significant beef with Buffalo's executive team is over the way the company allocates its capital.
Specifically, Marcato condemns Buffalo Wild Wings' practice of acquiring its own franchisees. The hedge fund believes that while this practice indeed grows revenue, it's an extremely inefficient practice which produces returns below the company's cost of capital.
Bucking current franchise best practices
It does seem that Buffalo Wild Wings is swimming against the tide in its drive to buy its own previously franchised properties. The trend in both the quick service and fast-casual space is actually the opposite: High-quality concepts are racing to increase the number of franchise licenses they grant, while reducing corporate-run stores.
Many chains have evidently taken notice of Restaurant Brands International's(NYSE: QSR) successful strategy with its Burger King brand. Since Brazilian private equity group 3G Capital acquired Burger King in 2010, the chain has evolved into an essentially 100% franchised operation. By transferring its capital requirements to franchisees, the company has been able to raise profitability, its return on invested capital (ROIC), and its EV/EBITDA ratio (enterprise value to earnings before interest, taxes, depreciation, and amortization).
Marcato presents a brief case study of Burger King, along with Domino's Pizza, Inc.(NYSE: DPZ), which has had a similar transformation, to argue that Buffalo Wild Wings should shift over time to a 90% franchised model. Currently, franchisees account for only 49.5% of stores;when the company went public in 2003, franchisees represented 65% of total units.
To be fair, there are a number of reasons for a company to operate a decent percentage of its own units. Greater profitability in absolute dollars, menu innovation, "skin in the game," and the need to establish beachheads in new markets are all cogent reasons to build company run stores. But "build" should be always be differentiated from "buy."
A questionable way to use precious resources
When a corporation develops a new restaurant unit, its capital is employed to meet opening costs, including such items as construction, equipment purchases, opening inventory, and initial local marketing expenses. For a successful chain, this exercise represents a fairly efficient use of capital, as it creates a new revenue and profit stream at the cost of the company's debt or equity.
You can see how granting a franchise is even more capital-friendly, since the franchisee absorbs all opening and operating costs, and sends the franchisor a regular royalty check in exchange for the right to sell products under the franchisor's umbrella. And in Buffalo Wild Wings' case, regular is the operative word: The company collects money weekly from its U.S. franchisees based on the prior week's sales. To quote the Gershwin brothers, nice work if you can get it.
However, buying a restaurant from a current franchisee can be drastically less efficient than building or franchising. After all, instead of opening a new venue at cost and then improving its value by operating it, you're purchasing a running business. In other words, you're bidding on an already appreciated asset, the fair market value of which can be determined by multiplying recent cash flow streams or profits against a reasonable valuation multiple.
Now consider that a franchisee who operates a popular concept like Buffalo Wild Wings may hesitate to sell his or her unit at fair market value. Economic theory, and the brass-tacks, real-world practice of business valuation both suggest that a perfectly happy restaurateur, enjoying positive cash flow, will demand a premium when approached to sell out to compensate for pulling up profitable stakes and having to find another place to invest with a similar risk/reward profile.
This especially holds true if the acquirer is a strategic buyer, i.e., one who has a strategic, rather than purely financial motive to purchase and thus will tolerate a higher valuation. The premium may rise again if the seller perceives that the buying entity has deep pockets -- say, a publicly traded company, for example. Ahem.
This theory plays out in what is the most damning slide in Marcato's presentation:
Data source: Marcato Capital Management Schedule 13D, filed Aug. 17, 2016.
Last year, Buffalo Wild WIngs acquired 59 franchised units, an eye-opening 12% of the entire restaurant base with which it began the year, at an average price far in excess of its own per unit opening costs. (Hint to Marcato: please make the graphics in your next presentation a little easier to read.)
The chart above poses a number of implicit questions. Here's the one that jumped out at me. Buffalo Wild Wings can open a new restaurant at a current cost of capital of 9.5% (Marcato's estimate). Within a year, that restaurant's contribution to total company free cash flow will be valued at more than 28 times, based on Buffalo Wild Wings' current share price to free cash flow.
If this is the case, why would management burn cash to buy stores built by franchisees, at a premium equal to 80% above replacement cost?
Potentially misaligned interests
The answer, according to Marcato, is that Buffalo Wild Wings' board has incentivized its management team to grow revenue and profit without any regard to cost of capital. It's hard to escape the conclusion that Marcato is right on this. Buying franchisee restaurants may be a terrible way to use capital, but it's a great way to quickly add sales to the corporate ledger.
If you happen to review the company's executive compensation structure, found here, you'll see that the executive team's cash and equity incentives are weighted toward the increase of total revenue and net income. There is no balancing metric like ROIC to govern how these results are achieved each year.That the franchise repurchase trend escalated sharply in 2015, just as same-store sales were slowing, should be unsettling for shareholders.
In a related point, the hedge fund also criticizes the company for opening ever larger stores in highly competitive outlets, which bring in more gross revenue, but at a lower rate of return than an expansion of smaller units in less competitive markets might.
At the end of the day, what's at stake here is the quality of Buffalo Wild Wing's earnings per share. Suboptimal capital allocations today often lead to weakening profit trends in the future. If I was a Buffalo Wild Wings shareholder, I'd also want to understand the financial rationale underpinning the company's appetite for its own franchisees. Yes, a meal at B-Dubs is delicious, but this particular hunger is more than a bit unseemly.
A secret billion-dollar stock opportunity The world's biggest tech company forgot to show you something, but a few Wall Street analysts and the Fool didn't miss a beat: There's a small company that's powering their brand-new gadgets and the coming revolution in technology. And we think its stock price has nearly unlimited room to run for early in-the-know investors! To be one of them, just click here.
Asit Sharma has no position in any stocks mentioned. The Motley Fool owns shares of and recommends Buffalo Wild Wings. Try any of our Foolish newsletter services free for 30 days. We Fools may not all hold the same opinions, but we all believe that considering a diverse range of insights makes us better investors. The Motley Fool has a disclosure policy.