AMN Healthcare Sales Hit New Record Highs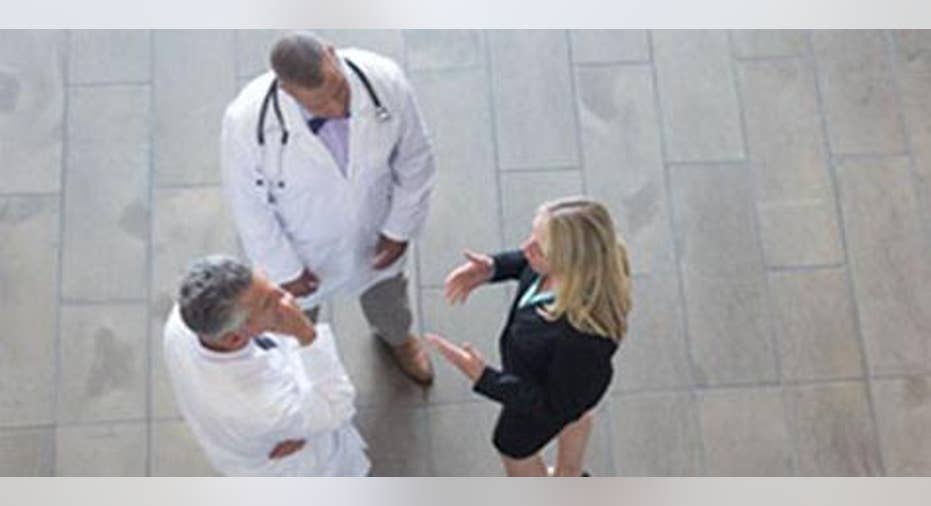 Image: AMN Healthcare.
Finding ways to meet the demand for skilled medical professionals is hard for hospitals and other healthcare providers. AMN Healthcare has aimed to make that job easier, providing staffing for medical facilities in a simple and straightforward manner.
Given the demographic factors that are favoring increased needs for healthcare, AMN hasn't had much trouble finding business, and coming into Thursday's first-quarter financial report, AMN Healthcare investors expected the company's growth to continue unabated. Even so, many investors were happily surprised at just how strong the company's results were. Let's look more closely at the latest from AMN Healthcare, and see whether positive trends can continue.
AMN keeps moving forwardAMN Healthcare's first-quarter results continued a long string of unparalleled excellence. Revenue climbed 43%, to $468 million, setting yet another all-time record for the company, and beating the consensus forecast among investors by more than $20 million. Net income for AMN more than doubled, to $25.9 million, and after allowing for some one-time adjustments, that produced adjusted earnings of $0.60 per share. That figure was $0.10 better than most investors had expected to see.
Overall, AMN had several favorable factors. Most of AMN's growth came from organic sources. The company cited 28% organic growth, leaving 15 percentage points to come from acquisitions. Gross margins climbed by a percentage-point-and-a-half from year-ago levels, finishing at 32.5%.
AMN kept getting solid performance from all three of its key market segments. The nurse and allied healthcare staffing area saw the fastest sales growth of 37%, to $298 million, and operating income climbed by more than half. Temporary locum-tenens revenue was up about 19%, to $103 million, with corresponding operating income gains of more than 45%. Finally, the other workforce-solutions segment, which includes physician permanent-placement services, as well as assets from the B.E. Smith acquisition early this year, experienced revenue that nearly tripled from year-ago levels, and operating income more than doubled, as well.
CEO Susan Salka was happy with the results. "Our unparalleled recruitment capabilities and broad suite of workforce solutions are helping healthcare organizations to approach labor challenges in new and innovative ways," Salka said. By combining acquisitions and organic growth, the CEO asserted, the company was able to sustain its record results.
What's ahead for AMN Healthcare?AMN Healthcare has a lot of confidence about its future. In Salka's words, "With our continued [managed services program] wins, a healthy pipeline for new contracts, and a favorable demand environment, we are optimistic that 2016 will be another year of solid growth." Those predictions certainly seem to be in line with what we've seen elsewhere in the healthcare industry, given that shortages of personnel in key areas continue in many areas of the country.
AMN gave investors a positive outlook for the coming quarter, as well. The healthcare-staffing company said that second-quarter revenue would probably come in within a range of $450 million and $456 million, which is well above the consensus forecast among investors for the quarter. Gross margins of 32.5% would be consistent with this quarter's figures, and adjusted EBITDA margin targets of 11.5% remain where they have been in previous quarters.
AMN Healthcare investors were pleased with the results, sending the stock to about a 3% gain in after-market trading Thursday following the announcement. As long as the healthcare industry continues to need staffing, AMN will remain in a good position to take advantage of high demand, and keep itself growing well into the future.
The article AMN Healthcare Sales Hit New Record Highs originally appeared on Fool.com.
Dan Caplinger has no position in any stocks mentioned. The Motley Fool recommends AMN Healthcare Services. Try any of our Foolish newsletter services free for 30 days. We Fools may not all hold the same opinions, but we all believe that considering a diverse range of insights makes us better investors. The Motley Fool has a disclosure policy.
Copyright 1995 - 2016 The Motley Fool, LLC. All rights reserved. The Motley Fool has a disclosure policy.