America's Favorite Credit Card Brand Is a Bit of a Shocker (Hint: It's Not Visa or MasterCard!)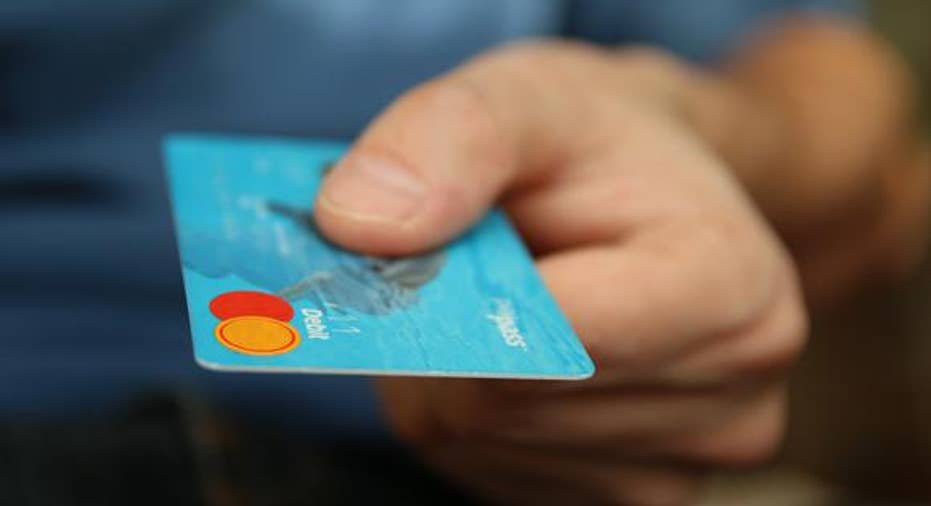 Image source: Flickr user Kaiyan.
To suggest that America runs on plastic might be a pretty accurate statement.
According to statistics found on CreditCards.com, the average credit card debt per U.S. adult, excluding zero-balance cards and store cards, is a whopping $5,232. Furthermore, based on the Federal Reserve Bank of Boston data published in September 2014, 72.1% of consumers (basically three out of four) had at least one credit card. A national poll from Gallup in the same year also found that the average American who has at least one credit card has a mean of nearly four in their wallet.
Like I said, America loves its plastic, and there's a mountain of data and statistics to back up this assertion. Credit card companies also relish the fact that Americans love their credit cards. As of the third quarter of 2015, the average APR charged on credit cards was 12.1%, and the average APR on cards that were carrying a balance was a hair over 13.9%. As long as consumers remain current on their loans, lending and/or processing can be a very lucrative business.
Image source: Pixabay.
Convenience is one factor that draws Americans to use plastic instead of cash, but the potential for rewards, as well as consumer loyalty to a credit card brand, are additional factors that can play a key role in credit card usage. Understanding which credit card brands consumers favor could provide investors with a valuable puzzle piece when analyzing credit card companies for possible investment. Unfortunately, measuring brand loyalty in the credit card industry is far from simple. For that, we'll turn to New York-based research company Brand Keys and its 21st annual Customer Loyalty Engagement Index (CLEI).
The importance of brand loyalty To be clear, brand loyalty is important no matter what industry we're talking about. In terms of the credit card industry, customer loyalty can specifically be beneficial for the free word-of-mouth advertising it can bring. If a consumer is happy with his credit card company, he's liable to tell friends and family about his experience -- and friends and family are probably more likely to act on the recommendation of someone they know as opposed to an advertisement on television.
The other component to brand loyalty is that loyal customers tend to be very profitable. Within the credit card industry, this is going to depend on what, if any, rewards a credit company offers its customers. The better the rewards, in theory the more it could eat into profit margins. Conversely, the more a consumer uses the card, the better chance the credit card company has of racking up merchant fees and/or interest on a balance carried to the following month.
After questioning more than 42,000 people to understand on multiple levels how businesses engage with them, and how that in turn affects their loyalty, Brands Keys' CLEI ranked 10 credit card brands from worst to first. Let's take a look at how things shook out.
Image source: Flickr user Bryan Rosengrant.
Big banks and industry titans lagArguably what stood out most is that national banks, which would presumably have no problem with consumer recognition, lagged badly when it came to brand loyalty. JPMorgan Chasecame in fourth, Citibank, a division of Citigroup, ranked seventh, Bank of Americaslid into eighth, and Wells Fargosurprisingly took ninth. Only Barclaycard from Barclaysranked lower.
All of these banks are quite different in how they're attempting to grow their business, but it's quite possible the unpleasant memories of the Great Recession (namely the poor lending practices of banks that lend to a huge increase in mortgage defaults and foreclosures) could be playing a role in hurting national banks' brand loyalty.
Image source: Pixabay.
It's also interesting that Visa and MasterCard , which are basically synonymous with the credit card industry and could easily be its most recognizable brands, ranked just fifth and sixth, respectively. Although Visa and MasterCard are merchant staples when it comes to payment process facilitation, neither Visa nor MasterCard are physical lenders themselves. When credit delinquencies are on the rise, this can be great news for Visa and MasterCard, but having no direct lending capacity could be having an adverse impact when it comes to the CLEI rankings.
America's favorite credit card company is...The top three credit card companies in terms of brand loyalty were clear standouts for their own reasons, with the brand taking top honors being a bit of a surprise.
Capital One Financial seems to be a logical choice to finish high up in the rankings (third in this case) since credit card revenue accounts for the vast majority of its income, unlike traditional banks. The assumption here would be that Capital One is placing heavy emphasis on its rewards programs and ensuring consumers stay happy since the bulk of its profitability depends on it.
American Express came in second, likely as a result of its long-running relationship with America's more affluent credit cardholders. American Express is known for targeting wealthier customers, and in turn, the prestige of having an AmEx card tends to keep those consumers loyal to the brand. Additionally, AmEx's business benefits from having affluent clientele because they're less likely to be adversely effected by an economic downturn. This often means less concern about credit delinquencies for AmEx compared to other credit lenders.
But when it comes to America's favorite credit card brand, Discover Financial Services' Discover brand cards take the cake.
Image source: Discover.
Why Discover? Rewards could be a big reason. Earlier this year, NerdWallet released its "Best Credit Cards of 2016" annual report, and the "Discover it" card found its way among the top cards consumers should want in two highly coveted categories: balance transfers and rewards. First, the Discover it card allows consumers to transfer a balance from another card and pay 0% APR on that balance for 18 months. There's also a 0% APR on purchases for six months, as well as no annual fee. New cardmembers are also privy to Discover matching the cash back they've earned after their first year, making it a card to own for those looking for the best overall rewards.
Discover's emphasis on the customer also can't be denied. In 2015, J.D. Power released its own credit card satisfaction study, and not surprisingly Discover came in first in all six categories that were considered: interaction, credit card terms, billing and payment, rewards, benefits and services, and problem resolution. The report specifically cited Discover's ability to make its rewards appear attractive in the eyes of the consumer, as well as to expedite reward redemption as a key loyalty driver. Consumers who redeem their rewards more often are more likely to remain engaged and spend more to earn more.
There are a lot of great credit card companies to choose from, but Discover's credit card loyalty dominance gives it an edge that might intrigue investors. It could be time to add Discover Financial to your watchlist.
The article America's Favorite Credit Card Brand Is a Bit of a Shocker (Hint: It's Not Visa or MasterCard!) originally appeared on Fool.com.
Sean Williamsowns shares of Bank of America, but has no material interest in any other companies mentioned in this article. You can follow him on CAPS under the screen nameTMFUltraLong, track every pick he makes under the screen name TrackUltraLong, and check him out on Twitter, where he goes by the handle@TMFUltraLong.The Motley Fool owns shares of and recommends MasterCard, Visa, and Wells Fargo. It also has the following options: short May 2016 $52 puts on Wells Fargo, and recommends American Express and Bank of America. Try any of our Foolish newsletter services free for 30 days. We Fools may not all hold the same opinions, but we all believe that considering a diverse range of insights makes us better investors. The Motley Fool has a disclosure policy.
Copyright 1995 - 2016 The Motley Fool, LLC. All rights reserved. The Motley Fool has a disclosure policy.