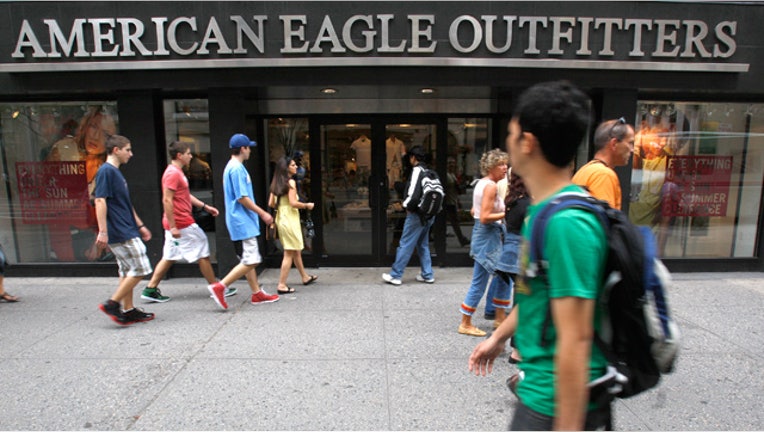 American Eagle Outfitters Inc. shares plunged Friday after the teen retailer gave a weak profit forecast for the key holiday shopping season.
The Pittsburgh-based company said that it expects to earn 30 to 33 cents per share for its current quarter, which ends in January. Analysts polled by FactSet were anticipating 32 cents per share.
American Eagle's profit and revenue fell in its most recent quarter. And the company said that its revenue from stores open at least a year fell 5 percent. This is considered a key indicator of a retailer's financial performance because it strips away the impact of recently opened or closed stores.
It is one of many teen retailers reporting tough times because a changing retail environment. Shoppers are heading to the mall less often and when they are buying, many are opting for the fast-fashion clothing from stores like H&M and Forever 21.
Other bad news from teen retailers includes Delia's announcement Friday that it is liquidating its stores and plans to file for bankruptcy protection. Abercrombie & Fitch Co. said Wednesday that its sales fell in the most recent quarter and it lowered its full-year earnings forecast. And Aeropostale reported that it widened its loss for its most recent quarter on weaker sales and issued a disappointing forecast.
Stifel analyst Richard Jaffe said that while American Eagle has made improvements to its merchandise and operations recently, the pressure from this difficult retail environment is making it difficult to deliver the sales gains it needs. He also said that company faces a tough holiday season in terms of profitability as it must go head-to-head with competitors making big markdowns to draw shoppers.
American Eagle shares fell 14 percent to $11.82 by early afternoon. The company's shares have fallen 4 percent since the beginning of the year.